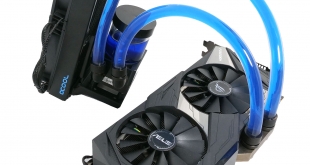 Asus ROG Poseidon Platinum GTX 1080 Ti can push its overclocked GTX 1080Ti GPU past 2GHz, however that is not the most impressive aspect of this graphics card. Instead we are going to spend a good part of this review looking at the cooler as it allows you to plumb in a custom loop with the minimum of trouble. It is worth pointing out up front that Poseidon has a sky high price that looks scary however we are confident this review will demonstrate it delivers better value than you might expect.
Watch the video via our VIMEO Channel (Below) or over on YouTube at 2160p HERE
Specification
Graphics Engine Nvidia GeForce GTX 1080 Ti
Bus Standard PCI Express 3.0
Video Memory 11GB GDDR5X
Engine Clock
Gaming Mode – GPU Boost Clock 1,708 MHz, GPU Base Clock 1,594 MHz
OC Mode – GPU Boost Clock 1,733 MHz, GPU Base Clock 1,620 MHz
CUDA Core count 3,584
Memory Clock
Gaming Mode 11,010 MHz
OC Mode 11,100 MHz
Memory Controller 352-bit
Interfaces 1x DVI-D, 2x HDMI 2.0, 2x Display Port
Power Connectors 2x 8-pin
Supports OpenGL4.5
Software Asus GPU Tweak II & Driver
Dimensions 298mm x 158mm x 50mm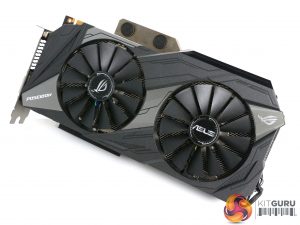 At first glance the Asus ROG Poseidon Platinum GTX 1080 Ti looks like a regular premium graphics card. It uses an open two-and-a-half slot design and has a socking great cooler with dual fans that gives you a feeling of confidence as we know that Asus can deliver a cooler that works superbly well. Indeed the cooling system on the Poseidon works in passive mode until the temperature hits 55 degrees at which point the fans start to spin into action.
On the output bracket you will find two Display Port connectors, 2x HDMI 2.0 and 1x DVI-D, while at the opposite end of the card lies the Asus Fan Connect II feature that consists of two 4-pin fan headers. The idea is that these fans (both PWM and DC work fine) will spin in to action to cool your PC if they detect either the CPU or GPU is getting hot, depending on how you set the GPU Tweak II control software. This is very clever as it is usual for a high end gaming PC to work the CPU at relatively low levels while the graphics card is running at 100 percent. Those case fans that are typically connected to the motherboard can respond to CPU temperature but have no connection with the GPU so Asus Fan Connect II gives you the tools to deal with a potential problem.
Next to the two fan headers is an RGB connector that allows you to control other lighting hardware. This seems unnecessary as we are confident that RGB aficionados will have chosen a motherboard, such as the Asus ROG Maximus IX Extreme that we used in our testing, that sports one or two RGB headers. Still, there is no harm in the inclusion of this small connector and it might come in useful.
On the top edge of the Poseidon are two 8-pin power connectors along with a terminal block for the liquid cooling connections that are the key to the headline feature of Poseidon. You can run the graphics card right out of the box in air cooled mode without paying any heed to the projecting terminal block with its two pairs of standard G1/4 threads. Alternatively you can add custom loop fittings to two of the ports, leaving the other two ports blanked off, and add the Poseidon to a custom loop, exactly as we did in our video. The key points are that you do not need to replace the stock cooler with a GPU block and that your warranty remains intact. The coolant flows through the anodised aluminium terminal block and across the copper cold plate at the heart of the system and thus removes heat from the GPU.
Regardless of your choice of cooling, when the Poseidon runs for the first time we are certain you will be blown away by the illuminated backplate and the fabulous RGB lighting on top of the graphics card that gives the appearance of an endless tunnel of light.
Testing and overclocking
Test system
CPU Intel Core i7-7700K at 4.8GHz
RAM 16GB G.Skill DDR4-3200MHz TridentZ
Motherboard Asus ROG Maximus IX Extreme
SSD Samsung 960 EVO
Power supply Sea Sonic Prime Titanium 1000W
Out of the box the Poseidon operates in Gaming Mode with a base clock speed of 1,594MHz, Boost speed of 1,708MHz, and memory that operates at 11,010MHz. We installed GPU Tweak II and selected OC Mode which increases the base clock to 1,620MHz, Boost to 1,733MHz and memory speed to 11,100MHz, and that was the starting point for our testing.
After that we manually overclocked the Poseidon using GPU Tweak II by pushing the power limit to 120%, the temperature limit to 90 degrees and set Boost to 1800MHz. This worked well so the next step was to increase the power limit to 150% however this made the Poseidon prone to clock throttling so we settled for those modest changes.

Using stock air cooling the GPU temperature hits 75 degrees under heavy load and the GPU clock speed can be seen to fluctuate, Boost to around 2,000MHz most of the time and touching 2,050MHz on occasion. Overclocking the GPU has little or no effect on temperatures, which tells us the cooler is doing a fine job and the limiting factor is the GPU itself.
With the liquid cooling working the GPU idles at 36 degrees and runs at 44 degrees in Deus Ex and 53 degrees in the Fire Strike Ultra stress test. The cooler's fans are set to engage at 55 degrees and that means when using liquid cooling we did not see the fans on the graphics card rotating, even when the GPU Boosted to 2,062MHz.
For each of the three configurations the memory was left running at 11,100MHz.
3D Mark Time Spy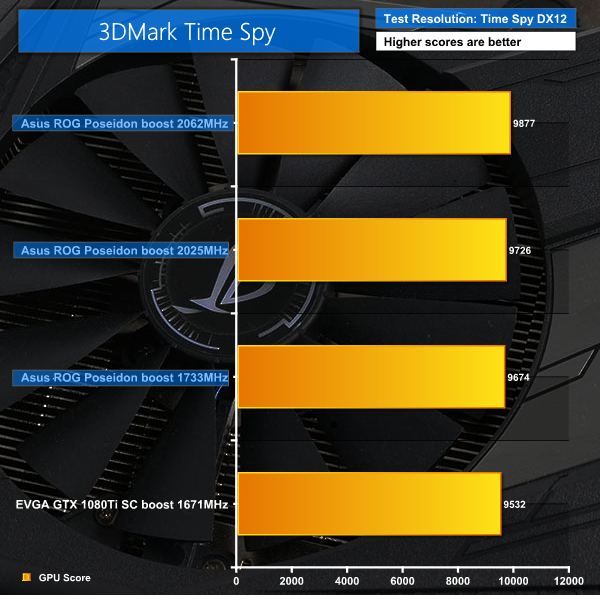 Ashes of the Singularity:Escalation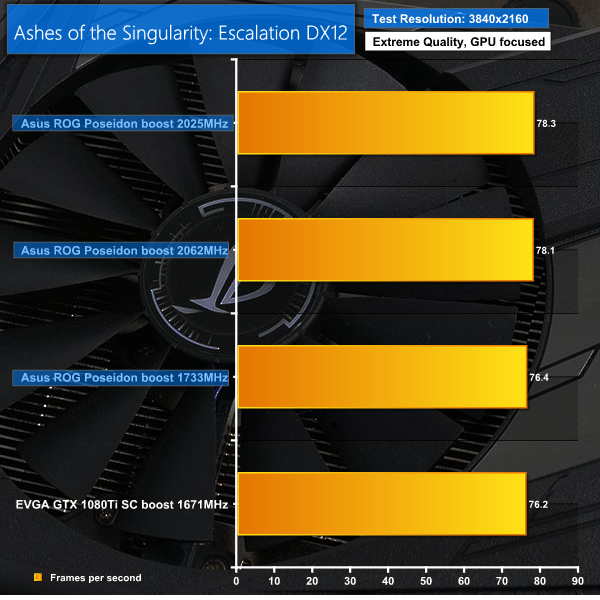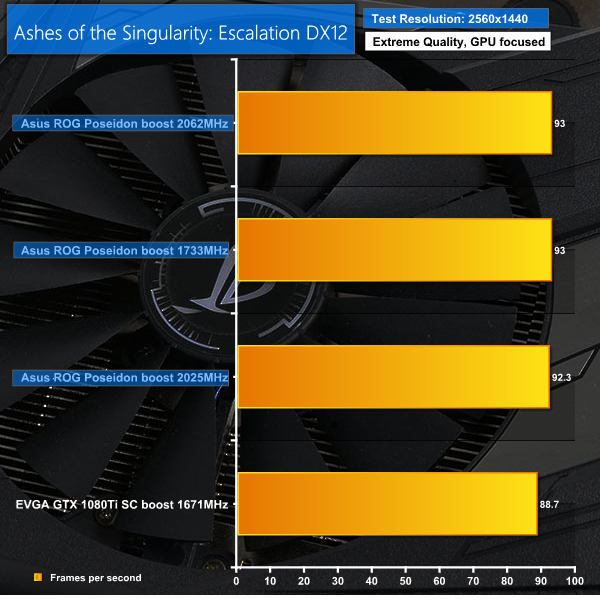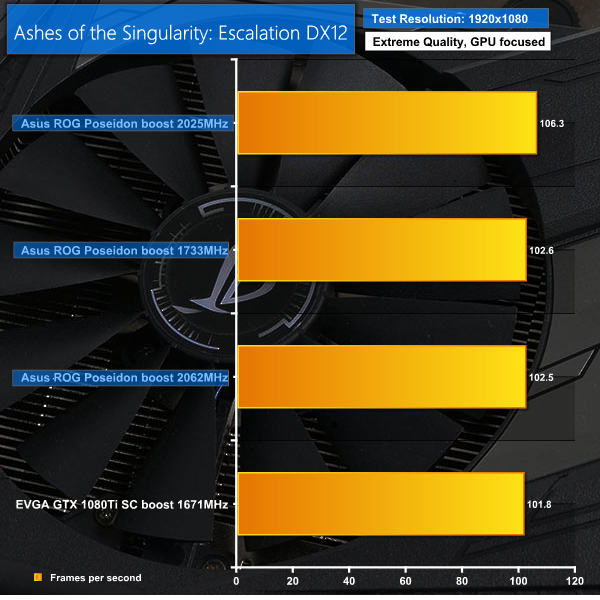 Rise of the Tomb Raider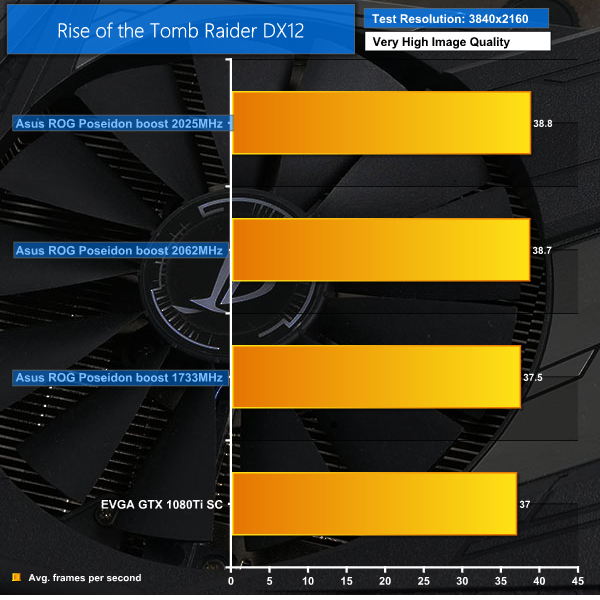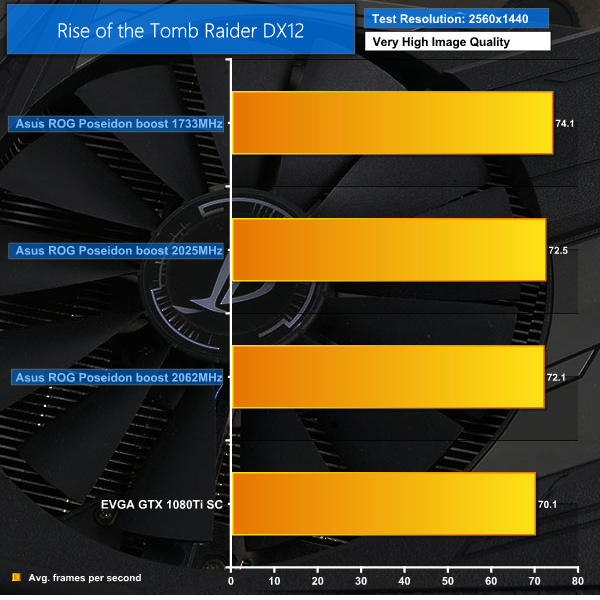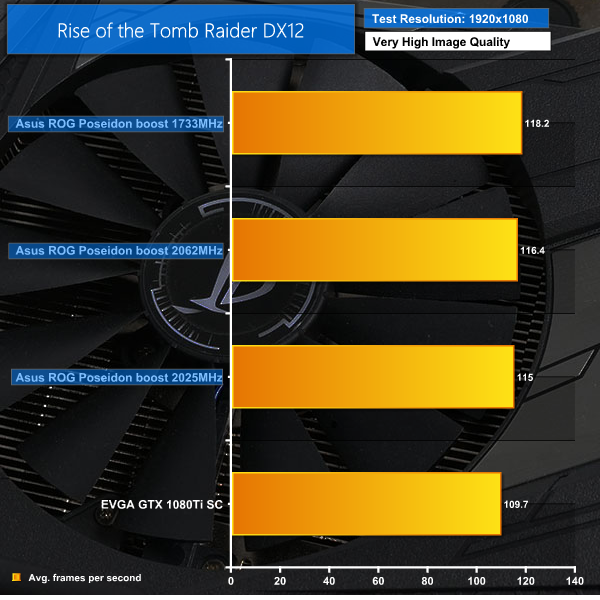 Testing overview
That's quite a few graphs however the summary is very brief as It was clear from our benchmarking the Poseidon was delivered with its GPU running close to its limits. While there is scope to push the power and clock speeds the benefits are negligible. Indeed, on occasion the higher clocks speeds delivered lower performance.
Cooling Performance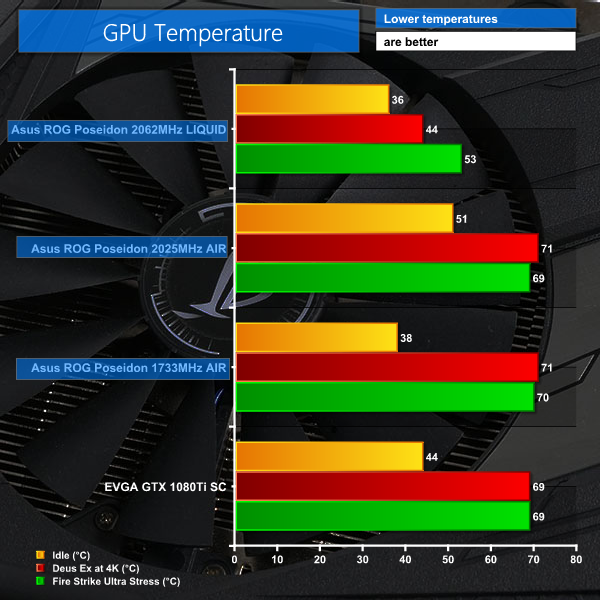 The Asus DirectCU H2O cooler works amazingly well in both air cooled and liquid cooled forms. Air cooled temperatures are impressively low and top out at 70 degrees while in liquid cooled mode the highest temperature we saw was a mere 53 degrees.
Acoustics performance
This is an amazingly quiet graphics card. Indeed, most of the time the Poseidon is silent with zero noise from the static fan blades. When the fans do finally start to turn we are prepared to wager you simply will not hear them.
Power draw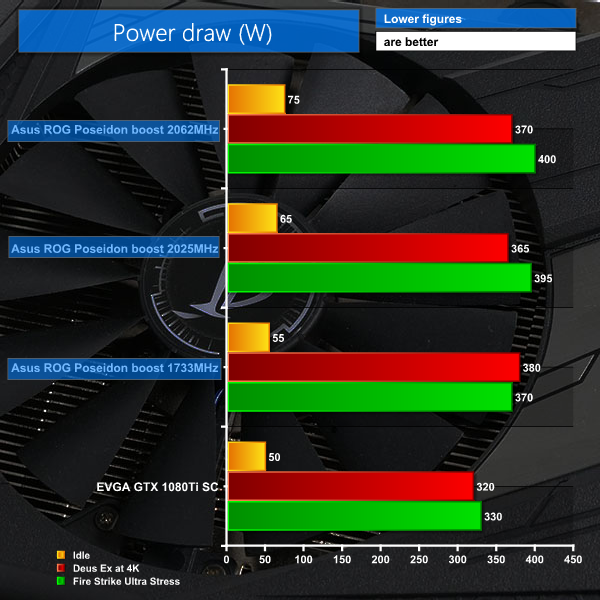 There are no surprises here as we already knew a GTX 1080Ti demands plenty of power. The higher the clock speeds go, the more power you need.
In essence Asus has taken a ROG Strix GTX1080Ti O11G Gaming and bolted on their DirectCU H2O cooler, and in the process they have created the ultimate GTX 1080Ti graphics card. It looks big and imposing with that hefty 2.5-slot cooler, but in addition you get a really tidy backplate, RGB and the Asus Fan Connect II feature.
You might not be in love with the spread of RGB lighting but the fact is that this graphics card looks amazing as the infinity mirrors give the illusion of an illuminated tunnel that passes right through the graphics card.
The overclocked GTX 1080Ti graphics core delivers epic gaming performance, exactly as you would expect, however that fabulous cooler allows the GPU to do its work with very low temperatures and the minimum of noise.
Connecting the Poseidon to a custom loop cooling system is quick and easy but while it reduces temperatures by the best part of 20 degrees it doesn't deliver any extra performance. Our GPU clearly had a hard limit just north of 2GHz and that was the end of that particular story.
Yes the Poseidon is expensive but blimey, it is impressive.

Buy the ASUS ROG Poseidon Platinum GTX 1080 ti from Overclockers UK HERE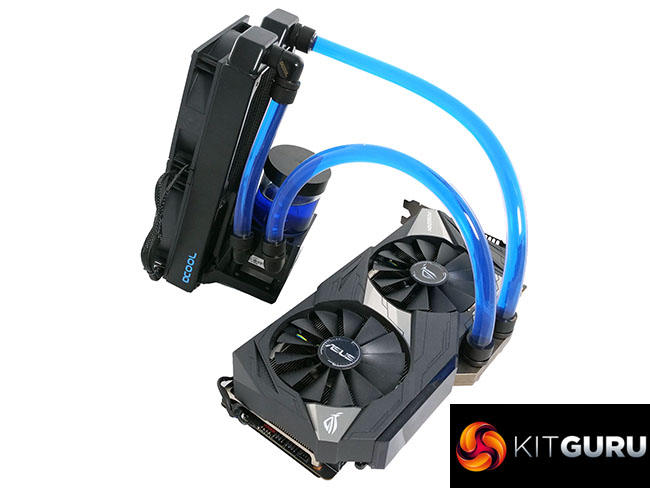 Pros:
Simple connection to custom loop cooling.
Asus DirectCU H2O cooler delivers very low temperatures.
Excellent gaming performance.
Superb RGB lighting with infinite mirrors.
Asus Fan Connect II.
Cons:
Price looks high.
The 2.5-slot cooler is chunky for a liquid cooled graphics card.
KitGuru says: The easiest way to liquid cool your GTX 1080Ti, ever.