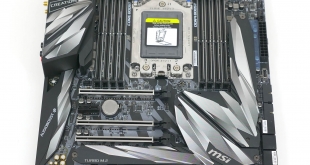 MSI demonstrated perfect timing when they introduced the MEG X399 Creation at Computex. AMD announced the 32-core 2990WX Threadripper at the start of Computex then MSI followed up with this X399 motherboard that uses 16-phase VRMs that promise a new level of power delivery. AMD increased the TDP of the 24-core and 32-core Threadrippers from 180W to 250W however this figure might be slightly confusing as the new CPUs were guaranteed to draw far more power from the wall socket under heavy load and when overclocked.
In theory you could match the 2990WX with any X399 motherboard but in practice we knew it would require something special and MSI MEG X399 Creation looked VERY special. The headline feature is the 16-phase VRM for the CPU Vcore and it turns out each phase is rated at 70A which means this motherboard has a maximum theoretical capability of 1,120A. If you set the Vcore at 1.2V this gives a total power figure that is north of 1,300W, while a 1.3V setting would be a maximum of 1,456W. Of course these are figures for the VRMs loaded to 100 percent but no matter how you look at it, these are remarkable figures for a workstation or gaming motherboard.
MSI has piled in a bunch of other features including support for up to 128GB of DDR4 memory, 8x SATA3 connectors, 3x M.2 SSDs slots, dual Gigabit Ethernet and Intel 802.11ac 2c2 Wi-Fi. That is a huge amount of storage and connectivity and yet, as you will see in our video, MSI also includes an item called M.2 Xpander-Aero that looks like a graphics card but which actually houses up to four M.2 SSDs in a PCI Express RAID enclosure.
Watch the video via our VIMEO Channel (Below) or over on YouTube at 2160p HERE
Note: if the above images are not displaying properly, you may need to disable Ad Block as it is known to interfere with our display code
Key features
Supports 1st and 2nd Gen AMD Ryzen Threadripper Series Processors Support 8 DIMMs, Quad Channel DDR4 3600+ (OC)
Maximum Power: 19 phases digital power with heat-pipe heatsink design
Maximum Temperature Control: Full fan control with 10 PWM fan headers and 3 dedicated thermal sensors
Maximum Storage: 7 x Turbo M.2 with M.2 Xpander-Aero and AMD StoreMI technology
Maximum Data Transfer: Dual Gigabit LAN with Dual-band Wireless-AC and bandwidth management
M.2 Shield Frozr: Strengthened built-in M.2 thermal solution. Keeps M.2 safer and faster
Core Boost: With premium layout and full digital power design to support more cores and provide better performance
Dual 8 Pin Power Supply: By providing dual 8 pin connectors to ensure adequate power supply to unleash ultimate multi-core CPU performance
Mystic Light: 16.8 million colours/17 effects controlled in one click. Mystic Light Extension support both RGB and Rainbow LED strip
Lightning Fast Transfer Experience: 3x Turbo M.2 with Shield Frozr, AMD Turbo USB 3.1
Audio Boost 4 with Nahimic: Reward your ears with studio grade sound quality
DDR4 Boost with Steel Armour: Fully isolated, shielded and optimized DDR4 PCB design to give your DDR4 memory a performance boost
Multi-GPU: With Steel Armour PCI-E slots. Supports 3-Way Nvidia SLI and 3-Way AMD Crossfire
Headline Specification
Socket TR4 Ryzen Threadripper
Chipset AMD X399
DDR4 Memory Quad Channel memory supports 2133MHz to 3600MHz+(OC) in 8 DIMM Slots, maximum 128GB
Expansion slots
4 slots PCI-E x16 Gen3
1 slot PCI-E x1
Storage
8x SATA III
3x M.2 Slots
RAID 0/1/10
Ethernet 2x Gigabit
USB
USB 3.1 ports (Front) 1(Gen2, Type C), 4(Gen1, Type A)
USB 3.1 ports (Rear) 1(Gen1, Type C), 9(Gen1, Type A)
USB 2.0 ports (Front)
Audio 7.1-Channel High Definition
Form Factor E-ATX
Full specification HERE
There is no denying the MSI MEG X399 Creation has a high price tag when you consider the cheapest Threadripper motherboard on the market costs £275. Balanced against that the list of features is solid and you get a decent array of accessories in the package, including the M.2 Xpander-Aero housing. We reckon the M.2 RAID device is worth at least £50 but even so, you are paying top dollar for the MEG X399 Creation.
The feature that raises the MSI MEG X399 Creation above pretty much any level of criticism is the remarkable hardware that MSI has employed in the VRM system. The Vcore VRM controller is an IR35201 in 8+0 mode which is assisted by eight IR3599 doublers on the back of the board to give 16 true phases for the CPU. These are Infineon IR TDA21472 integrated MOSFET power stages that appear to be rated at 70A (data is scarce), making them the most powerful VRMs we have ever seen on a motherboard. Typically 50A is good going and 60A is high end so 70A is a completely different league.
MSI has used an IR35204 for the SoC VRM controller which has a maximum capability of 3+1 phases, and is used here in 3+0 mode with three of the same phases used in the CPU VRMs. That is a maximum 210A for the chipset which is completely unnecessary as you will never see a Threadripper with integrated graphics, however it adds a certain symmetry to the motherboard to see the same hardware used for CPU and SoC.
When it comes to the DDR4 memory, MSI has used a 2-phase controller on each side of the board, so each bank of four DIMMS has 2x 40A stages of power which is far more than you will ever need for DDR4.
As you will see in our video the Threadripper 2900WX is capped at 250W by default however this figure can be adjusted manually to any level you like. When you overclock any Threadripper motherboard by adjusting the clock multiplier the power limit is completely removed. Leaving the clock speeds on Auto and raising the power limit means you are only restricted by the quality of the cooling in your PC, along with the power that you are supplying.
You can expect your 32-core Threadripper to draw 450W under heavy load, with a total system power draw that is anywhere in the range of 650W-800W so there is good reason why we are putting so much emphasis on the ability of the MSI MEG X399 Creation to deliver sufficient power.
There is so much VRM hardware at the top of the board that MSI has effectively shifted everything down by one expansion slot. You still get four PCI Express graphics slots however the spacing is a bit peculiar as the CMOS battery has been housed between the top pair of slots and an M.2 goes between the lower pair. This leaves the second and third slots squeezed together in the middle. This is absolutely fine as few people will use two graphics cards, let alone three, but you may want to employ the M.2 Xpander-Aero in addition to your graphics. We consider one PCIe slot to be effectively redundant.
One feature of the board that doesn't much excite us is the OC Game Boost control knob that can be used to engage a preset overclocking profile. This control can be used either in hardware or in software within the UEFI setup screen with settings from zero (Off) to 11 (Maximum). It may sound as though there are 11 profiles but there are actually seven settings with all-core clock speeds starting at 3.5GHz and rising to 4.1GHz.
The Game Boost Presets are:
| | | | |
| --- | --- | --- | --- |
| Game Boost Setting | Vcore | All Core Clock Speed | CPU Power |
| 1 | 0.97V | 3.5GHz | 290W |
| 2 | 1.15V | 3.6GHz | 290W |
| 4 | 1.15V | 3.7GHz | 300W |
| 6 | 1.20V | 3.8GHz | 365W |
| 8 | 1.20V | 3.9GHz | 370W |
| 10 | 1.25V | 4.0GHz | 400W |
| 11 | 1.35V | 4.1GHz | 450W |
We found the faster Game Boost profiles were unstable with Threadripper 2990WX running Blender and chose not to use them. This wasn't a complete waste of time as they gave us some insight about the settings that MSI expected to use with this mighty CPU.
Testing
We tested the MSI MEG X399 Creation using the same approach as the Gigabyte X399 Aorus Xtreme  with a custom loop on the CPU to ensure it had sufficient cooling.
Test System:
CPU: AMD Threadripper 2990WX
RAM: 32GB G.Skill FlareX DDR4-3200MHz
Graphics: EVGA GTX 1080Ti SC 11GB GDDR5
SSD: 1TB WD Black M.2 NVMe
Power Supply: Seasonic Prime Platinum 1300W
CPU Cooler Custom loop components:
CPU Block: Watercool Heatkiller IV
Pump/Reservoir: EKWB XRES 140 Revo D5 PWM set to 2,200rpm
Radiator: Alphacool NexXxos XT45 240mm
Fans: 3x BlackNoise eLoop B12-1 800rpm set to Full Speed
Fittings: Alphacool 10/16mm
Tubing: Mayhems Ultra Clear 10/16mm
Coolant: Mayhems Pastel Purple
Thermal Compound: Arctic MX-4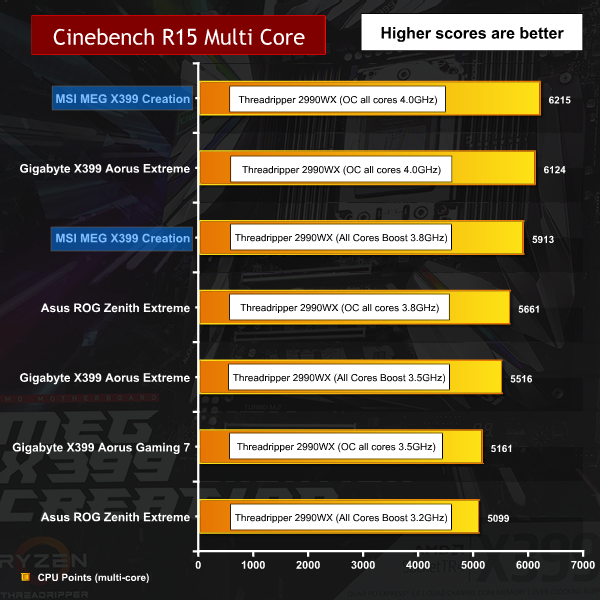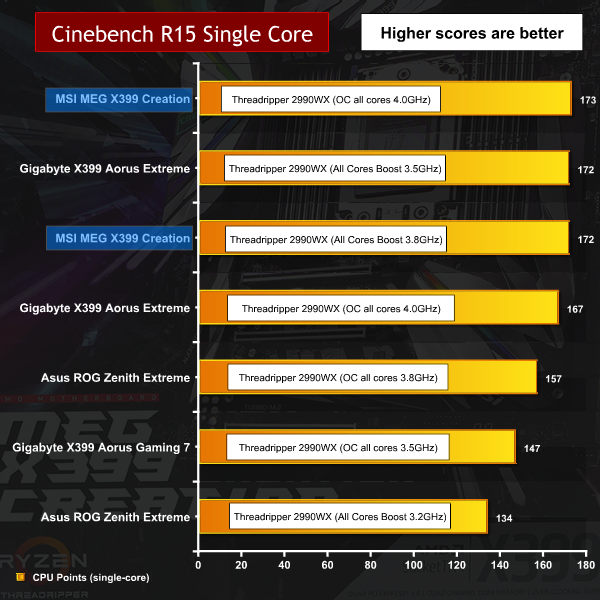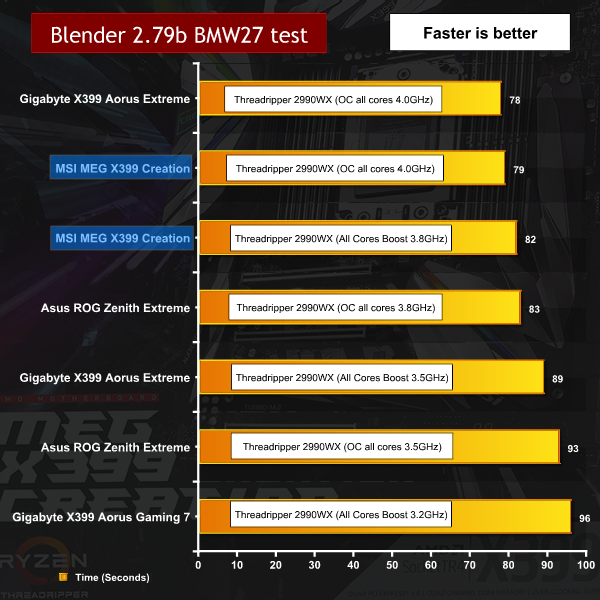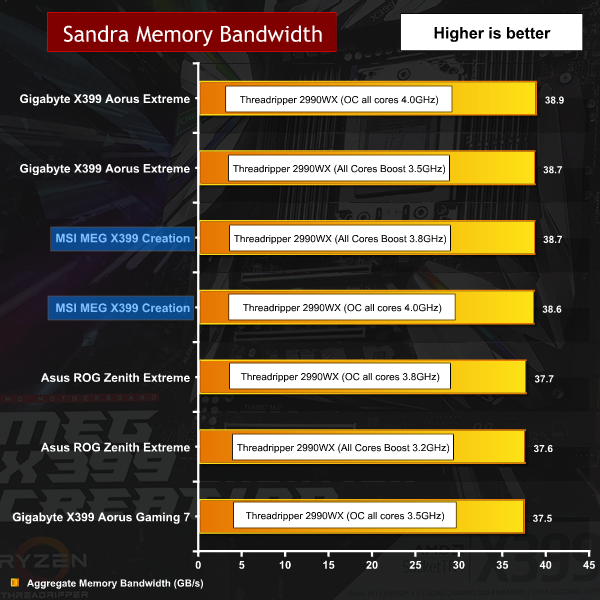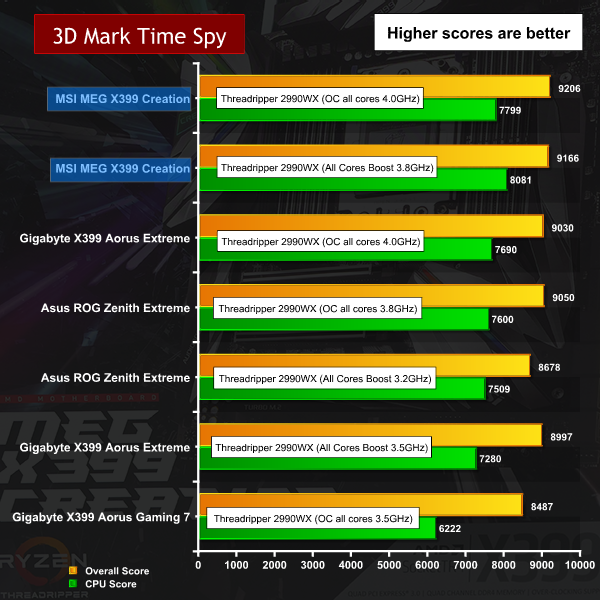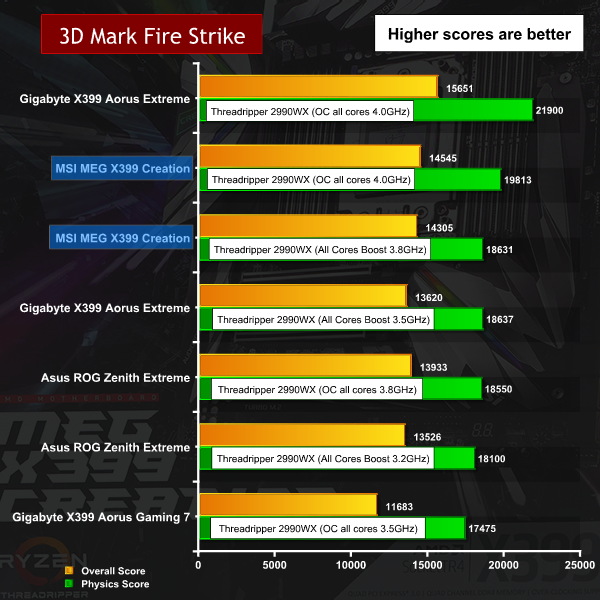 Performance and Overclocking overview
At stock clock speeds with the 250W limit engaged MSI MEG X399 Creation is nothing special as the CPU barely boosts beyond the base speed. This is true of every X399 Threadripper motherboard we have seen where you are lucky to see 3.1GHz sustained on all cores. On the other hand, if you unlock the power limit on the MSI to 500W the performance leaps forward with a typical all-core speed of 3.8GHz which is effectively the same as manually overclocking the CPU.
The difference is that the speed is entirely dynamic so it ramps up when the CPU is under load and then slows down when it is not required. This is the same benefit we saw with 2nd Gen. Ryzen 7 that comes as a result of the new and improved XFR2 and Precision Boost overdrive features. Let us be clear, as soon as you make a change to the power limit (whether in the BIOS or within AMD's Ryzen Master software) you are in the realm of overclocking.
We all know that overclocking voids your CPU warranty and we also know that AMD has no way of knowing that you enabled PBO but frankly we do not consider this to be an issue. If you use PBO the overclocking is intelligent and does all the work for you, responding dynamically to the available levels of power, heat and cooling. It is possible to gain more absolute performance, as we demonstrated by manually overclocking to 4.0GHz using manual settings however this comes at the cost of significantly higher temperatures.
If you simply unlock the power settings of the MSI MEG X399 Creation you will see the Threadripper 2990WX run at very high clock speeds that deliver superb performance, with the absolute minimum of fuss or work. These clock speeds are about 300MHz higher than other X399 motherboard we have seen and we are confident this is thanks to the superior VRM hardware used by MSI on this model.
Cooling Performance
During testing we monitor the temperature of the Threadripper CPU package and VRMs with HWiNFO64. A Blender workload gives a real world temperature, however the BWM test run is completed fairly quickly on the 2990WX test system so we ran the test three times to get a reliable temperature reading.
This figure was typically a few degrees cooler than the figure generated by AIDA64 which is a synthetic stress test that represents, for us, a worst case scenario.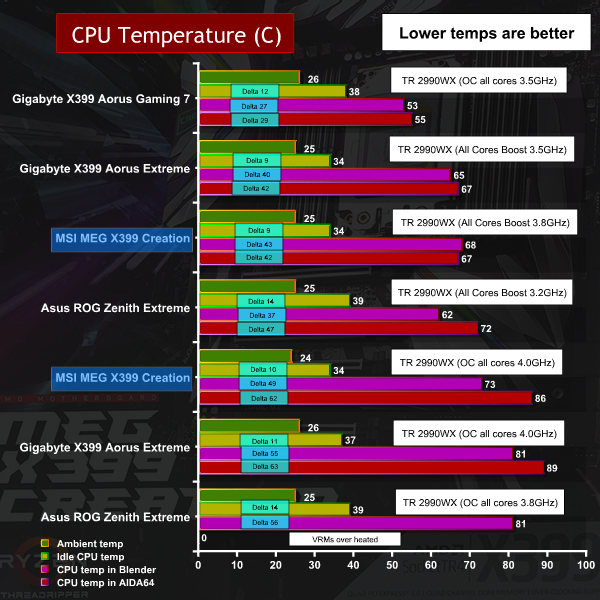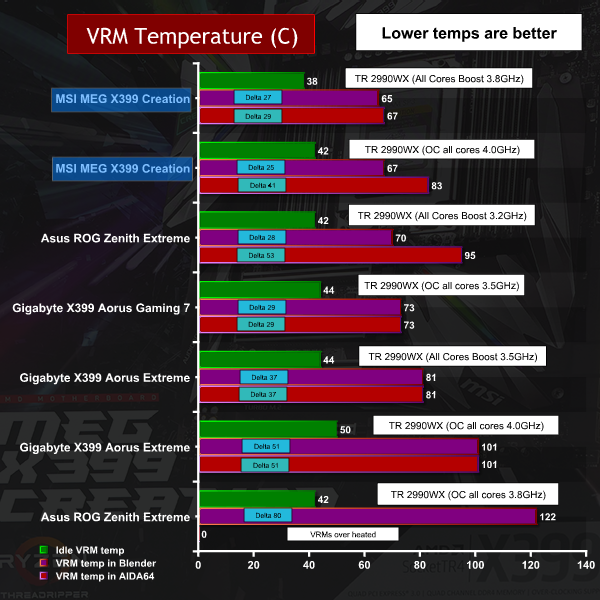 Cooling Performance Overview.
CPU temperature has a fairly direct relationship with Vcore and clock speed so it came as no surprise when we saw similar temperatures for the 2990WX overclocked to 4.0GHz on both the MSI MEG X399 Creation and Gigabyte X399 Aorus Xtreme. These two motherboards were the pick of the bunch in a group that included Gigabyte X399 Aorus Gaming 7 and Asus ROG Zenith Extreme.
We also saw similar CPU temperatures for these two motherboards when we left the CPU speed on Auto and unlocked the power limit, however the MSI was running the CPU at 3.8GHz where the Gigabyte only managed 3.5GHz. Naturally enough this gave better performance results with the MSI MEG X399 Creation and made a compelling case for running it on Auto.
VRM temperatures were a completely different proposition as the MSI ran much cooler than any X399 Threadripper motherboard we have seen both on Auto settings and overclocked. The highest temperatures we saw were 83 degrees which is impressively low for a 32-core system running at 4.0GHz. This demonstrates the benefits of the battleship engineering that MSI has employed on the VRMs and earns them a hearty round of applause.
Power Draw
We used the Powenetics project software from Cybenetics to monitor the power used by the cores of Threadripper, along with HWiNFO64 to check the power draw of the CPU package as a whole. We also monitored the system power draw at the mains socket which delivered some truly enormous numbers.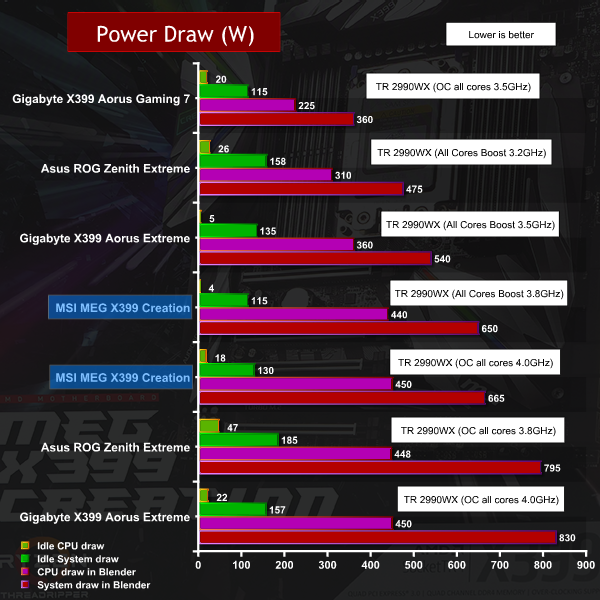 Power Draw Overview
At lower clock speeds the 32-core 2990WX determines how much power is required by each motherboard with little variance from one board to another.
As clock speeds increase to 3.8GHz-4.0GHz the CPU power draw under load in Blender levels out at 450W. This is the point where things get interesting as some significant gaps emerge between the boards for system power draw with the MSI MEG X399 Creation drawing 650W, while the Asus ROG Zenith Extreme and Gigabyte X399 Aorus Xtreme hit the 800W mark.
Our conclusion is that the sophisticated VRM hardware used by MSI simply does a better job in a more efficient manner with the result that more of your mains power ends up doing useful work, instead of being wasted as heat.
Closing Thoughts
MSI has gone completely over the top with the VRM design of the MEG X399 Creation and the result is a truly magnificent Threadripper motherboard.
The features of the motherboard consist of a long list of goodness. You get loads of PCI Express, SATA and USB, as well as Wi-Fi and Gigabit Ethernet. We would have happily traded the Game Boost overclocking feature, the RGB lighting and the M.2 Xpander-Aero for a 10Gb Ethernet connection. Our point here is that the 32-core 2990WX has no part in a gaming PC so it follows that we would prefer to ditch the features that are aimed at gamers and instead concentrate on the workstation side of things.
The list of hardware and features on this motherboard is good, however it is the top section of the MEG X399 Creation where the VRMs are located that set this motherboard apart from any other desktop board we have ever seen. It is impressive that MSI went all-out with 16-phases of Vcore, using hardware rated at 70A for each stage with three more phases for the chipset and another four phases for the DDR4 memory.
When you combine this hardware with the 32-core 2990WX and unlock the power limit you will find the motherboard effectively overclocks the CPU to maximum effect. The numbers you see both in terms of benchmark results and power draw are huge, however that is not unexpected when you're working with a level of hardware previously unseen on the PC desktop. Balanced against that the VRMs run at amazingly low temperatures.
Perhaps the most impressive thing about the dynamic overclocking delivered by the MEG X399 Creation is that the power hardware displays a surprising degree of efficiency and consequently the CPU and VRM temperatures are impressively low.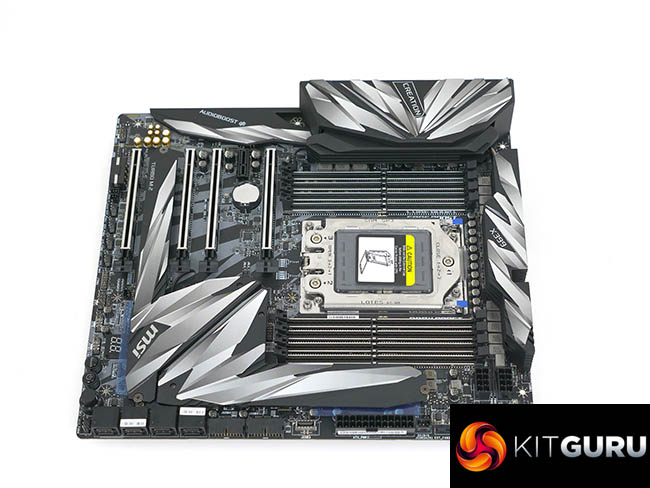 Read more on this board over here: https://www.msi.com/Motherboard/MEG-X399-CREATION

Buy from Overclockers UK for £469.99 inc vat HERE
Pros:
World class 16-phase VRMs that run at very low temperatures.
Truly impressive dynamic overclocking.
Huge amounts of connectivity with a total of seven M.2 slots.
I/O panel is loaded with USB 3.1 including type C.
Cons:
MEG X399 Creation is a gamer's motherboard however its natural partner, the Threadripper 2990WX, is not a gaming CPU.
10Gb Ethernet would enhance this motherboard.
OC Game Boost control knob looks out of place on this board.
KitGuru says: MEG X399 Creation is the most impressive motherboard we have ever seen. Nuff said.