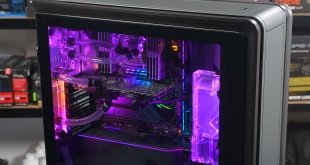 The original Phanteks Enthoo Luxe was one of the first reviews I wrote for KitGuru back in 2014, so it is clear that Luxe 2 has had a long period of development. In essence Phanteks has taken the principle of the original Luxe, added in the dual-system function of the Mini XL from 2016 and then topped it off with the aesthetic of the Phanteks Elite from 2017. The headline news with the Luxe 2 is that it supports dual systems (provided one is Mini-ITX), allows you to install a huge array of cooling and a practically unlimited number of hard drives and SSDs. 
Note: if the above images are not displaying properly, you may need to disable Ad Block as it is known to interfere with our display code
Phanteks demonstrated the Luxe 2 at Computex 2019 in three separate configurations.
'Ultimate Cooling' showed off a system with four radiators (480mm at the front, 480mm in the side, 360mm in the roof and 360mm in the floor).
Ultimate Workstation had dual power supplies, 12 hard drives and 11 SSDs.
'2-in-1' had dual systems and dual vertical graphics cards.
As you will have seen in our video, the Luxe 2 provides a great many options, however it may well lead you to buy one or two Phanteks accessories, depending on your chosen configuration. For example you might want a vertical GPU mount or a clever Phanteks Revolt X or Revolt Pro power supply.
We used a number of Phanteks parts in our build which are detailed below:
£70 C360i CPU block
£130 G2080 Ti GPU block
£95 R220C 200ml reservoir
£90 D140 distro plate
4x F120MP fans at £11 each (3-pack £26). These are 120mm fans rated at 1,800rpm.
£215 1000W Revolt X Platinum power supply
That comes to a significant £750 on top of the £185 asking price for the bare Luxe 2 case.
Specification:
Motherboard support: SSE-EEB, E-ATX, ATX, Micro-ATX, Mini-ITX.
Expansion slots: 8+3+3.
Included fans: None.
Fan mounts: 4x 120mm/3x 140mm front, 3x 120mm/140mm roof, 1x 120mm/140mm rear, 3x 120mm/1x 140mm floor, 4x 120mm side.
Radiator mounts: 480mm/420mm front, 360mm roof, 120mm/140mm rear, 360mm/140mm floor, 480mm side.
5.25-inch optical drive bays: Two (requires accessory)
Internal drive bays: 12x 3.5-inch (4 included), 15x 2.5-inch.
Dimensions: 595mm H x 570mm D x 240mm W.
You will certainly require a number of fans as the Luxe 2 is supplied none. This is a big change from the original Luxe which was supplied with a 200mm intake fan at the front and two 140mm exhaust fans in the roof and the rear. For that matter the original Luxe was supplied with three optical drive bays where Luxe 2 has none, unless you buy the optional mounting bracket.
Luxe 2 does not support 200mm fans and has no support for 140mm fans in the side cooling position so we chose to stick with 120mm units throughout the build.
Phanteks included the D140 Distro plate in the package they sent us, which was welcome. We saw this intriguing accessory at Computex and were keen to see it in action. As you will have seen in our video the use of D140 changes the layout of your PC cooling system significantly.
Testing
To put this case through its cooling paces we will be using a test system consisting of an Intel Core i9-7920X, RTX 2080 Founders Edition and an SSD. This system allows us to produce a substantial amount of heat and effectively test the Phanteks Enthoo Luxe 2's cooling capabilities.
For stress testing we use AIDA64 to create the maximum amount of load our CPU and GPU are ever likely to see.
Test System:
Processor: Intel Core i9-7980XE (18 cores/36 threads)
Motherboard: Asus ROG Rampage VI Extreme
Memory: 64GB G.Skill TridentZ DDR4-3200MHz
Graphics card: Nvidia RTX 2080 Founders Edition 8GB
Power supply: Phanteks Revolt X 1000W Platinum
SSD: 1TB WD Black M.2 NVMe
OS: Windows 10
Custom Loop Cooling
Pump/Reservoir: Phanteks R220C with EK DDC pump
CPU Block: Phanteks Glacier C360i
GPU Block: Phanteks Glacier G1080 Founders Edition Ti
Distribution Plate: Phanteks Glacier D140
Radiators: Alphacool NexXxos ST30 360mm and 480mm
Fans: 14x Phanteks F120MP
Fittings: Phanteks 16/10mm soft tube
Coolant: Corsair XL5
Cooling Performance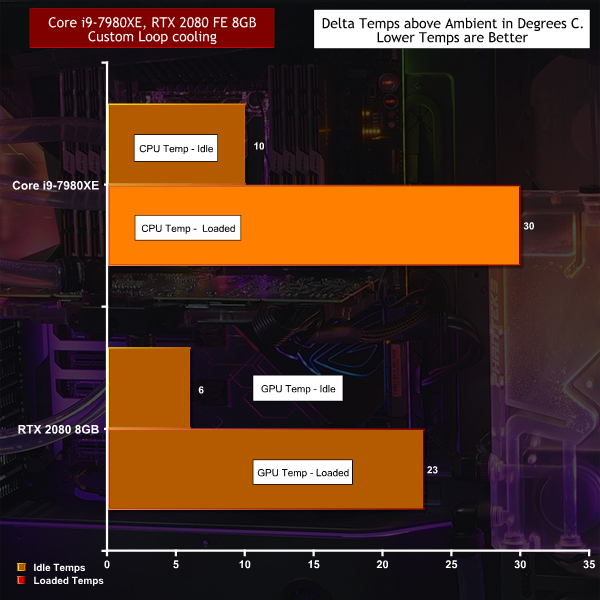 Cooling Performance Overview
The Luxe 2 cools very well. Clearly the exact figures depend on your chosen PC build(s) and the level of cooling you install however the case flows air very nicely. There are decent openings in the floor, front, side and roof with filters at all those points. If you push your system to the absolute limit you might find it necessary to remove the air filters to increase air flow however we consider this to be most unlikely.
Closing Thoughts
If you approach Luxe 2 as a big and impressive budget case that is aimed at the enthusiast it all makes perfect sense. You can see signs that costs have been cut in a handful of areas such as the thin and flexible steel in the areas where you mount fans and radiators, but the most obvious point is that the case is supplied without any fans. This will surely add £50 to the asking price and may cost you an extra £100 or £150, depending on the hardware you select. That will be a drop in the ocean compared to your CPU, motherboard, graphics card and so on, so we really are not troubled that Luxe 2 does not really cost £185 but effectively costs a good amount more.
The neat details that are sprinkled through Luxe 2 make it a delight to work with. Phanteks includes a superb powered PWM fan hub and the neatest RGB lighting you could ever hope to see. Enthusiasts will love the ability to drop in a 20mm fill port or drain port with the minimum of hassle.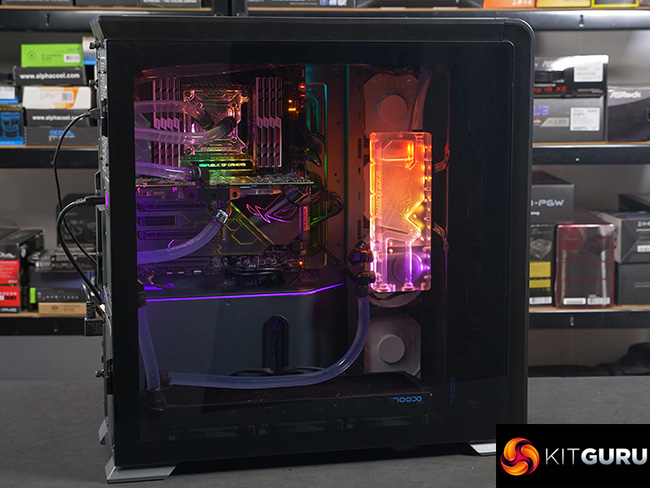 As we say in our video, it would be easier to work with Luxe 2 if the case was wider and had more space for cable management but that would certainly result in a case that was bigger and heavier. It would be a similar story if Phanteks included radiator racks in the front and roof, as well as the floor. These changes might improve Luxe 2 but they would also move it towards the size and shape of Elite, so we can understand the choices Phanteks has made.
This is an intelligent and well designed case that is aimed squarely at the enthusiast who needs more than a mid-tower ATX model. It fills a significant space in the market and scores a solid hit where a number of other companies have had noticeable misses.

You can buy the Phanteks Enthoo Luxe 2 from Overclockers UK for £184.99 HERE
Pros:
Loads of options for radiators and fans.
Excellent integrated RGB lighting.
Stylish good looks and excellent tempered glass.
Very good air flow.
Supports a monumental number of HDDs and SSDs.
Heck, you can even add optical drives (if you buy the accessory unit).
You have the option to install dual systems, provided you use a Revolt X power supply.
Cons:
Unsupported parts of the core chassis steelwork are rather flexible.
Luxe 2 is too tall for many desks.
We could use more space for cable management behind the back panel.
Managing a great many fans get complicated!
KitGuru says: Luxe 2 is excellent. If the steelwork was slightly more rugged it would deserve 9.5 marks but as things stand it is gets a solid 9 and huge amounts of our admiration.
Be sure to check out our sponsors store EKWB here