G.Skill International Enterprise Co., one of the globe's leading makers of high-end memory modules, on Wednesday introduced its all-new Trident Z and Ripjaws V families of DDR4 memory modules designed for enthusiast-class systems running the latest microprocessors from Intel Corp. The most advanced Trident Z and Ripjaws V modules are rated to run at rather incredible 3733MHz, 3800MHz and even 4000MHz clock-rates.
G.Skill Trident Z: Formula 1 of memory modules
The all-new G.Skill Trident Z memory modules were specifically developed for Intel's new-generation "Skylake-S" microprocessors and Intel Z170 platforms, but they are fully compatible with Intel's Core i7 Extreme high-end desktop offerings. The Trident Z modules are based on high-end memory chips made by Samsung Electronics as well as on custom printed-circuit boards. Ultra-high-performance Trident Z products feature hand-selected DRAM ICs that can run at extreme frequencies.
G.Skill's Trident X memory modules will be available in dual-channel and quad-channel kits featuring 8GB, 16GB, 32GB and 64GB capacities. The highest-end solutions for overclockers will be rated to run at 3600MHz (CL17 18-18-38), 3733MHz (CL17 19-19-39), 3800MHz (CL18 20-20-38) as well as 4000MHz (CL19 25-25-45) with 1.35V – 1.4V voltage
G.Skill Ripjaws V: Hypercar of memory modules
The G.Skill Ripjaws V memory modules will succeed the Ripjaws 4 family. The new modules will continue to use custom PCBs as well as hand-picked Samsung DDR4 memory ICs for high-end versions. The modules will feature revamped heatspreaders in five illuminating colors: red, blue, silver, gunmetal gray and black.
The Ripjaws V dual-channel and quad-channel kits are optimized for operation at mainstream to high frequencies and quad-channel systems. The Ripjaws V lineup will feature modules rated to run a 2133MHz – 3733MHz with up to CL17-19-19-39 latency settings and 1.2V – 1.35V voltages.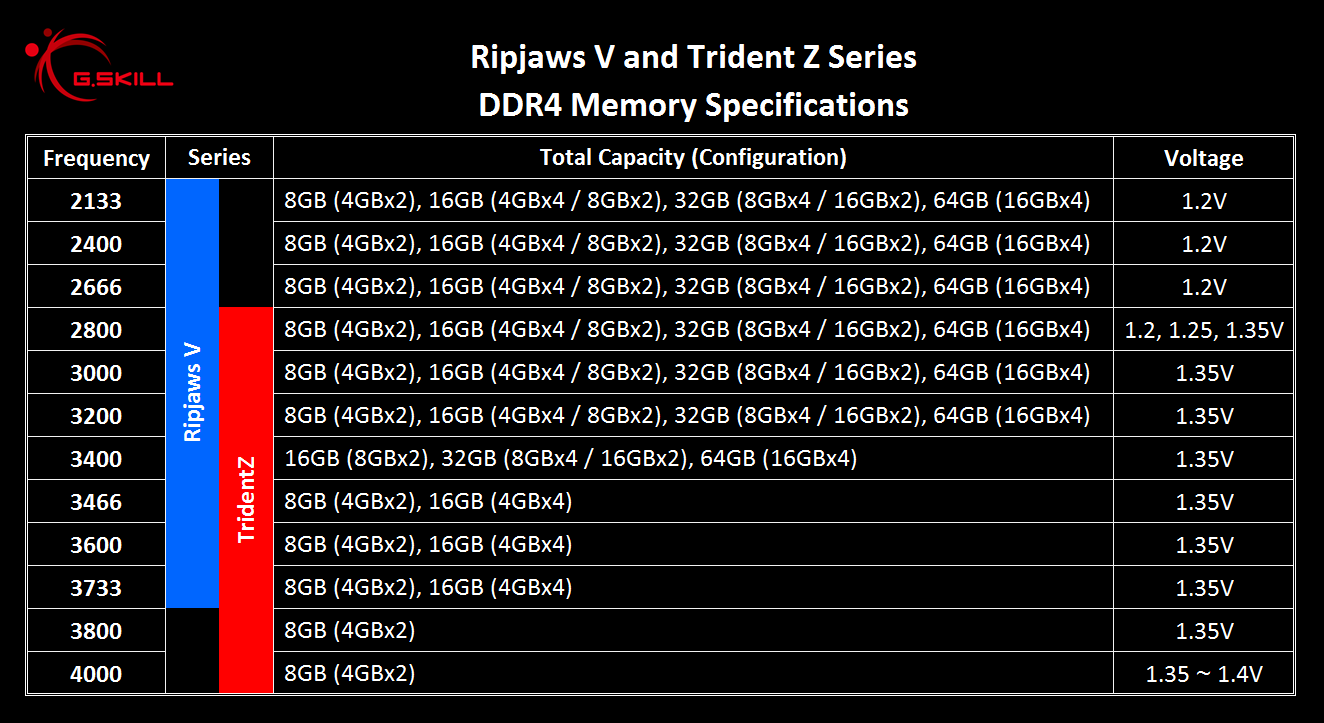 All DDR4 memory modules from G.Skill fully support Intel XMP 2.0 profiles and can automatically set maximum clock-rates when installed into compatible platforms.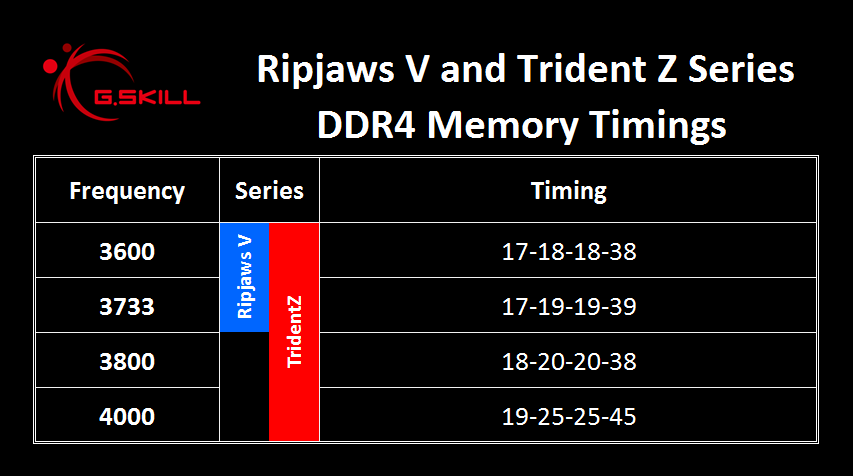 The new G.Skill Trident Z and G.Skill Ripjaws V memory kits will hit the market in the coming weeks. Pricing will depend on clock-rates: 2133MHz modules are expected to be relatively affordable, but 4000MHz modules will come at a hefty premium.
Discuss on our Facebook page, HERE.
KitGuru Says: As it appears, Intel's upcoming Core i7-6700K and Core i5-6600K "Skylake-S" processors have excellent memory controller capable of working with memory modules at whopping 4.0GHz clock-rate. Just imagine, how fast the progress is going. A little more than ten years ago 400MHz DDR was installed into high-end systems and it was considered as "extreme" clock-rate.