Micron Technology on Monday began the expansion of its Singapore NAND flash memory fabrication facility. The company started to build a new fab that will cost $4 billion and will start production in fiscal 2017. The new fab is expected to produce innovative 3D NAND flash (co-developed with Intel) as well as other types of future memory.
Micron already operates four major manufacturing facilities in Singapore and employs around 7 thousand people there. The new fab 10X will be a 255,000 square foot expansion for the current fab 10N. The manufacturing complex will be able to produce around 140 thousand 300mm 3D NAND flash wafers per month, which is a lot. Moreover, the new fab will support 40 – 50 per cent bit growth average per annum over an extended time horizon. In addition, the space will enable production of storage class and other memory technologies.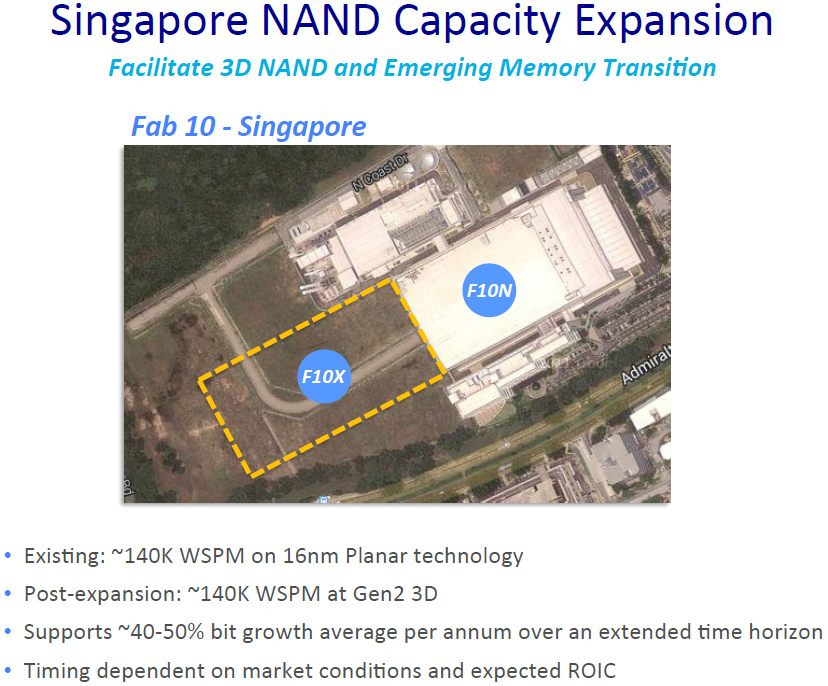 "We are excited to expand our manufacturing footprint in Singapore, and we commend the government and Economic Development Board for fostering such a productive business environment," said Mark Adams, the president of Micron.
Micron projects initial manufacturing output to occur in fiscal 2017, which begins in Q4 2016. The company now expects spending about $50 million in fiscal 2015 for early design and construction. At completion and subject to market conditions, Micron presently anticipates the total cost for this expansion to be approximately $4 billion incurred over a number of years starting in fiscal 2016. The manufacturer's capital expenditure guidance for fiscal 2015 remains unchanged at $3.6 billion to $4 billion.
"We are glad that Micron has chosen to expand its NAND flash memory fabrication facility in Singapore. This is a testament to the local team's engineering and manufacturing capabilities, and Singapore's competitiveness for advanced manufacturing," said Terence Gan, director for electronics, economic development board. "This investment will help to strengthen our semiconductor and data storage industries and position Singapore to capture the growth opportunities in these industries."
Discuss on our Facebook page, HERE.
KitGuru Says: Micron's responsible approach to capacity expansion makes a lot of sense since the company does not want to over-produce NAND flash. On the other hand, considering the fact that demand for NAND memory will only increase, Micron just has to expand its production facilities to meet it.