AMD's Mantle application programming interface was the first low-overhead/high-throughput graphics API to reach the market. The emergence of Mantle has made Microsoft and many other companies in the industry to redesign their APIs, including DirectX and OpenGL. While Mantle will continue to be AMD's graphics innovation platform, the company now advices game developers to focus on DirectX 12 and Next-Generation OpenGL Initiative.
"The Mantle SDK also remains available to partners who register in this co-development and evaluation program," said Raja Koduri, vice president of visual and perceptual computing at AMD, in a blog post. "However, if you are a developer interested in Mantle '1.0' functionality, we suggest that you focus your attention on DirectX 12 or GLnext.
Apparently, Advanced Micro Devices no longer wants game developers to use its proprietary API for their future titles, but wants them to utilize APIs from Khronos Group and Microsoft.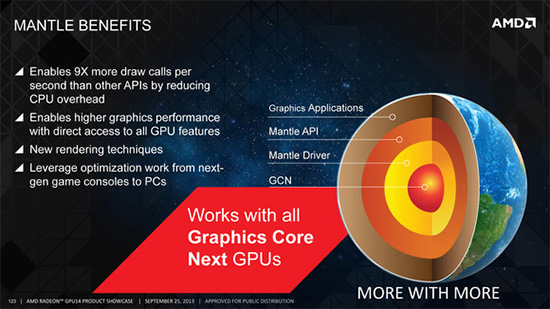 While exact reasons why AMD advices game designers to use industry-standard APIs instead of Mantle are unclear, it is highly likely that the company wants to reduce its expenses on relations with independent software vendors (ISVs). Supporting multiple game developers costs a lot and if developers used next-gen OpenGL or DirectX 12, AMD's support requirements would be considerably lower since usage of Mantle requires programmers to work closely with AMD.
Since AMD is not shutting its Mantle project down, it is likely that going forward it will focus on implementing support of exclusive features into Mantle, which will help leading game developers to make unique things with Radeon hardware. Still, AMD made it perfectly clear that Mantle will not be a widely-used API for every game designer.
AMD promised to share more details about the future of Mantle towards the end of the week.
Discuss on our Facebook page, HERE.
KitGuru Says: While it is obvious that Mantle support from now on will be relatively limited, it remains to be seen how limited it will be. AMD needs five or six AAA titles to support exclusive graphics capabilities of Radeon GPUs. Therefore, it should not be too hard for the company persuade a limited amount of partners to use Mantle. However, the question is whether game developers will actually want to utilize an API that is not widely used by the industry…