The development of DDR4 began several years before DDR3 was commercialized and it took DDR4 about nine years to get from the drawing board into actual computers. Right now key industry players are already working on the standard, which will succeed DDR4. According to Samsung Electronics, prototypes of the new memory may show up already in 2018, but the adoption will start only after 2020.
The post-DDR4 memory will address servers, desktops and notebooks, which means that it has to be scalable in terms of capacity, performance, power consumption and costs. Ultra-portable devices will continue to use LPDDR4-like memory technologies, whereas bandwidth-demanding applications such as graphics cards will rely on high-bandwidth memory (HBM). Addressing mobile and demanding devices is not something that a new mainstream DRAM [dynamic random access memory] will have to do.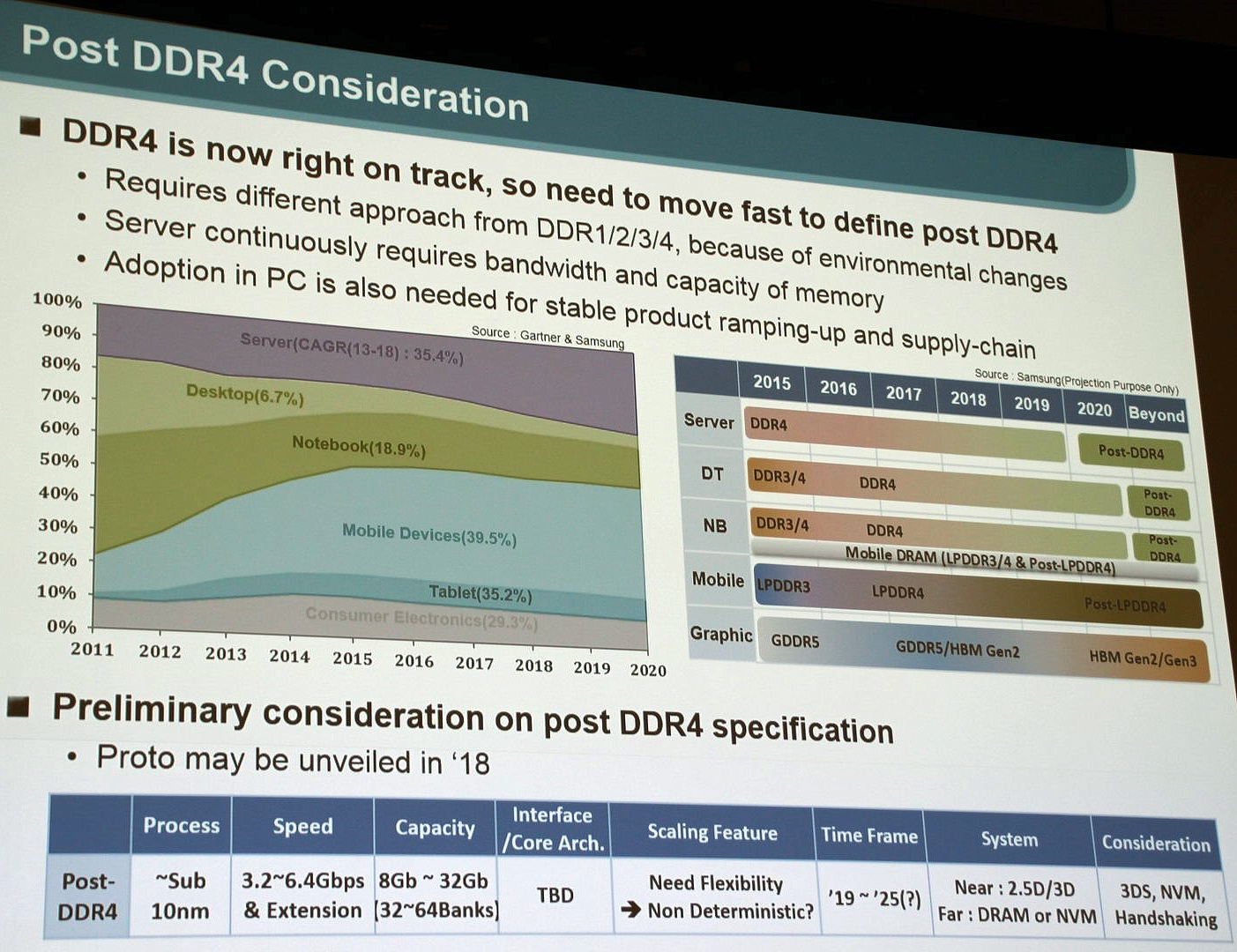 At the Intel Developer Forum last month Samsung Electronics revealed some preliminary targets, which post-DDR4 memory should be able to achieve. Data-rates of the next-generation system-DRAM will rise to up to 6.4Gb/s per pin with possibility for further increase, which will enable memory modules* with up to 51.2GB/s memory bandwidth. Capacities of memory devices will increase from 4Gb or 8Gb today to up to 32Gb within the life-cycle of post-DDR4, which will help to build mainstream modules (with 8 chips) with 32GB capacities. Increasing capacities of DRAM devices is very important because servers continuously require more memory.
The post-DDR4 memory ICs [integrated circuits] will be made using sub-10nm process technologies, based on slides demonstrated by Samsung and published by ComputerBase.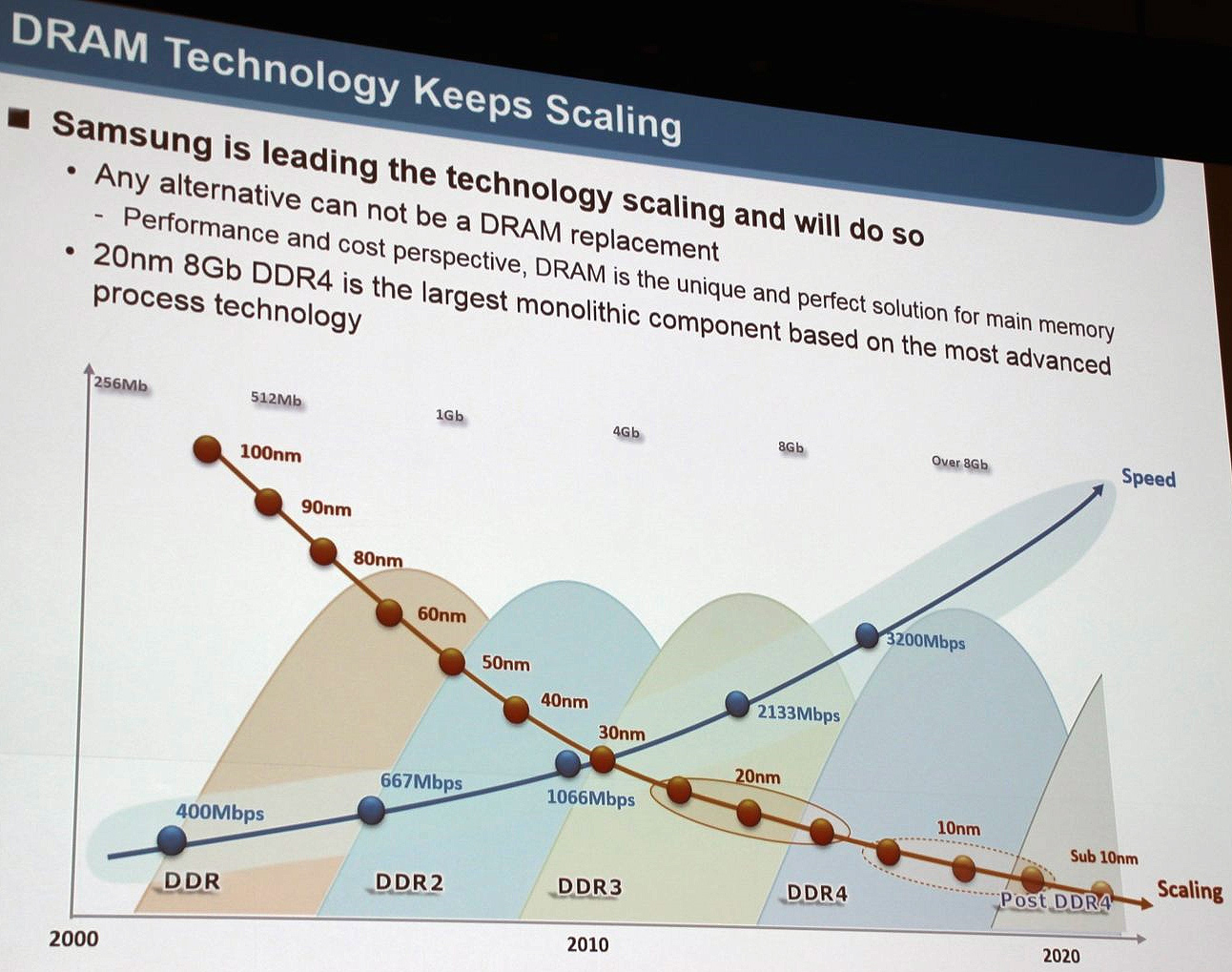 The DDR4 standard can offer very high performance, but it has its limitations: no more than two memory modules per channel (unless special buffers are used), maximum clock-rates of around 4.26GHz** and limited amount of memory devices per vertically stacked chip. The post-DDR4 technology should address these issues, but that could require a major makeover of memory architecture in general. For example, some of the things that Samsung is now considering include optical interfaces as well as 2.5D or 3D packaging.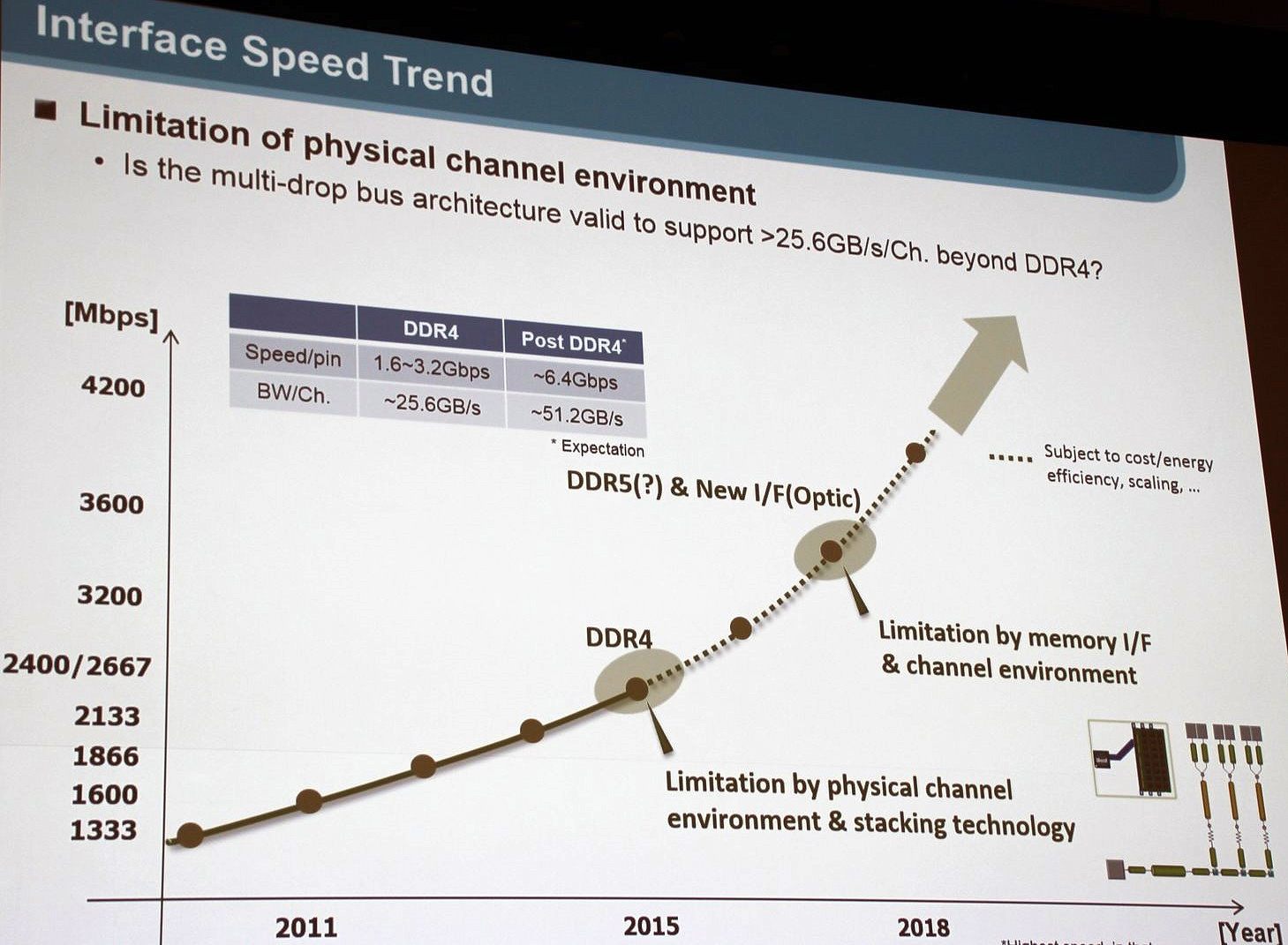 At present nothing particular is clear about post-DDR4 memory, including its interface and core architecture. If producers of dynamic random access memory decide to radically change the interface and architecture of DRAM that will be used from 2020 and onwards, then even the abbreviate DDR [double data rate] might become obsolete.
Samsung expects to produce the first prototypes of post-DDR4 ICs sometimes in 2018. Actual adoption of post-DDR4 will depend on multiple things, which includes scaling of DDR4 in terms of data-rates and voltages as well as market requiremenrs. Keeping in mind all the complexities associated with standardization of new DRAM types and mass production, it is conceivable that post-DDR4 memory will not hit the market in 2020, but years after that.
*Assuming that memory modules will continue to feature 64-bit wide interface.
**JEDEC standard.
Discuss on our Facebook page, HERE.
KitGuru Says: The facts that Samsung revealed about post-DDR4 memory look interesting, but they may not necessarily describe exactly what is coming. DRAM hardly requires optical interface at 6.4Gb/s data-rate. 32Gb DRAM devices look very promising, but they will clearly not hit the market before 2025 unless memory makers will produce such chips specifically for servers. 6.4Gb/s data-rate looks logical, but if there is demand for faster DRAM, it will have to be increased.