Even though Microsoft Corp.'s Windows 10 operating system is available for free to those, who already use a recent Windows, the software giant actually sells licenses for the OS to system makers and end users. As reported before, Microsoft decided not to use DVDs to distribute its Windows 10, but to utilize USB flash drives. The latter recently hit Japanese retailers.
As it appears, retail versions of Microsoft Windows 10 are distributed on USB 3.0 flash drives of unknown capacities, which are shipped inside rather large cardboard boxes, reports Akiba PC Hotline. The Windows 10 USB drives are made of metal with a plastic knob. The packages with Windows 10 Home and Windows 10 Pro are different, but users may choose whether to set up a 32-bit or a 64-bit version during installation.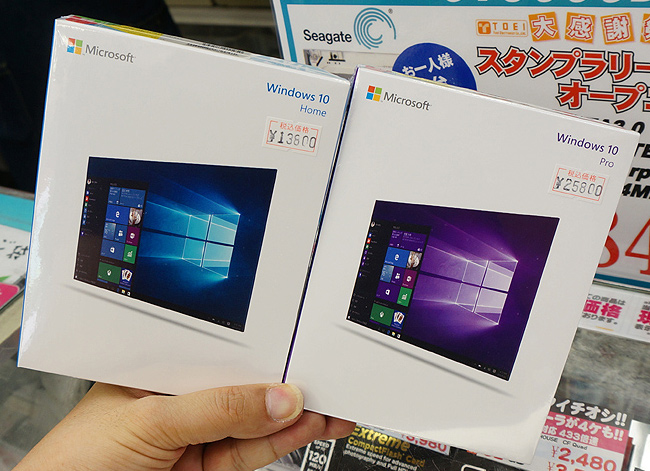 Some retailers sell Windows 10 USB versions below the official recommended prices of the OS (¥14904 for Windows 10 Home and ¥27864 for Windows 10 Pro) for Japan. It is also noteworthy that retail Windows 10 on USB drives are sometimes less expensive than DSP OEI versions of the operating system, which are sold with new PCs.
Microsoft Windows 10 Home costs $119 in the U.S. and £99 in the U.K. Microsoft Windows 10 Pro is priced at $199 in the U.S. and £189 in the U.K.
Microsoft Windows 10 requires at least 1GHz processor, 1GB of RAM, 20GB of storage space, a display with 800*600 or higher resolution as well as a DirectX 9-class graphics processor with a WDDM driver.
Discuss on our Facebook page, HERE.
KitGuru Says: As it appears, even though Microsoft is ready to abandon optical media, it is not ready to abandon physical media completely as it still needs 16GB – 32GB flash drives to distribute its Windows 10. But will NAND flash make optical discs obsolete when it comes to distribution of large games or movies? Only time will tell!