Performance from the Corsair Dominator Platinum RGB memory modules is solid, as we would expect from a 4x8GB kit rated at 3600MHz 18-19-19-39. Unsurprisingly, you will get a little higher performance from a CL16 kit at the same frequency. But we were happy to see the Corsair modules outperforming our venerable Samsung B-die 3200MHz CL14 TridentZ RGB sticks.
Aside from performance, it is perfectly reasonable to highlight that these modules are more of a showpiece than an alternative kit of commodity RAM that would provide similar frame rates at a lower price.

In the area of design, I have zero criticism to present to Corsair. The attention to detail on the aluminium heatspreader and the zinc alloy top bar is faultless. Equally high praise is necessary for the way in which Corsair keeps colouring consistent between the gold heat fins and the small hex bolts.
Even the diffusers used to aid projection of the 12 Capellix LEDs' bright light are subtle and coherent. Put simply, the Corsair Dominator Platinum RGB modules are a design masterpiece that have actually been improved by the addition of a clean white colour scheme and more appealing text on the heatspreader.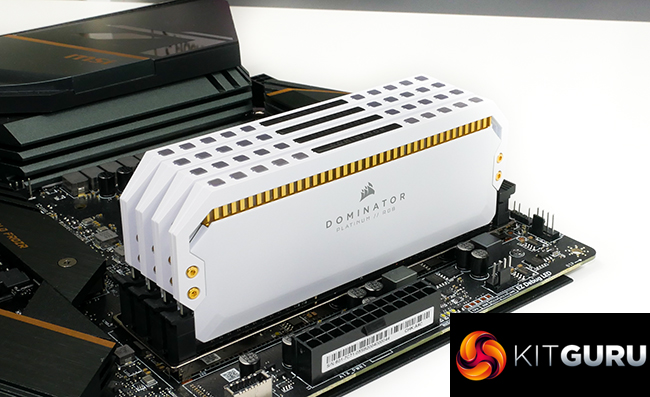 At around £285 for the 32GB four-stick kit rated at 3600MHz 18-19-19-39 and 1.35V, Corsair's asking price is incredibly expensive. A similar specced kit from Crucial or Team Group will cost £65-£100 less, though there's a distinct difference in terms of styling.
The most reasonable competitor comes from G.SKILL's Trident Z Royal line-up. Many of the kits from said line-up are basically impossible to find on sale in the UK or are similarly expensive to the Corsair flagship modules.
Will an average user be better served by opting for Corsair's more reasonable Vengeance LPX or RGB modules (or a competing vendor's options) and using the £60-100 saved on a better graphics card, processor, or SSD? Yes. Will some users who have already spent thousands of pounds on their glamorous hardware feel that an extra £100 or so for the most aesthetically premium memory kit on the market is worthwhile? Also yes.
Pros:
Outstanding design, build quality, and attention to detail – simply unparalleled.
Capellix LED lighting looks absolutely superb.
Excellent control and data display through iCUE.
Good synchronisation and control with iCUE and ASUS AURA.
Solid performance and reasonable overclocking from the Micron E-die chips.
Cons:
Price is very high.
Tall heatspreaders will regularly cause interference.
Timings could be tighter for such a premium kit.
KitGuru says: With build quality, design, and styling that is simply unparalleled, Corsair's white addition to the Dominator Platinum RGB line-up is expensive but undeniably alluring.