Corsair recently launched a new version of the high-end Dominator Platinum RGB modules – this time with a white colour scheme for the heatspreaders and touches of gold for the fins. Sporting the same dozen Capellix RGB LEDs as the black Dominator Platinum RGB modules, we are looking at a 4x8GB kit with 3600C18 specifications.
Watch via our Vimeo channel (below) or over on YouTube at 2160p HERE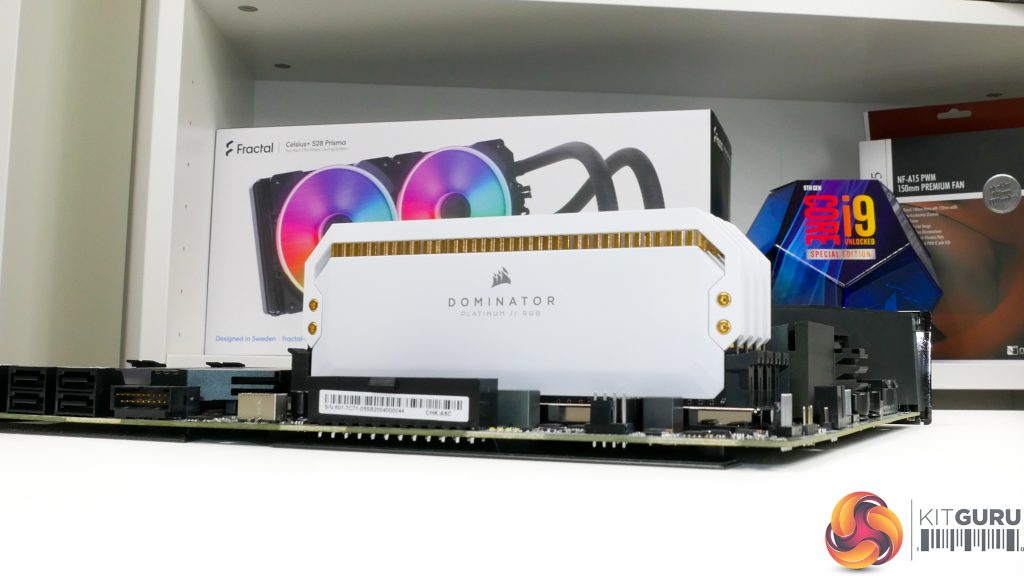 The key difference between Corsair's newest Dominator Platinum RGB memory modules and the ones currently on the market is, obviously, the colour scheme.
These new sticks use a white colour scheme for the anodized aluminium heatspreader and Corsair has made effort to change the letting to display "Dominator Platinum // RGB" rather than "Corsair", as used for the black kit.
The creamy white coloured heatspreader is extremely premium in every aspect – from uniformity of the white colouring to the consistency and angles of the lettering.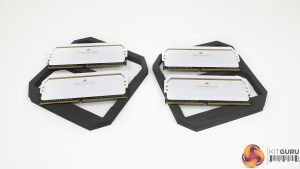 Also adjusted for the white modules is the colouring of the heat fins sat atop the heatspreader. These are now coloured gold to superbly contrast the white heatspreaders. Light diffuser chunks sit between groups of the gold fins and are realistically barely visible, which is a good thing.
Corsair's attention to detail is commendable and that point is typified with the use of gold coloured hex screws to join the main heatspreader with the die-cast zinc alloy top bar. It is a small touch and one that may seem obvious with hindsight. However, it highlights the attention to detail that Corsair (rightfully) attaches to its flagship line of memory modules. Kudos.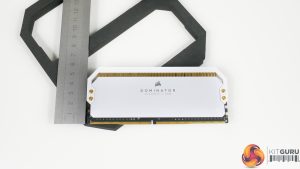 It is not all plain sailing, though. The modules' biggest positive – their design – is also a clear downfall to many users who will be unable to deal with their 56mm height. Use an AIO inside a mid-tower chassis? The height probably will not be an issue. Use a large air cooler or a mini-ITX case with limited clearance? You are going to be in a world of pain when it comes to interference headaches.
Anecdotally, I had to remove a fan from a Corsair 280mm AIO when testing with the Dominator Platinum RGB modules recently. This was inside a Fractal Meshify S2 chassis which is by no means small. The sheer height of the RAM modules meant that the top mounted AIO radiator and fan caused interference and resulted in the fan being removed.
That is hardly a reasonable 24/7 solution.
Focussing on the 12 Capellix RGB LEDs on the modules, these are the same as is used for the black Dominator Platinum RGB sticks that Leo examined last year. The 0.2mm3 Capellix LEDs are brighter, more power efficient, and longer lasting than conventional LEDs, according to Corsair.
That reduced power consumption point is important in preventing thermal throttling, not that we would typically worry about such an issue for RAM modules. The more important feature of Capellix LEDs is the higher brightness levels that minimises the requirement for a large diffuser strip that we see on competing memory modules.
Unsurprisingly, management of the LEDs is handled by Corsair's superb iCUE software suite.
You get the usual affair of RGB lighting control, including smart modes such as temperature-driven colour schemes. Users of an ASUS motherboard, such as the one for our test system, will also be pleased by Corsair and ASUS' partnership for iCUE LED control as of early this year.
The ability to sync the Dominator Platinum RGB memory with our ASUS X570 motherboard worked very well in our testing and is an undeniably clean approach to the common RGB colour scheme synchronisation.
Aside from the core RGB LED control systems, iCUE offers some smart features. For one, you can manually change the positioning of each module as installed in your system. This allows for the lighting style to be operating as intended.
There is also temperature sensor data fed through from each module and this can be displayed graphically. This temperature data can then be used to trigger a specific LED colour notification, if desired. On top of all this smart activity is a simple page dedicated to highlighting the operating frequency and primary timings of the memory kit.
In my opinion, the way in which Corsair integrates the Dominator Platinum RGB memory modules within the iCUE suite is about as good as it gets.
Corsair provides a variety of kits for the Dominator Platinum RGB white modules. The specific kit that we are testing with is a 32GB (4x8GB) set with 3600MHz operating speed and 18-19-19-39 timings at 1.35V.
3600MHz is a good go-to frequency for premium memory modules in today's market, especially with the benefits of running this clock rate with AMD Zen 2 processors. With that said, 18-19-19-39 is not a particularly tight set of timings for such a premium kit. We will have to see how this influences performance.
Also of interest is how the Micron E-die memory chips used on our sampled modules compare against Samsung B-die competition, and how they overclock. Let's take a closer look.
Specifications:
Model Number: CMT32GX4M4C3600C18W
Capacity: 32GB (4x 8GB)
Rated Frequency: DDR4-3600MHz
Rated Timings: 18-19-19-39
Voltage: 1.35V
Format: Non-ECC Unbuffered 288-pin DIMM
RGB Lighting: 12 Capellix addressable RGB LEDs, 12 individual control zones.
Be sure to check out our sponsors store EKWB here