Today we are examining a couple of DDR4 4GHz kits from Essencore KLEVV – which is effectively the retail arm of memory giant SK Hynix. The Bolt XR is a commodity DDR4 kit with low profile heatspreader design that could be ideal for users with large CPU coolers. The Cras XR RGB is, as the name suggests, equipped with an RGB lightbar atop the heatspreader to add colourful flair to the modules.
Watch via our Vimeo Channel (Below) or over on YouTube at 2160p HERE
Video Timestamps
00:00 Start
00:15 Introduction
01:17 The two kits
01:49 BOLT XR up close / pricing / competitors
04:02 CRAS XR RGB up close / pricing / competitors
07:45 Test System and the parameters for testing
10:25 Comparison kits
11:03 Test Results
13:25 Overclocking results and performance discussion
16:03 RGB discussion – what which is for you?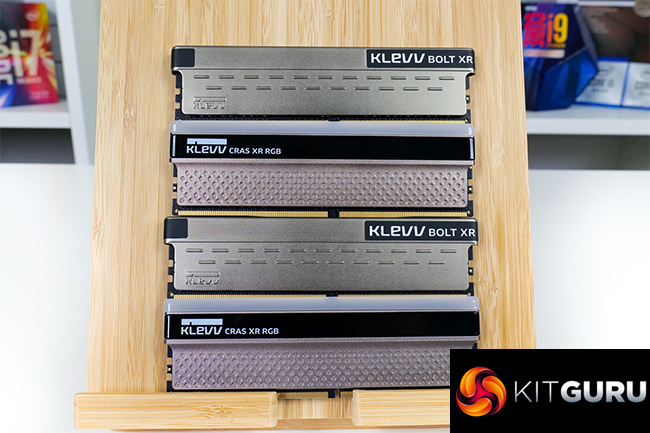 The specific kits that we are looking at today are DDR4 4000MHz operating frequency supporting XMP, dual channel 2x8GB 16GB kits using single rank modules, and 19-25-25-45 rated timings at 1.4V operating voltage. SK Hynix DJR memory ICs are used in the aforementioned single-rank configuration for the 8GB DIMMs.
Starting out with Bolt XR modules, KLEVV uses an aluminium heatspreader that is primarily gunmetal-type grey in colour. That sits atop the black PCB. The modules have some physical design tweaks to add a touch of visual flair; these come in the form of notches and grooves which simply adjust the sheet of aluminium away from being a basic flat plate.
You also get the thicker rounded section and a little bit of colour contrast at the top of the module which features the KLEVV Bolt XR product name.
Overall, we would say that the Bolt XR modules are nothing particularly fancy in terms of design. I would compare these to something like Corsair's Vengeance LPX modules which are intended to be commodity sticks without excess expenditure on fancy heatspreaders and RGB lighting.
Of course, this also has the benefit of excellent CPU cooler and motherboard compatibility as the Bolt XR modules only measure just under 37mm tall thus limiting their interference potential. For reference, Corsair Vengeance LPX is 33.5 mm tall and is generally considered to have excellent cooler height compatibility.
Alternative notable capacities and frequencies available include 2x8GB or 2x16GB kits at 3600 CL18, which is common for SK Hynix memory ICs from competing vendors. The 4000MHz CL19 16GB kit that we are testing comes in at just over £130 currently with the poor availability seemingly limited to just Amazon or some eBay sellers. £130 puts Klevv's kit directly against Corsair's Vengeance LPX 4GHz 16GB competitor.
Now focusing on the Cras XR RGB modules, which of course run at the same settings, the key variation comes in the heatspreader – and therefore overall module – design. Klevv still uses an aluminium heatspreader, but this time the design is changed to a dotted style that I personally prefer over the Bolt XR's notches.
You will also note that the colouring of the RGB module's heatspreader is different due to a colour tint that leans slightly more towards a dark / grey / rose gold highlight in person. Module height is now 42.5mm and this is due to the inclusion of an RGB LED light bar.
Klevv provides good lighting quality overall from the top-side wrap-around lightbar. I like that the oval type bar structure leaves a gap in the centre which gives the illusion of more lighting compared to a bigger, solid bar. The lighting brightness is good and the individual LEDs are not glaringly clear to the point where light diffusion is a problem. The lighting smoothness is good.
Versus Corsair Vengeance RGB Pro SL, the Klevv modules do not appear quite as bright and the smoothness is not quite as granular. However, the wrap-around style of the Klevv lightbar is beneficial for better blending of different colours either side of the centreline. That's a comparison versus one of the market leaders, and Klevv gets close enough to Vengeance RGB Pro SL to keep me happy, especially with the 2mm smaller module height.
Control for the RGB lighting is left to sync with motherboard manufacturer software rather than Klevv's own tool, and this is smart. This beats having another piece of software to download for lighting control. It allows for easy sync through ASUS, ASRock, Gigabyte, MSI, and Razer utilities.
However, it is limited to the pros and cons of controllability from those utilities. This is my preferred approach, personally, but I do appreciate the value of in-depth utilities such as Corsair iCUE.
Alternative capacities and frequencies include a 2x16GB kit at 3600MHz C18 and 4266MHz C19 kits using 8GB DIMMs. Price is around £145 on Amazon with similar limited current availability to the Bolt XR.
At around £15 extra versus the Bolt XR for this level of RGB lighting, that's a reasonable price to pay in our opinion and actually makes Klevv's pricing reasonably competitive versus other 4GHz range RGB kits such as Corsair Vengeance RGB Pro.
Bolt XR, left, compared to Cras XR, right.
Model Number: KD48GU880-40B190C & KD48GU880-40B190Z
Capacity: 16GB (2x 8GB)
Rated Frequency: DDR4-4000MHz
Rated Timings: 19-25-25-45
Voltage: 1.4V
Format: Non-ECC Unbuffered 288-pin DIMM
Be sure to check out our sponsors store EKWB here