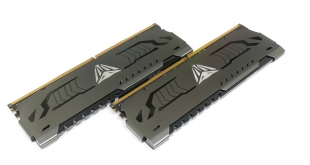 The rise in CPU performance that we have seen from mainstream, dual-channel optimised processors in the current generations has paved the way for higher capacity two-stick RAM kits. Offering 64GB of DDR4 capacity via a pair of 32GB DIMMs, Patriot's Viper Steel kit sports a 3600MHz rated frequency with CL18 timings.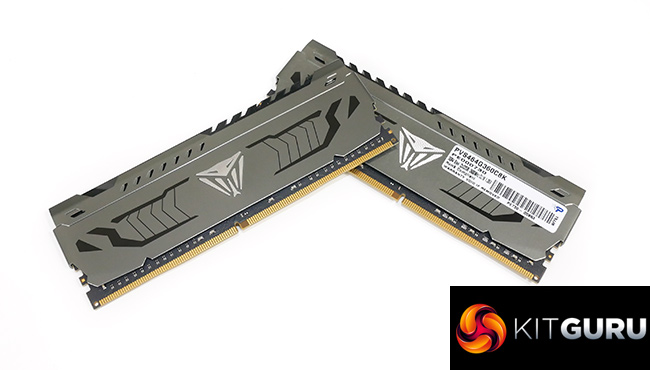 Designed with a no-nonsense, non-RGB style in mind, Patriot looks to be appealing to users who simply want a high-capacity memory kit without paying additional fees for unnecessary bells and whistles.
The 45mm-tall Viper Steel modules feature a gunmetal grey aluminium heatspreader designed to cool the double-sided RAM PCB. You get an angular styling and some degree of artwork, but nothing is overly excessive or outside of a neutral colour domain.
Pricing and availability of this 64GB 3600MHz kit looks to be limited in the UK. We found the kit on Amazon from a third-party seller for £269.99. Other websites have varying levels of availability from £217 to £237. Alternate.co.uk allowed us to add the kit to our basket with a price tag of £217.90.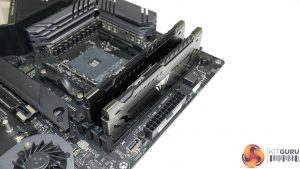 With a 3600MHz rated frequency, we pull out our Ryzen 9 3950X test system (as this review was conducted prior to Ryzen 5000 launching) to run the Patriot Viper Steel Series memory kit. As has long been the case, 3600MHz is an excellent frequency choice for use with Zen 2 and Zen 3 thanks to the 1:1 memory controller clock to Infinity Fabric divider it permits.
Plus, 2x32GB makes a lot of sense for use with high-end Zen 2/3 processors that deliver adequate performance to justify the workstation-type usage of a 64GB memory kit.
A variety of capacity and speed options are available throughout Patriot's Viper Steel Series DDR4 line-up. We are examining the 2x32GB 3600MHz 18-22-22-42 set that operates at 1.35V and is therefore suitable for both AMD and Intel platforms.
Dual 32GB DIMMs highlights the use of a PCB with dual-rank memory chips on both sides. According to Thaiphoon Burner, the specific ICs used are from SpecTek – a wholly owned division of Micron that is effectively the low-cost sibling.
According to the SpecTek website, their division was started in 1988 as a component-recovery group (read: re-badging and selling memory ICs that failed the Micron grading).
Specifications:
Model Number: PVS464G360C8K
Capacity: 64GB (2x 32GB)
Rated Frequency: DDR4-3600MHz
Rated Timings: 18-22-22-42
Voltage: 1.35V
Format: Non-ECC Unbuffered 288-pin DIMM
Be sure to check out our sponsors store EKWB here