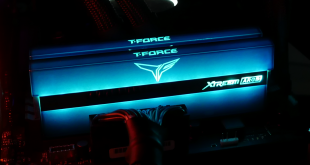 Fancy RGB lights and unique heatspreaders remain a logical way to differentiate otherwise similar sets of memory. This is exactly what Team Group does with the flamboyant T-Force Xtreem ARGB sticks that we have for review.
But there is certainly more to the kit than just flashy looks and bright lights. Rated frequency comes in at 3600MHz but the latencies run at an aggressive 14-15-15-35 using 1.45V. Could this be an excellent choice of memory kit for use with AMD Zen 2 processors?
Watch via our Vimeo channel (below) or over on YouTube at 2160p HERE
Undeniably, the styling of Team Group's T-Force Xtreem ARGB memory modules is a distinguishing feature. The sticks use a black aluminium heatspreader in combination with 15 zones of LEDs pumping out light through a mirror-finish type diffuser.
Personally, I like the LED styling which I would describe as well-balanced and surprisingly subtle in terms of light intensity. However, I also value the higher level of brightness observable on some competing modules such as G.SKILL's Trident Z Royal or Capellix-equipped Corsair Dominator Platinum RGB modules. As always, RGB LED lighting preference is very much down to individual taste.
ARGB lighting is controlled through your specific motherboard software package. ASRock Polychrome, ASUS Aura, Gigabyte RGB Fusion 2.0, and MSI Mystic Light sync modes are all supported. In other words, you are covered if you're using a motherboard from one of the 'Big 4'.
This same approach is used by competing vendors, such as G.SKILL, and it is an approach that I am personally happy with. While the lack of a software application with specific control modes may be a disappointment to some, it also has strengths in my opinion.
You have to download one less RGB package, which is a good thing. More importantly, perhaps, is that it ensures better synchronisation between the motherboard and partnering hardware controlled under the single RGB software umbrella. This does, however, leave the capability of any 'smart' or 'boutique' lighting modes at the mercy of the motherboard vendor.
Compared to something like Corsair's iCUE ecosystem, Team Group's modules are probably at an overall disadvantage in terms of smart lighting modes. However, the motherboard software control for the Xtreem modules does enable easier synchronisation for many users compared to Corsair's dedicated alternative.
And if you're not particularly fond of RGB lighting or simply want to go without it from time to time, the heatspreaders have an appealing aesthetic with the lights switched off. A blue tint to the mirror-finish style heatspreader looks appealing. It is also unlikely to clash with specific colour schemes given its extremely dark blue tint that is more towards a neutral black scheme.
But if you're going for the no-lighting approach with the memory kit, make sure you whip out the included cloth as the mirror-style light diffuser section is an absolute fingerprint magnet.
When it comes to physical sizing, the Xtreem modules are large. The chunky light diffuser wraps around the entirety of Team Group's black PCB and extends module height to 49mm.
That will undeniably cause interference with some large air coolers, but we often see similarly sized modules from competing vendors and even taller and more intrusive modules from the likes of Corsair.
Shown in the picture above is (from left to right): Team Group T-Force Xtreem ARGB, Corsair Dominator Platinum RGB, Team Group T-Force Xtreem ARGB, G.SKILL Trident Z RGB.
Lighting and appearances are great, but the performance justification is also an irrefutable necessity. Team Group delivers strongly on this front.
The specific 2x8GB Xtreem ARGB kit that we have for review runs at 3600MHz clock speed with 14-15-15-35 timings. The clock speed is somewhat mediocre in today's marketplace, but the timings are incredibly tight even for a 3.6GHz DRAM clock.
The key benefit of DDR4-3600MHz is out-of-the-box usage on Zen 2 processors with a 1:1 Memory Controller: Infinity Fabric divider. Higher RAM speeds such as 4000MHz force a 2:1 divider that imparts a significant, undesirable latency penalty.
Team Group achieves these specifications by taking the very well-respected Samsung B-die memory ICs and running them at 1.45V. That's a little higher than some people are comfortable with from a voltage perspective, but the rated frequency and timings point clearly towards strong performance on the AMD platform.
3600MHz and CL14 with Samsung B-die ICs sounds like a dream memory kit for AMD Zen 2 users, despite the relatively high operating voltage. Let's see if that is indeed the outcome.
Specifications:
Model Number: TF10D416G3600HC14CDC01
Capacity: 16GB (2x 8GB)
Rated Frequency: DDR4-3600MHz
Rated Timings: 14-15-15-35
Voltage: 1.45V
Format: Non-ECC Unbuffered 288-pin DIMM
RGB Lighting: 15 individually controllable ARGB LED zones
Be sure to check out our sponsors store EKWB here