Out of the box performance from the Team Group T-Force Xtreem ARGB memory kit is excellent thanks to the eye-catching 3600MHz CL14 headline specifications. This serves us well on our AMD Zen 2 test platform and is realistically a superb balance between DRAM clock speed and tight timings.
The kit's use of Samsung B-die memory ICs also proves beneficial, with the performance results in real world testing falling in line with expectations from the kit's frequency and competing well against Micron's E-die alternative.
Overclocking performance was also impressive based on our quick testing. It's just a little disappointing to report the lack of temperature sensor data from the modules to check the temperatures were in check. Not that we had any temperature concerns; we simply think it is reasonable to expect temperature sensor data from a premium memory kit of this calibre.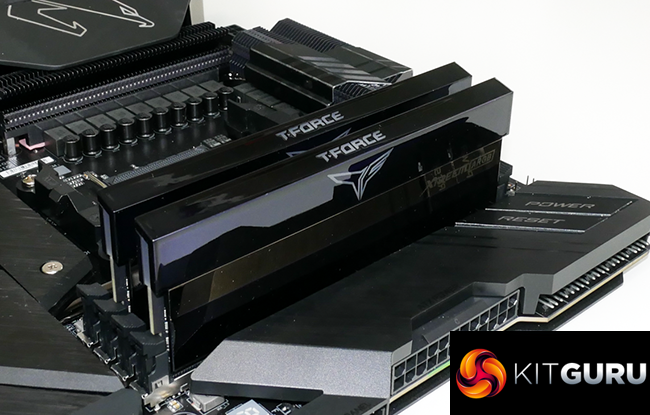 In today's market, a memory kit is as much a showpiece item as it is a performance piece of hardware. The Xtreem ARGB modules score very well on the 'showpiece' front. That alluring design is driven by a sleek black aluminium heatspreader and a well-built, all-around diffuser that uses a mirror-type finish. Add in the 15-zone LED control on the modules and the overall package provides superb aesthetics.
Understandably, RGB lighting preference is very subjective. Personally, I like the subtle appearance of the Team Group Xtreem ARGB modules as the lighting is bright but not over-the-top or in-your-face. With that said, I can see why other people may prefer the brighter and different appearance of G.SKILL's competing solutions, or the clean aesthetic of Corsair's Dominator Platinum RGB offerings.
Whatever your preference is, my feedback is heavily leaning towards putting the Team Group Xtreem ARGB modules in the upper echelon of RGB memory kits in terms of aesthetics. In my opinion, it's a toss-up between the Team Group, Corsair, and G.SKILL modules for the best looking memory on the market. And that is strong praise for Team Group, especially as they go about delivering their styling in a unique form.
I guess the main disappointment (and strength, depending on your preference) with the lighting appearance is the lack of dedicated control software. This leaves you at the mercy of your motherboard vendor's RGB software, as is the case with competing vendors such as G.SKILL. With Corsair competition, however, you have the stronger abilities of iCUE control at the expense of having to install the sometimes resource-heavy iCUE software on your system.
The positive and negative of this software point is very much down to your individual preference.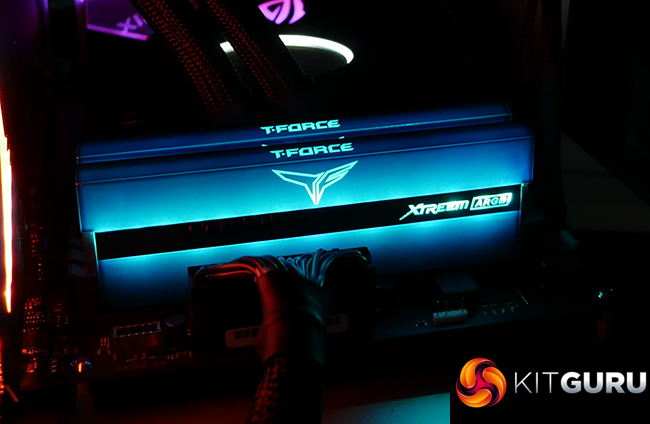 At around $160-$180 in the US for the 16GB 3600MHz C14 Xtreem ARGB kit, Team Group is certainly charging a premium for the high-spec Samsung B-die ICs and excellent aesthetic design. UK availability should be coming online in October and a conversion from US pricing would put this kit at around £150-£160, though this is my estimation and has not been confirmed.
The key competitors at this price point come from the G.SKILL Trident Z Neo and Royal modules that we have already highlighted, as well as Corsair's Dominator Platinum RGB sticks. Team Group's modules tend to be a little cheaper than G.SKILL's competition according to Newegg pricing. Not that $10-or-so here and there makes too much difference for memory at this price point.
Whichever way you look at it, the Team Group T-Force Xtreem ARGB modules are highly expensive, premium memory modules that trade blows with some of the market elites from Corsair and G.SKILL. Value is clearly not great against less flashy memory kits with slightly looser timings; you can get 32GB 3600MHz RGB memory kits for similar money if you are happy to accept notably looser timings.
But with 3600MHz CL14 timings using Samsung B-Die ICs and a superb, unique styling that is competitive against the market leaders, I have no problems making a solid recommendation for the Team Group T-Force Xtreem ARGB kit if you're looking for a boutique set of system memory.
This memory kit has not yet arrived in the UK, but US pricing appears to be between $160-180.
Discuss on our Facebook page HERE.
Pros:
Strong performance numbers from Samsung B-die ICs.
Excellent latencies for DDR4-3600MHz.
Superb overclocking capability.
Good LED capabilities and appearance, in my opinion.
Excellent choice of specifications for AMD Zen 2 usage.
Reasonable price versus comparable spec kits such as Dominator Platinum RGB or Trident Z Royal.
No proprietary/additional RGB LED software forced upon users.
Cons:
No temperature sensors.
High price for a 16GB kit and currently limited availability.
Minimal advanced lighting modes – at the mercy of motherboard vendor software.
Wrap-around light diffuser is a fingerprint magnet, though a cloth is included.
KitGuru says: With premium looks and performance, the Team Group T-Force Xtreem ARGB 3600MHz CL14 kit has us impressed.