We will be outlining the Team Group T-Force Xtreem ARGB DDR4 memory's performance with the AMD Ryzen 9 3950X CPU, ASUS ROG STRIX X570-E Gaming, and an Aorus RTX 2080 Ti XTREME graphics card.
Test System:
Processor: AMD Ryzen 9 3950X overclocked to 4.2GHz all core.
Motherboard: ASUS ROG STRIX X570-E Gaming.
Graphics Card: Gigabyte Aorus RTX 2080 Ti XTREME 11G (custom fan curve to eliminate thermal throttling).
System Drive: WD_Black SN750 SSD.
Games SSD: Aorus PCIe Gen 4 2TB SSD.
CPU Cooler: Fractal Celsius+ S28 Prisma 280mm AIO.
Power Supply: Seasonic Prime TX-1000 1000W.
Case: Lian Li Open-air Test Bench.
Operating System: Windows 10 Pro 64-bit.
Comparison Memory Kits:
2x8GB G.SKILL Trident Z RGB DDR4 3200MHz 14-14-14-34 (Samsung B-die)
2x8GB Corsair Dominator Platinum RGB (White) 3600MHz 18-19-19-39 (Micron E-die)
4x8GB Corsair Dominator Platinum RGB (White) 3600MHz 18-19-19-39 (Micron E-die)
2x16GB Corsair Vengeance LPX DDR4 3600MHz 16-18-18-36 (Samsung B-die)
4x8GB G.SKILL Trident Z RGB DDR4 3200MHz 14-14-14-34 (Samsung B-die)
7-Zip Compressing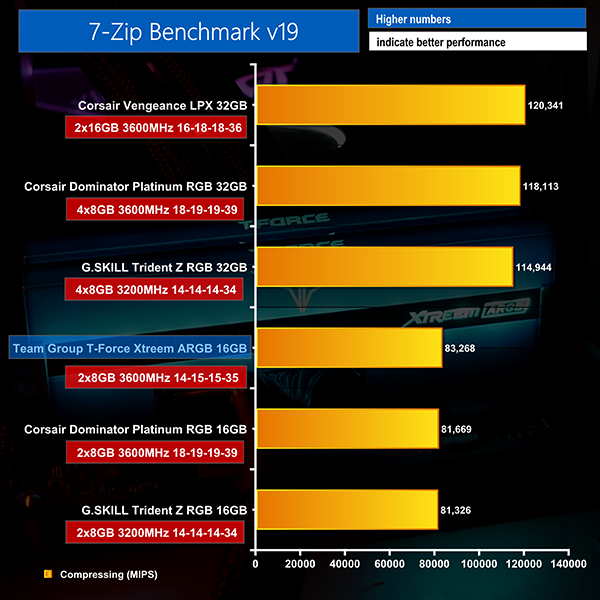 Starting with 7-Zip compression, we see the low latency Team Group kit offering up good performance for a 16GB set. The Xtreem ARGB operating specifications make it a little faster than Corsair's competing Dominator modules, but the extra memory ICs of the higher-capacity kits win out in this test.
7-Zip Decompressing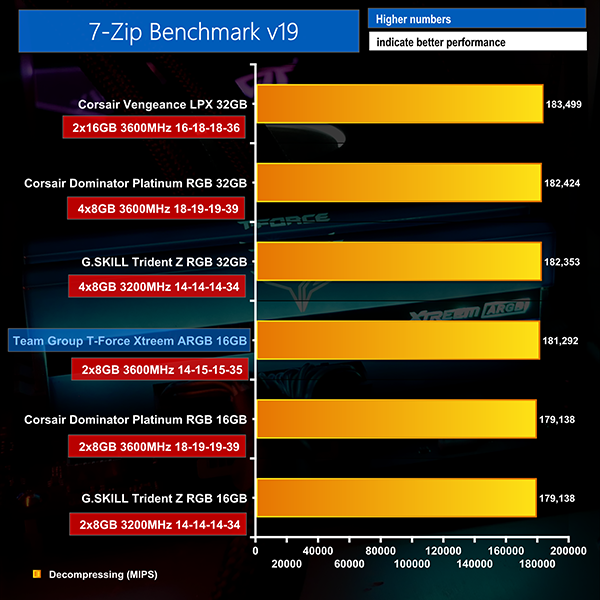 Decompressing scores better on the high-speed Team Group 16GB kit. Again, we see the tight Xtreem ARGB modules at the front of the 16GB pack and this time just a little behind the higher capacity competitors.
Blender Classroom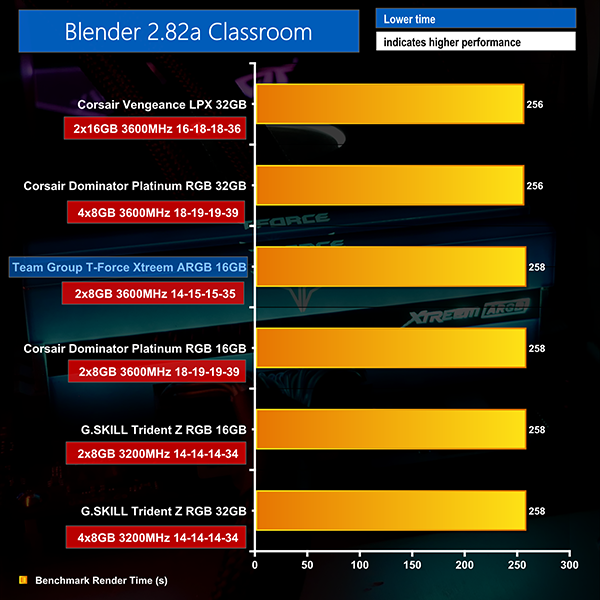 Blender shows minimal performance gain from tight 3600MHz memory, as proven by Team Group's equal performance versus alternative 16GB kits.
Cinebench R20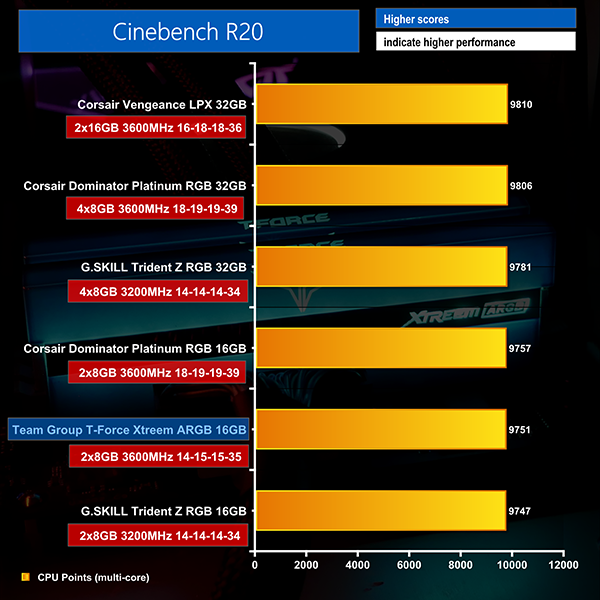 There is also little difference in performance when looking at Cinebench results. Here, the Team Group kit is practically equivalent to the performance of the competing 16GB kits, implying that tighter timings are of minor benefit in this test.
SiSoft Sandra Memory Bandwidth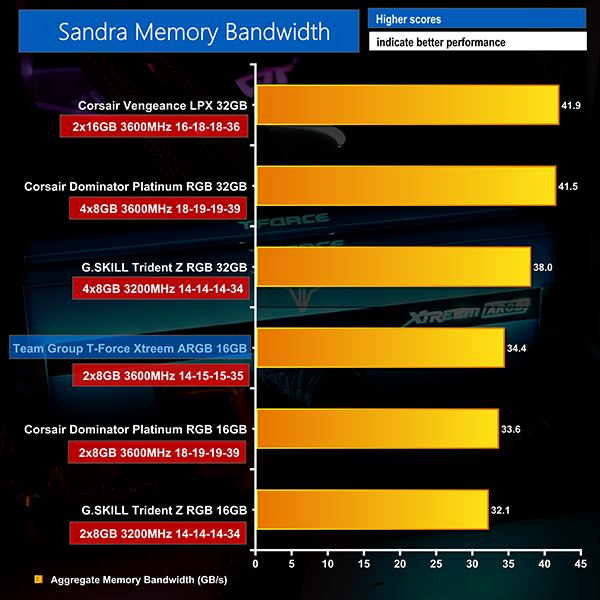 Memory bandwidth numbers from the 3600MHz C14 sticks are solid, thanks to their optimal Zen 2 frequency and tight timings. Higher bandwidth numbers from the 32GB sets come at the cost of typically higher retail prices.
AIDA Memory Bandwidth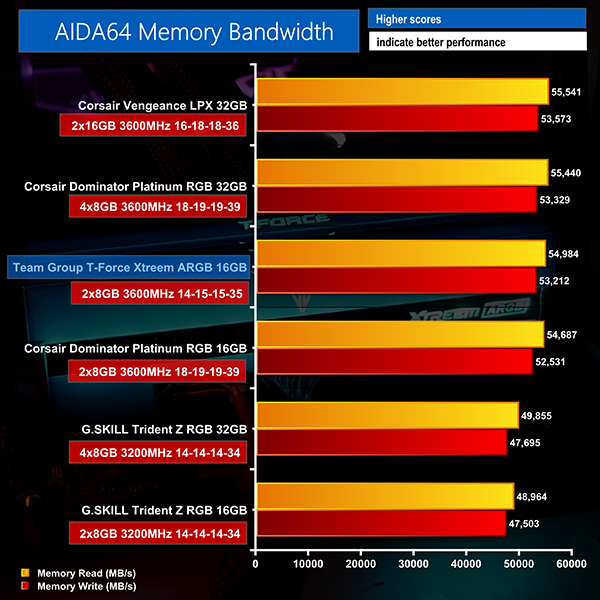 AIDA's memory bandwidth test is a little more frequency biased, hence the Team Group kit shows minor outperformance versus Corsair's Dominator competitor with looser timings.
AIDA Memory Latency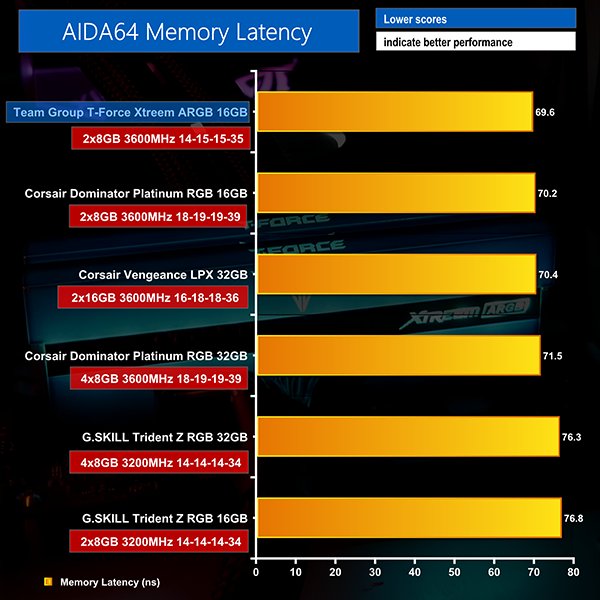 Latency performance is clearly an area of strength for the 3600MHz C14 modules. Solid frequency, slick timings, and the beneficial 1:1 divider with Zen 2 makes for excellent latency performance from the Xtreem ARGB-based memory subsystem.
3DMark Time Spy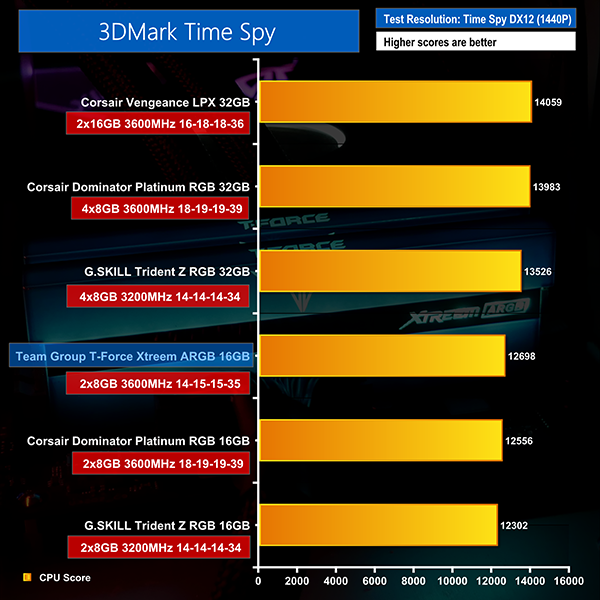 Again, we see the Team Group and its tight timings deliver solid performance and this time in 3DMark. The 3600 C14 kit's numbers are slightly better than those offered up by our 16GB competitor but cannot match the performance from the more expensive dual rank 32GB options.
The Division 2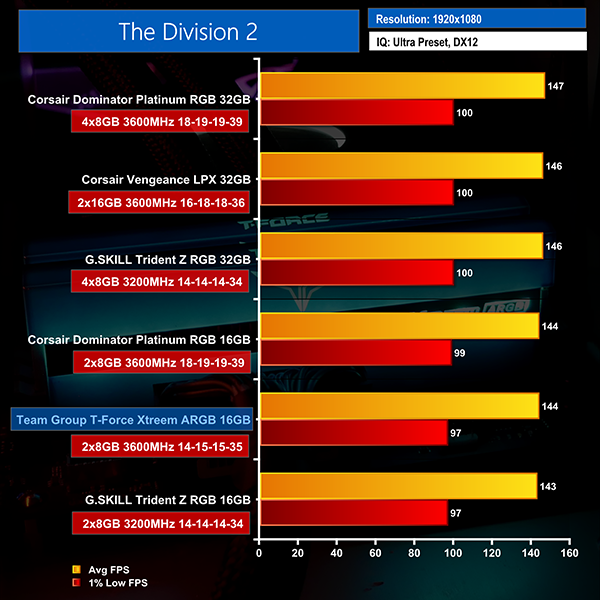 The performance hierarchy remains consistent in The Division 2, with the higher density 32GB kits taking up chart-topping positions. This time, however, Corsair's 3600MHz C18 Micron E-Die-based modules offer a slight performance bump over the tighter Samsung B-Die Team Group kit.
We saw similar behaviour for the 32GB sets, which implies a very minor preference for Micron E-Die ICs in this game, albeit by a margin that is very close to the realistic error range for our testing.
Shadow of the Tomb Raider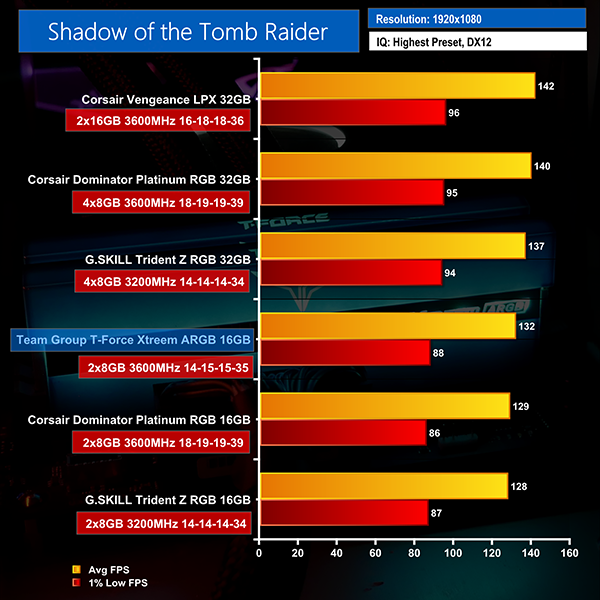 Shadow of the Tomb Raider consistently proves to be sensitive to memory settings, and this allows the Team Group Xtreem ARGB kit to offer stellar performance. Here, the 3600MHz C14 kit is a handful of FPS faster than the competing, slower 16GB solutions. The higher capacity kits are faster, but they are also more expensive.
Team Group's tight 3600MHz kit does well here.
Overclocking
Some quick overclocking testing highlighted extremely strong performance from our specific sample kit. We bumped the voltage a little higher to 1.5V to simply see what the kit was capable of. This allowed us to hit 3733MHz with the stock CL14 timings. Importantly, 3733MHz DRAM clock allows us to maintain the strong benefits of a 1:1 Infinity Fabric divider by overclocking the fabric clock to 1866MHz.
Sticking with this strong 3733MHz result and the preferential Infinity Fabric speed, we moved on to tightening the timings to see how much further we could push. We managed to squeeze the timings down to 14-13-13-34 with quick stability validations in Windows. Trying to push the CAS Latency below 14 was unsuccessful in our testing, but some of the other timings were more willing to be pushed lower than their stock ratings. More time would likely achieve better results and the switch to the Intel platform may allow for higher frequency.
But we were certainly very impressed to run at 3733MHz with tight 14-13-13-34 timings. That is a very strong result in our opinion and makes the kit a superb partner for Zen 2 processors.