Modern solid-state drives often feature so high performance that even contemporary interfaces like the M.2 or the SATA Express (based on the PCI Express 2.0) cannot provide enough bandwidth for them. But Asustek Computer seems to have found a solution. At the Computex 2014 trade-show the company unveiled a special upgrade card that provides up to 4GB of bandwidth per second to any SSD in the M.2 2280 form-factor.
The industry-standard M.2 slots for SSDs (which are installed onto almost every mainboard based on the Intel Z97 or the H97 chipset) rely on the PCI Express 2.0 x1 or x2 interconnections thus providing up to 500MB/s or up to 1GB/s of bandwidth, respectively (the majority relies on the x2 and provide up to 1GB/s). However, there are new-generation solid-state drives that need higher speeds. For example, the Samsung XP941 is capable of 1.4GB/s read performance and simply cannot show all of its benefits on modern platforms.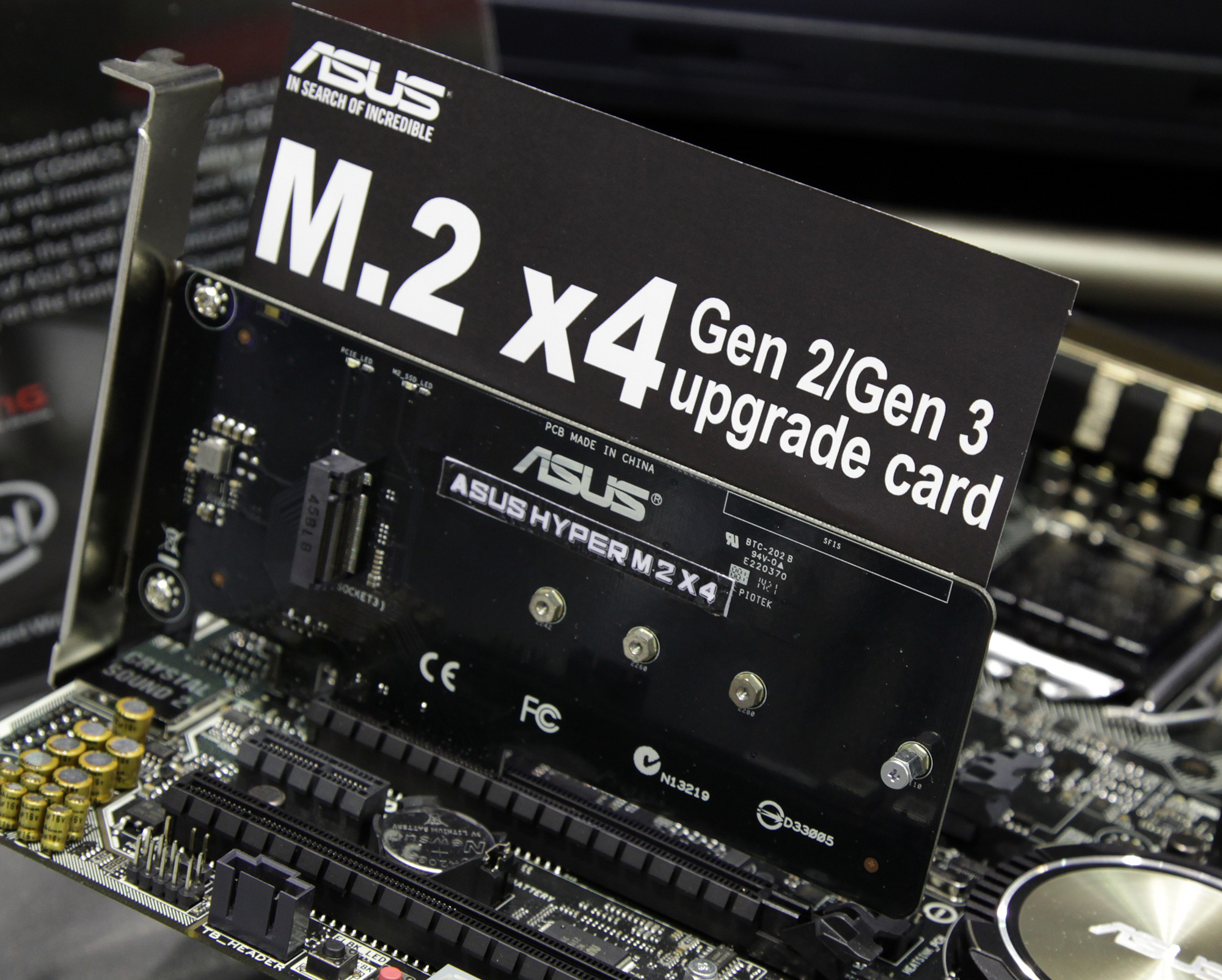 Like every ingenious invention, the Asus Hyper M.2 X4 card is a very simple solution. The board features the M.2 slot for an appropriate SSD and can be installed into any PCI Express 2.0/3.0 x4 expansion slot (or an x8, or an x16 slot) of a mainboard thus giving the installed SSD up to 2GB/s of bandwidth in case of the PCIe 2.0 x4 interconnection or up to 4GB/s of bandwidth in case of the PCIe 3.0 x4 link. The board is set to become available already next month.
Since the Asus Hyper M.2 X4 card essentially transforms any SSD plugged into it into a PCI Express-based solid-state drive, many mainboards may not support booting from such device. The majority of motherboards are designed to load operating systems from drives with the Serial ATA interface, which is why PCIe SSD makers use special tricks to make their drives bootable. Therefore, it remains to be seen how Asus plans to solve the problem.
Discuss on our Facebook page, HERE.
KitGuru Says: We should wait and see how the Asus Hyper M.2 X4 card works in real-life. Perhaps, Asus plans to release new BIOSes for its latest mainboards that will allow booting from PCIe-based SSDs (at least, from some of them). Perhaps, there will be a special driver bundled with the adapter that will do the trick.