Manual CPU Overclocking:
To test the ASRock B550 Phantom Gaming-ITX/AX motherboard's CPU overclocking potential, we set the CPU Core Voltage to 1.3V and applied the Level 1 LLC setting.

I was happy with the level of ease experienced when overclocking the B550 Phantom Gaming-ITX/AX. ASRock's UEFI is clear and fairly well laid out for the core overclocking settings. The loadline calibration settings are also clear and are visually explained.
We managed our usual 4.25GHz Ryzen 9 3950X overclock with 1.3V and Level 1 loadline calibration. This typically operated at around 1.26-1.275V under load, depending on which sensors you perceive to be believable.
Motherboard Sensors
Temperature sensor readings for the motherboard through HWiNFO looked to be accurate and corroborated with Ryzen Master. ASRock's VRM temperature sensor data is displayed differently to other manufacturers but the numbers for the 'Loop1' data tied in reasonably well with manual PCB surface measurements.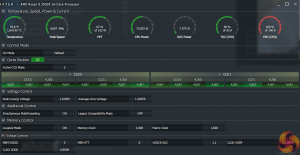 Worth highlighting again is the inaccuracy in much of ASRock's sensor data that is used to drive the Precision Boost 2 algorithm. The CPU package power data and PPT numbers are clearly wrong. These inaccuracies are also highlighted by a dreadful power reporting percentage of around 45% in HWiNFO when under stress test load.
ASRock really needs to fix these sensor reading inaccuracies as it is seemingly causing the CPU to run with more power than it believes it is receiving and it delivers useless data to onlooking users. These issues have been present since the launch of ASRock's 500-series AM4 motherboards in July 2019, which is highly disappointing.
Overclocked Performance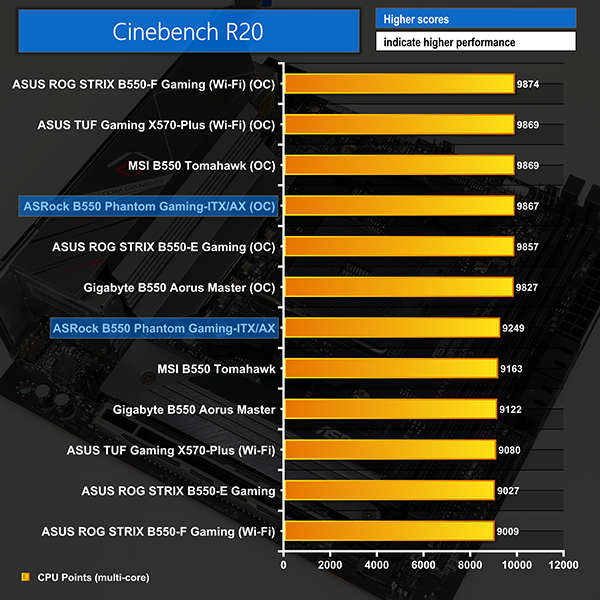 A noteworthy boost in performance is obtained from overclocking the CPU. ASRock's sneaky stock clocked performance boost through erroneous readings is removed when a manual overclock is applied.
System Power Consumption
We leave the system to idle on the Windows 10 desktop for 10 minutes before taking a reading. For CPU load results we run AIDA64 CPU, FPU, and Cache stress tests and take a reading. The power consumption of our entire test system (at the wall) is shown in the chart.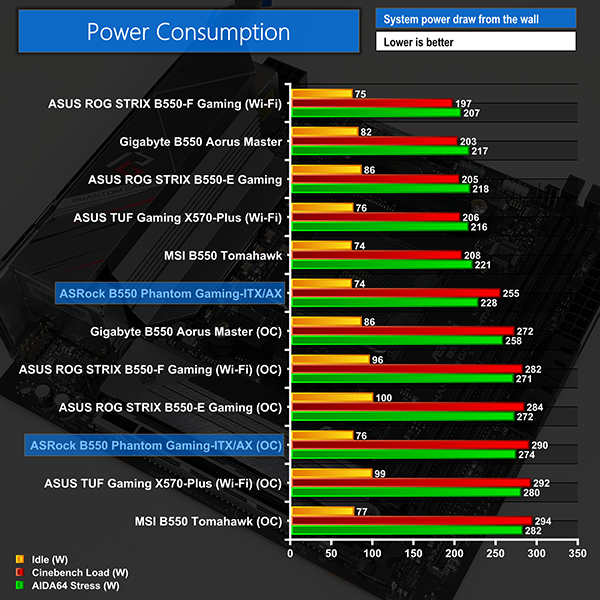 Unsurprisingly, given the inaccurate sensor data feeding incorrect information to the CPU's Precision Boost 2 algorithm, power draw numbers at stock are not good for ASRock's B550 Phantom Gaming-ITX/AX. We noted almost 50W higher power draw from the wall than the next hungriest stock clocked competitor when running Blender. The differences are far smaller under AIDA stress test conditions.
Overclocking largely rectifies the issues when using our manually set voltage levels. It is promising to see that there is no inherent inefficiency with the motherboard's superb power delivery hardware. The stock clocked annoyances are instead tied to presumably fixable sensor and software bugs.
System Temperatures
We run the AIDA64 CPU stress test for 1 hour while recording the system data using HWInfo. This data is then analysed to show the CPU temperatures and also the VRM temperatures.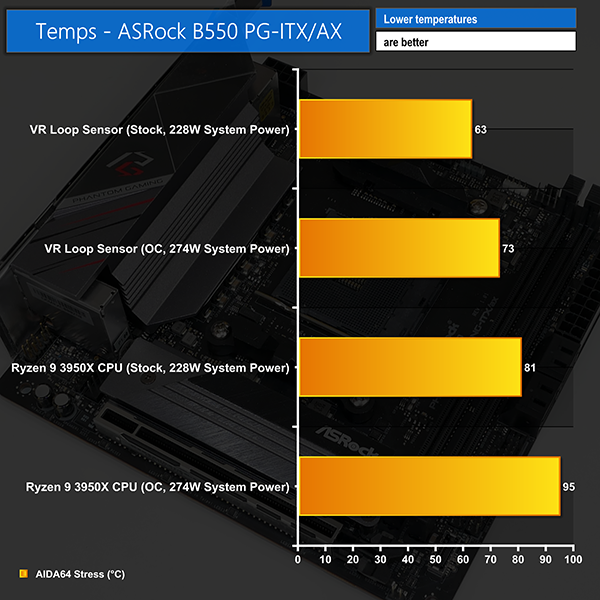 Higher than usual power draw for our Ryzen 9 3950X-based test system results in the CPU temperature jumping beyond 80 degrees. This is notably hotter than ATX B550 competitors that we have tested with. The overclocked CPU runs expectedly hot, so we have no real complaints about pushing up to 95C in that power-hungry configuration.
VRM cooling performance is actually very respectable given the small and compact heatsink design. ASRock does a good job to keep the MOSFETs running at reasonable temperatures even when a heavily overclocked 16-core load is placed on the VRM.
Yes, mid-70s are higher than we typically see for X570 or B550 motherboard VRM temperatures. But the B550 Phantom Gaming-ITX/AX is built around a confined form factor and has the strong benefit of no cooling fan. Credit where credit is due, I am happy with the job that ASRock has done here.