The ASRock B550 Phantom Gaming-ITX/AX delivers strong out of the box performance in multi-threaded tests. Whilst this is a clear positive, the performance results are clearly skewed by the aggressive stock voltages and erroneous sensor readings that likely drive the PB2 algorithm to higher CPU frequencies.
With that said, overclocking was straightforward thanks to ASRock's easy to understand UEFI and strong power delivery solution. We were pleased by the ability of the small, passively cooled VRM heatsink to keep the 90A Intersil power stages adequate cooled.

Overall connectivity is strong, and the test results proved ASRock's ability to keep the front side M.2 SSD cooled underneath the heat strip. A rear mounted SSD will, undoubtedly, be more difficult to cool, so the secondary location makes sense for a slower or lesser used drive.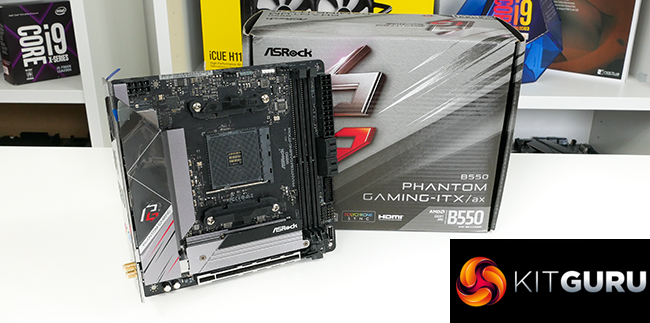 I am also glad to report ASRock's deployment of the front panel Type-C header in 10Gbps form, as opposed to the slower 5Gbps alternative seen on some other B550 motherboards. With high speed WiFi and wired networking, there are very few areas where users could wish for more connectivity. Provided the right-angled SATA ports are not an interference issue, that is.
ASRock's biggest disappointment with the B550 Phantom Gaming-ITX/AX motherboard is the erroneous sensor reading data. This forced the board to run our Ryzen 9 3950X CPU at higher voltage, temperature, and power draw than on competing solutions. This is disappointing as it is clear that ASRock's erroneous data is impacting the accuracy of the Precision Boost 2 control algorithm. Thankfully, a BIOS or software update should be able to address this issue.
Overall, the ASRock B550 Phantom Gaming-ITX/AX is a well-built motherboard with high quality components in the form of an 8-layer PCB and 8-phase VRM. The passive cooling approach is commendable and the included feature set leaves very little to be desired. If you can deal with the incorrect sensor data and a £215 price tag that is slightly higher than we would have liked, ASRock's B550 Phantom Gaming-ITX/AX is a good AM4 Mini-ITX option.

The ASRock B550 Phantom Gaming-ITX/AX is priced at £214.99 at Overclockers UK.
Pros:
Strong out of the box performance
Simple overclocking thanks to the clear UEFI
Quality hardware components
Passively cooled VRM performed well in our testing
Good overall feature set
Robust USB, storage, and networking connectivity options
No major interference concerns (except SATA ports)
Cons:
Incorrect sensor readings cause issues through increased heat, voltage, and power draw
Lack of rear panel clear CMOS or BIOS Flash buttons is disappointing
Right angled SATA ports will cause compatibility issues with some cases
KitGuru says: A premium mini-ITX AM4 motherboard that offers many features that most users will desire, with very few downsides.