Asus Sabertooth motherboards have proven popular since their inception a number of generations ago. Based on their widespread popularity it comes as no surprise that The Ultimate Force (TUF) motherboards are making an appearance for the 'future Intel chipset'. A number of the upcoming chipset's specifications help bolster the feature-set Asus implements on its TUF series motherboard. 
We have Asus Sabertooth Z97 Mark 1 on hand, so let's take a look at its features, design, and layout.
Colour-wise, Asus Sabertooth Z97 Mark 1 retains the unique blend of camo-style shades that have given the series its distinct appearance. The concoction of colours form a truly 'hate-it-or-love-it' colour scheme. One thing is for certain: matching component colours with a TUF series motherboard is not the most straightforward of tasks. More on that later.
As has become one of the distinct staple points of Asus TUF series motherboards, Thermal Armour continues to show its face with the Sabertooth Z97 Mark 1.
There is a key point that acts as validation as to Asus continuous implementation of the thermal covering on its TUF series motherboards; lower component temperatures help to increase part longevity, be it via blocking thermal radiation from external sources or preventing dust build-up to allow optimal convection cooling.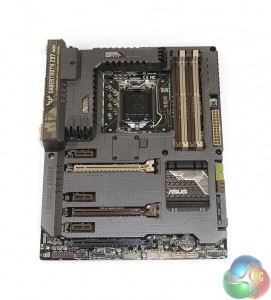 Constructed of a sturdy form of plastic, the Thermal Armour covering can be removed for cleaning purposes or for aesthetic reasons. Removal takes around five minutes and is completed by unfastening 15 screws.
But don't let the covering put you off the Sabertooth Z97 as a motherboard; a recent press event confirms that Asus plans to sell the Sabertooth Z97 in a different SKU, without its Thermal Armour attached.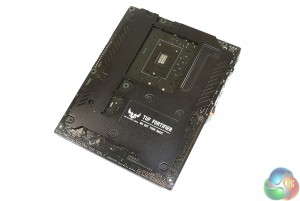 The TUF Fortifier rear plate helps to increase the motherboard's flexural strength, allowing heavy CPU heatsinks to be mounted with fewer worries. Rear cooling of the MOSFETs is also conducted by the metal TUF Fortifier plate, with assistance from a thermal pad.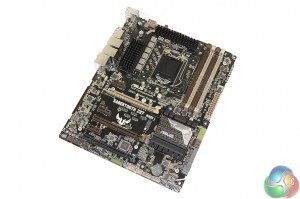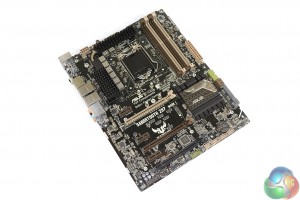 Here's a sneak interpretation of how the naked Sabertooth Z97 motherboard will look. Yes, that VRM heatsink is a hefty unit, and credit to Asus for using a solid-black PCB when brown may have been cheaper (and less desirable).
Four brown and beige DIMM slots provide support for up 32GB of DDR3 memory. Each slot uses Asus convenient single-latch mechanism. Asus handy MemOK button is present on the Sabertooth Z97 Mark 1, allowing users to boot the system when their memory speed is causing issues.
An eight phase power delivery system feeds the LGA 1150 CPU socket. Being a TUF motherboard, the electrical components used have been subjected to military-standard testing to validate their stability and reliability. For example, the capacitors are subjected to a barrage of tests, including; a thermal shock test, a moisture resistance test, a vibration test, a mechanical shock test, and more. The MOSFETs and chokes are also put through a number of tests to certify their stability.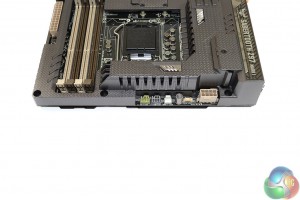 A cover intended to reduce thermal radiation and convective heat transfer works both ways; Thermal Armour not only reduces the quantity of heat interacting with the board from external components, it also prevents motherboard-produced heat from exiting sources such as the MOSFETs and chokes.
To combat the issue of cooling the motherboard's PCB and electrical components situated beneath the Thermal Armour, Asus adds flow vents and fan mounts into the plastic cover's design. Users are free to open or close the two flow vents situated atop both MOSFET heatsinks, dependent upon their CPU cooling configuration.
Systems with a down-facing CPU cooler will provide the MOSFETs with incidental airflow, whereas an AIO liquid cooler mounted away from the motherboard may justify the use of a fan for providing airflow to the VRM.
At the company's recent press conference, Asus showed off a feature called "dust de-fan". Akin to graphics cards that use a high-speed burst of air to expel dust from their coolers, dust de-fan has the potential to minimise the negative effects of dirt build-up.
We will look at the dust de-fan feature in more depth in our upcoming review of the Sabertooth Z97 Mark 1, when Intel's NDA is lifted.
Storage interfaces onboard the Sabertooth Z97 Mark 1 include six chipset-fed SATA 6Gbps ports, with an additional two (on the board's bottom edge) being provided by an ASMedia controller. A single 10Gbps SATA-Express connection is provided by using the bandwidth from two SATA 6Gbps connectors and an additional data-carrying port. The Sabertooth Z97 Mark 1 does not feature an M.2 connector.
Asus mounts one of the two front panel USB 3.0 headers adjacent to the SATA ports in a right-angled orientation. This is a smart move by Asus that very few boards have done in the past. Hiding the fat front panel USB 3.0 connector is a much easier task when the header is angled by ninety degrees.
Highlights of the Sabertooth Z97 Mark 1 motherboard's rear IO include two LAN ports, one provided by an Intel I218V controller and the other fed by Realtek's 8111GR chipset, and Asus's convenient BIOS flashback button. A segment of the rear IO is left empty to provide mounting space for a fan to cool the VRM area.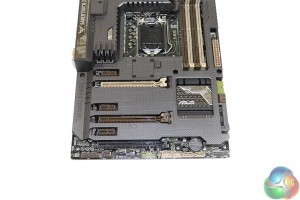 Asus does away with legacy PCI support and utilises an array of PCIe connectors for its Sabertooth Z97 Mark 1 motherboard. The top two PCIe x16-length slots operate via an LGA 1150 CPU's sixteen PCIe 3.0 lanes. 2-way CrossFire and SLI is supported via the upper two slots at x8/x8 bandwidth.
Four PCIe 2.0 lanes feed the lower PCIe x16-length slot. While we are not allowed to say where the lower slot's lanes originate, Z87 motherboards using this approach routed their four PCIe 2.0 lanes from the chipset.
Along the motherboard's bottom edge sit the additional two SATA 6Gbps connectors (bringing the board's total to eight) and the secondary USB 3.0 internal header.
We referenced the difficulty of colour-matching hardware with Asus's TUF motherboards earlier. While you're unlikely to find brown memory or green CPU coolers, jet-black components make likeable companions for the Sabertooth board's colours.
As much as we'd like to outline more of the Sabertooth Z97 Mark 1 motherboard's features in this preview, analysis of additions such as dust blockers, thermal sensors, and cooling fans will have to wait until our full review is published in the coming weeks. Not only is it important to respect the NDA of the 'future Intel chipset', the time between us receiving this board and posting this article was nowhere near long enough to present a full, in-depth review (despite what other publications are broadcasting). Quality is not something we are willing to sacrifice in our work – KitGuru's readership deserves better.
Have a suggestion for the tests you'd like see run on the Sabertooth Z97 Mark 1 motherboard or the features that should receive an analysis?
Discuss on our Facebook page, over HERE.
KitGuru Says: Stay tuned for our full, in-depth review to see if the Sabertooth Z97 Mark 1 can handle the heat of battle.