It's approaching that time of the year; the launch of Intel's 'future chipset' is just around the corner and board partners are busy preparing their products for the retail channels. Full reviews of motherboards based on the 'future Intel chipset' still cannot be published for another few weeks (as we always adhere to Intel's NDA), but in the mean time let's look at some highlights of the upcoming products.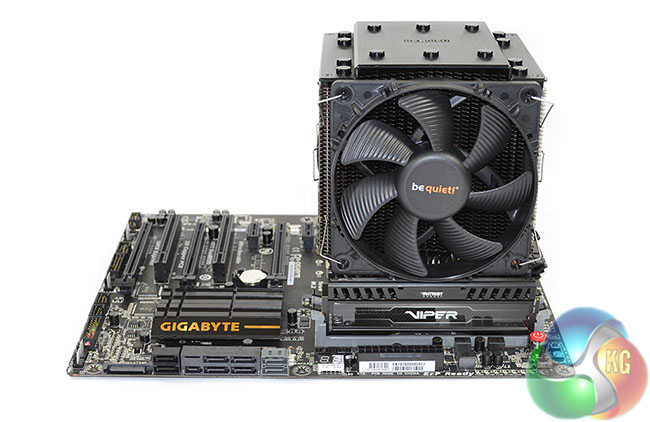 Without further ado, let's delve into a preview of Gigabyte's upcoming Z97X-UD5H-BK Black Edition motherboard.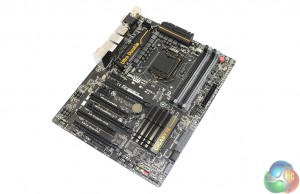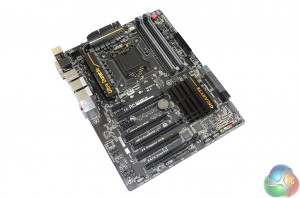 As the name would suggest, Gigabyte's Z97X-UD5H-BK Black Edition motherboard uses a dark colour scheme with gold and grey hints offering small variances from the all-black appearance.
It is clear that Gigabyte's upper-mid range motherboard is accompanied by a host of user-orientated features, but two further foundations for the Black Edition part are: stability and reliability. Gigabyte outlines the motherboard's durability by operating a continuous, week-long, server-level stress test which includes Litecoin mining as a task.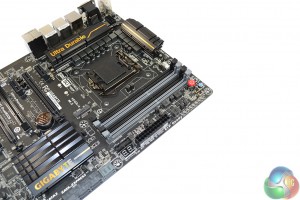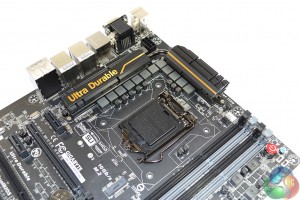 Up to 32GB of DDR3 memory can be installed in the Gigabyte Z97X-UD5H-BK motherboard. In the vicinity of the DIMM slots are onboard buttons and voltage checkpoints to assist with users' overclocking efforts.
Durability is another key philosophy to the twelve phase power delivery system and electrical arrangement; Gigabyte's Z97X-UD5H-BK utilises a 2 oz copper PCB design, 10K black solid capacitors rated for 10,000 operating hours at 105°C, and a 15-micron gold-plated CPU socket.
A pair of eye-catching heatsinks, sporting gold-coloured Gigabyte branding, are connected via a heatpipe and tasked with cooling the motherboard's MOSFETs. The heatsinks are sufficiently low-profile to make interference with large CPU coolers an unlikely issue.
Six chipset-fed SATA 6Gbps connectors are used on the Gigabyte Z97X-UD5H-BK motherboard, with a further two ports being provided by an add-on Marvell controller. SATA-Express support is present; two of the chipset-fed SATA 6Gbps connectors can be used alongside the additional bandwidth-provided port to produce a 10Gbps SATA-Express connection. Gigabyte includes an auxiliary SATA power connector to provide extra juice to multi-VGA configurations.
The highlight of the rear IO is the pair of LAN ports. Aiming to cater for all consumer-level audiences, Gigabyte uses a Killer E2200 series NIC to provide gamers with smooth online performance, while Intel's tried-and-tested I217V chipset provides accompaniment and potential low CPU overhead benefits.
Support for 3-way CrossFire and 2-way SLI is present on the Gigabyte Z97X-UD5H-BK. All PCIe x16-length slots are fed by the CPU's sixteen PCIe 3.0 lanes. 3-way CrossFire is supported in an x8/x4/x4 manner, while SLI is limited to a 2-way setup due to the technology's insistence on PCIe x8 connections.
Gigabyte offers support for legacy devices by outfitting the Z97X-UD5H-BK with a pair of PCI slots. Layout of the expansion area is very good; triple-slot graphics cards can be used in a multi-GPU configuration at x8/x8 bandwidth, or a dual two-slot card setup can be given a breathing gap between the partnering boards.
Positioned between the CPU socket and upper PCIe expansion slot is the motherboard's M.2 connector. Based on previous news articles and leaked information, the M.2 connection seems to derive from the 'future Intel chipset', although we are not allowed to validate this suggestion. However, we can say that no add-on controllers are present in the vicinity of the M.2 slot. Gigabyte's M.2 implementation provides support for 42, 60, and 80mm drives.
Based around the Realtek ALC1150 codec, Gigabyte uses an additional amplifier for rear audio purposes and filters signals through a series of capacitors and a discrete PCB layer.
Teaming Gigabyte's smart-looking Z97X-UD5H-BK motherboard with black-coloured hardware can result in an attractive system foundation. A black CPU cooler, such as the be quiet! Dark Rock Pro 3, can blend in with the Black Edition board's dark colour scheme.
Despite being limited by the information that we are allowed to disclose, while sticking to Intel's NDA, we hope that our preview of Gigabyte's Z97X-UD5H-BK Black Edition motherboard has helped get you fired up for the board's impending launch.
In the mean time, we would like to invite your early views on the motherboard and suggestions for the features to test in our full, in-depth review.
Discuss on our Facebook page, over HERE.
KitGuru Says: Check back in a few weeks to read our full, in-depth review of the Gigabyte Z97X-UD5H-BK Black Edition motherboard.