Manual CPU Overclocking:
To test the ASUS TUF Gaming B550M-Plus (Wi-Fi) motherboard's CPU overclocking potential, we set the CPU Core Voltage to 1.2875V and applied the Level 4 LLC setting.
Manual overclocking via the ASUS UEFI is generally straightforward until loadline calibration application is required. ASUS continues to provide no inclination as to what each LLC setting does and this forces a time-consuming trial and error approach to finding a setting that you are happy with.
A simple graph showing what each LLC option does, as competing vendors provide, would be a far simpler solution.
We managed to hit our CPU's 4.25GHz frequency using 1.2875V and Level 4 LLC. We typically opt for 1.30V but the voltage overshoot and therefore operating temperatures were higher than we were happy with, so we backed down to 1.2875V.
This results in a load voltage of around 1.26V or less during Cinebench nT loading – a similar level to competing B550 solutions that we have tested.
Motherboard Sensors
Accurate temperature sensor data for CPU readings is available in tools such as HWiNFO. However, there is a complete lack of VRM temperature readings which is frustrating and unnecessary.
This is a decision that we repeatedly see ASUS make with its more moderately priced motherboards. It is a move that we feel is unjustifiable on a motherboard of this calibre and market segment.
Overclocked Performance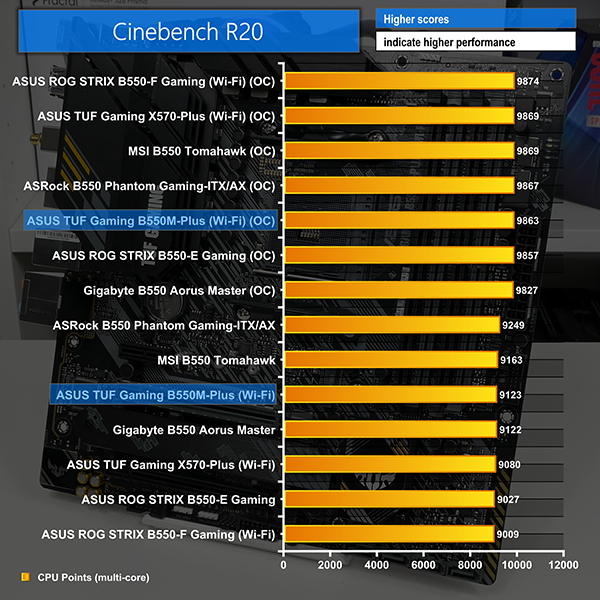 Performance when the motherboard and CPU are overclocked is strong, with Cinebench scores nearing 10,000 points.
System Power Consumption
We leave the system to idle on the Windows 10 desktop for 10 minutes before taking a reading. For CPU load results we run AIDA64 CPU, FPU, and Cache stress tests and take a reading. The power consumption of our entire test system (at the wall) is shown in the chart.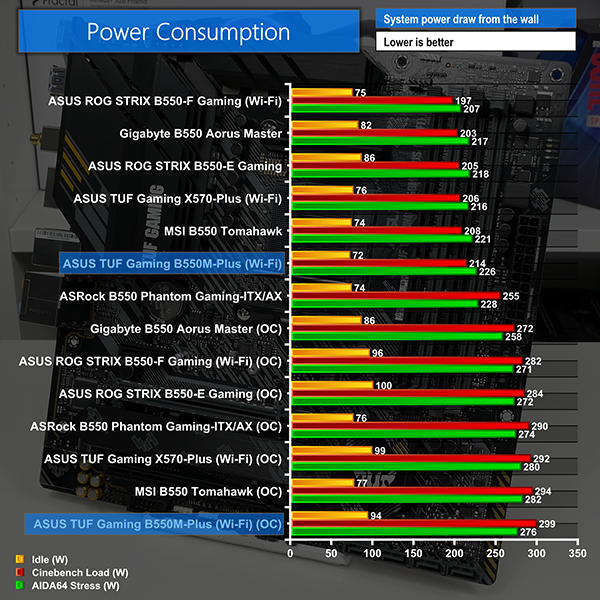 Power draw levels from the ASUS B550M-Plus (Wi-Fi) are a little higher than some of the comparison motherboards, but there is no cause for concern. This is likely attributable to the slightly weaker power delivery solution on ASUS' mATX motherboard versus some of higher-priced ATX competitors.
Overclocking also sees a few extra Watts on the power draw numbers, but the overall power draw figures from ASUS' motherboard are perfectly fine.
System Temperatures
We run the AIDA64 CPU stress test for 1 hour while recording the system data using HWInfo. This data is then analysed to show the CPU temperatures and also the VRM temperatures.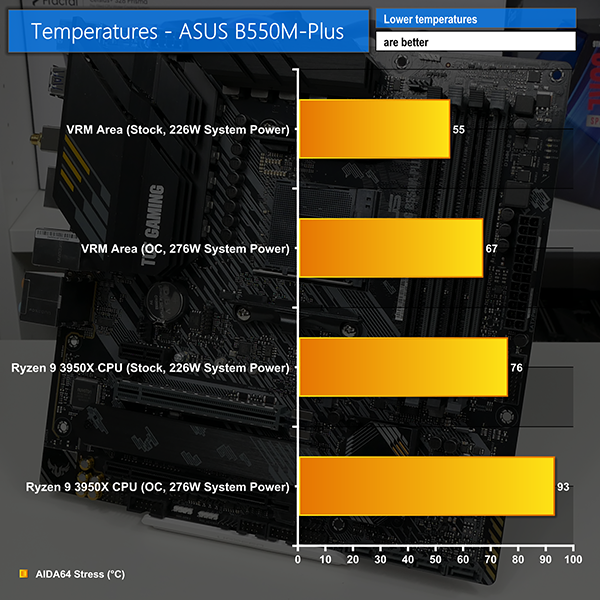 CPU temperatures are fine at stock levels, implying that ASUS uses sensible voltage and current levels. Overclocking does indeed raise CPU temperatures, but this was to a level that we were happy with.
There is no onboard VRM temperature sensor, so we used manual readings taken on the PCB area near to the hot power stage sections. Stock readings are fine at sub-60C for the PCB area near the VRM under heavy load. Our overclocking saw the PCB temperature rise towards the 70C-level, but this is still fine for the strong Vishay-based power delivery solution.
It is irritating that ASUS does not include VRM temperature sensor data. However, our testing implies that there is no reason to be worried about the operating temperatures of ASUS' solid VRM components.
Be sure to check out our sponsors store EKWB here