Our hands-on experience with Asus' USB 3.1 implementation on the Z97-A/USB 3.1 motherboard has been extremely positive. Asus' testing guide advises reviewers to disable CPU C-states and Intel SpeedStep in the BIOS, and once this has been completed the USB 3.1 ports operate at full speed without any hassle. They simply work, and the accompanying USB 3.1 Boost software is well-implemented too.
There's no denying that USB 3.1 is still very much in its infancy. That said, many of the primary motherboard vendors are just weeks away from releasing an entourage of USB 3.1-equipped parts, there's talk of a USB 3.1 MacBook, and the relevant drive enclosures are certain to follow soon after. So that leaves us eagerly waiting for implementation of USB 3.1 ports by case manufacturers.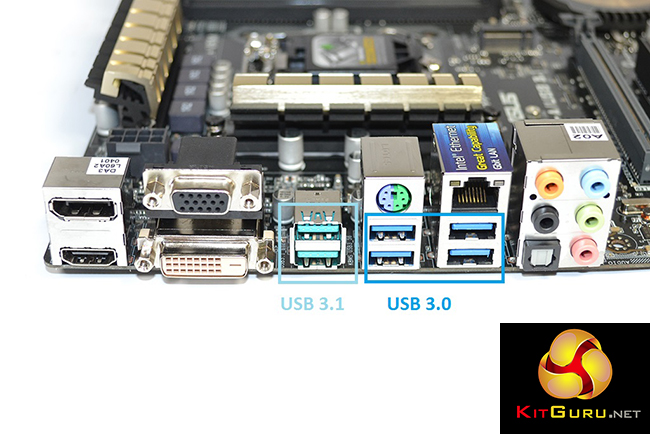 We aren't saying that USB 3.1 adoption will be quick. But if you are in the market for a motherboard at this very point in time, considering a product with the 10Gbps connector may be sensible from a 'future-proofing' perspective (as much as I hate using that term).
Reports suggest that SSD prices are going to drop significantly towards the end of 2015 and 4K content, not to mention sizeable game installs, is ensuring that file sizes continue to grow. USB 3.1 provides transfer rate potential that is high enough to warrant an SSD-to-SSD configuration for users who regularly transfer large amounts of content across computers in their home.
Discuss on our Facebook page, over HERE.
KitGuru Says: Combining data from our testing of Asus' Z97-A/USB 3.1 motherboard and that of MSI's engineering sample, USB 3.1 looks to sport the potential of around an 80% boost in sequential transfers as of today (ASM1142 USB 3.1 vs Intel 9-series PCH USB 3.0). That, I'm sure we can all agree, is a good thing for our ever-demanding storage and speed requirements.