The widespread introduction of USB 3.1-capable components is already under way. That roll-out is currently centred around motherboards providing support for the 10Gbps ports, but further devices will make use of the higher speed connector in coming months. We get an early hands-on look at one of Asus' upcoming USB 3.1-equipped motherboards – the Z97-A/USB 3.1.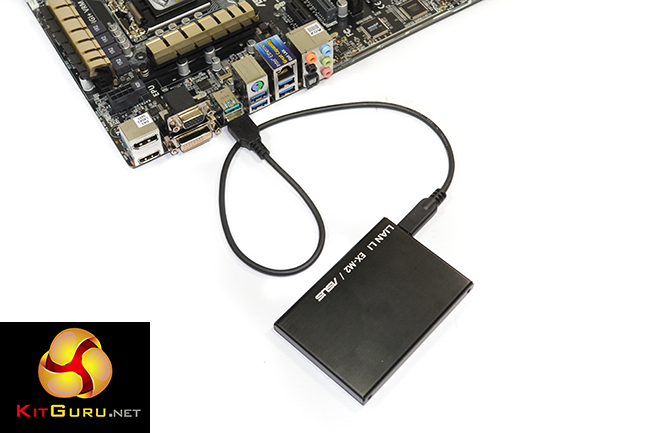 We took an in-depth look at USB 3.1 and the technology behind it in our recent article, found HERE.
Gareth Ogden ASUS UK Marketing Manager said "As the leading innovator and manufacturer of motherboards, ASUS has been developing and testing USB 3.1 from a very early stage, and we're excited to be the first to show a finished, retail USB 3.1 product to KitGuru. Thanks to ASUS' engineering expertise and our USB 3.1 Boost technology, we can offer the highest performance USB 3.1 products to early technology adopters and enthusiasts who want only the best."
Today's piece focuses on the USB 3.1 implementation of Asus' soon-to-launch Z97-A/USB3.1. With ASMedia's USB 3.1 silicon poised to hit the market, coming weeks will see the major motherboard vendors releasing new products which feature the 10Gbps connection.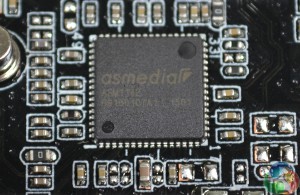 In a similar fashion to MSI, Asus deploys the pair of USB 3.1 ports by way of ASMedia's PCIe 2.0 x2-fed ASM1142 host chipset. We have been advised that ASMedia's solution seems to be the only one currently at a sufficient market readiness level to be shipped out on motherboards. Competing silicon from the likes of VIA and Renesas looks to be a little further down the line.
A two-lane PCIe 2.0 link gives the ASMedia chipset a total bandwidth of 10Gbps (there's also the 20% PCIe 2.0 overhead). This bandwidth is shared between the pair of USB 3.1 ports, so don't expect to see full-speed transfer rates on similar solutions when using both connectors.
Asus also has another solution for those who have already purchased one of the company's motherboards. Two USB 3.1 PCIe x4 cards will be launched in the coming weeks, one of which provides a pair of USB 3.1 Type-A ports, with the other offering a single Type-C connector (and higher power delivery).
These expansion cards are effectively the same as Asus' onboard solutions – they use a PCIe 2.0 x2 or PCIe 3.0 x1 link to provide a bandwidth of 8Gbps (after subtracting overheads). Support will be provided across a number of Asus motherboards via BIOS and driver updates.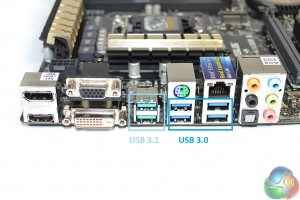 Asus' Z97-A/USB 3.1 motherboard that we have on hand is a retail solution, not an engineering sample. We are told that this is exactly what end-users will be able to purchase in the coming weeks.
The use of cyan-coloured USB 3.1 ports is a simple yet effective trick, especially with so many users outlining confusion on motherboards that may have as many as three different generations of USB (USB 2.0, USB 3.0, USB 3.1) from multiple vendors (perhaps ASMedia, VIA, and the Intel PCH).
As far as specifications go, Asus' Type-A USB 3.1 ports are rated for 10Gbps bandwidth with up to 4.5W of power delivery (900mA across a 5V line). This is likely to be the standard for Type-A ports on upcoming motherboards, although Type-C connectors may delivery up to 3A across the 5V line (15W).