The latest revision of Intel's High-End Desktop (HEDT) platform is upon us and that means one thing is for sure – new processors and motherboards. Bringing the HEDT platform to the feature-rich realms of 2014, new motherboards based around the LGA 2011-v3 socket will use an X99 chipset that possesses many of the goodies found on the mainstream 9-series core logic, as well as more.
The hectic and somewhat problematic nature of these launches means that our processor article will be published over the coming weekend – we didn't want to rush and compromise the quality of the content. In the mean time, we take a brief look at Asus' X99 Deluxe motherboard to show early adopters the features they can expect.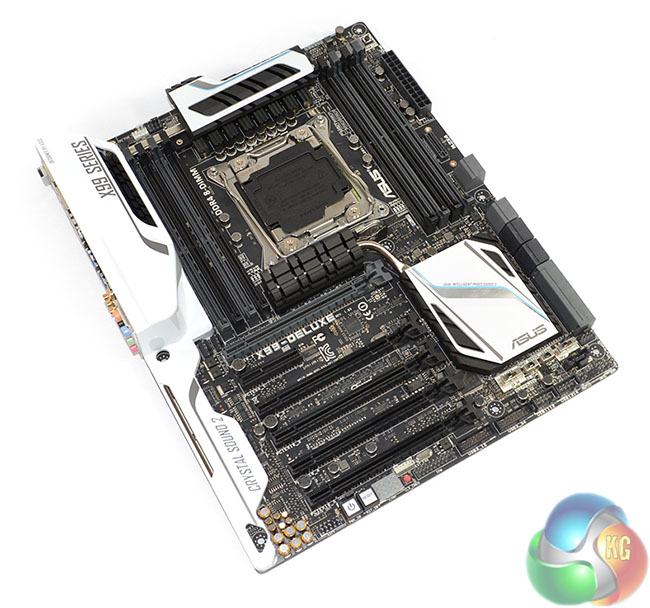 The Asus X99 Deluxe's most striking design feature is glaringly evident; Asus takes a bold risk and outfits the X99 Deluxe with a black and white colour scheme. I must admit that I am typically a fan of black and white, although I also know how easily it can be ruined.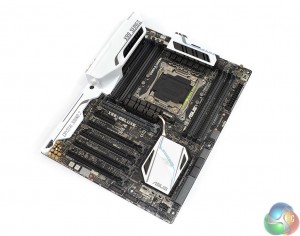 Thankfully, Asus has used an eye-catching bright shade of white based on a large plastic covering and the pair of heatsinks to create a unique style. For as many years as I can remember, this is the first motherboard to use such a high quantity of white, and it does so to great effect.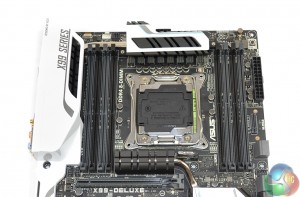 Sat between two pairs of 4-dimm banks is the sizable LGA 2011-v3 socket. Despite the reference socket design featuring the same number of pins as previous parts, Ivy Bridge-E and Sandy Bridge-E LGA 2011 parts are not compatible with X99 motherboards and their new socket due to the use of DDR4 memory. Intel told us that they chose to avoid the possible confusion of a user installing DDR3 memory and a previous-gen processor in a DDR4 motherboard.
Proprietary to Asus is the company's patent-pending Asus OC Socket. Extra pins are leveraged in the CPU socket to deliver additional voltage and aid overclocking performance. Our full review will analyse overclocking performance and highlight any benefits of Asus' OC Socket.
Positioned close to the 24-pin power connector is a vertically-aligned M.2 socket that uses four PCIe 3.0 lanes to deliver up to 32Gbps of bandwidth. That translates into up to 4GBps real-world speeds for a vertically-mounted M.2 drive that doesn't interfere with other components.
Five full-length PCIe slots provide capacity for up to a quintet of graphics cards. With a 40-lane CPU, that's real-world capacity for three-way SLI/CrossFire using dual-slot graphics cards without bandwidth limitations.
A PCIe 2.0 x4 slot is also present and runs from the X99 chipset's lanes. Its function is to serve as a means of connecting high-speed storage devices that makes use of the PCIe connector.
Asus uses its Crystal Sound 2 audio system on the X99 Deluxe. The solution is based around the Realtek ALC1150 codec and features specialised audio capacitors and EMI reduction.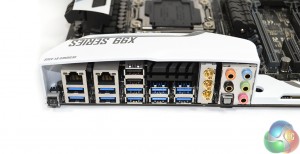 A bustling rear IO highlights the connectivity upgrades that X99 brings over its predecessor – X79. As this is part of Intel's HEDT platform there is no onboard video, although that is highly unlikely to phase many (any?) users.
Dual GbE NICs and connection points for a 3-stream wireless solution outline the X99 Deluxe motherboard's networking connectivity.
Discuss on our Facebook page, over HERE.
We are looking forward to taking Asus' X99 Deluxe for a full spin through our benchmark suite over the next few days. Is the motherboard's performance as bold as its striking colour scheme?