KitGuru was recently invited to a press event where Asus discussed and showed-off its series of motherboards based on the 'future Intel chipset'. While information surrounding the chipset is still under Intel's NDA, prepare to indulge in a photographic gallery of Asus' upcoming motherboards.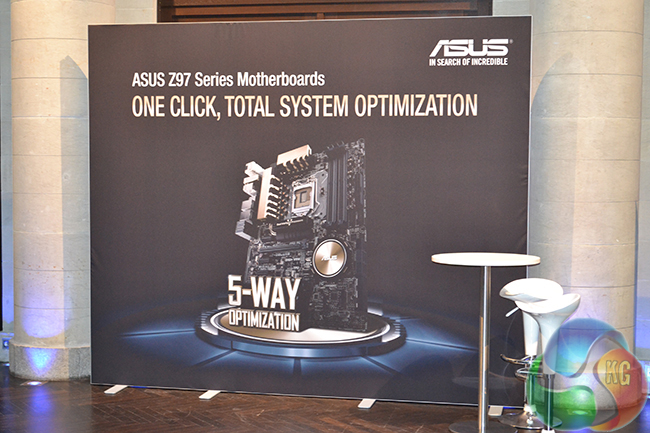 Asus 'Z97' Series motherboards
Asus' 'Z97' Series motherboards scale a number of price ranges aiming to cater for a variety of users.
Starting off at the entry-level board of the series, Asus' Z97-A aims to cater for users looking for a low-cost motherboard that does not skimp on warrantable features.
The Z97-A features multi-VGA support and is equipped with M.2 and SATA-Express high-speed storage connections.
We will be publishing an in-depth preview of the Asus Z97-A motherboard in the next few days.
At the complete opposite end of the scale, Asus' Z97-Deluxe motherboard aims to cater for users who need and want a feature-filled system.
Dual LAN connectors, ten SATA ports, M.2 and SATA-Express storage, and NFC Express 2 and WiFi connections are just some of the features on Asus' flagship 'Z97 Series' motherboard.
Slotting between the high-end Z97-Deluxe and entry-level Z97-A motherboards is the Z97-Pro. Available in with and without 802.11ac WiFi, Asus will be hitting a mid-range price point with its Z97-Pro motherboards.
Key features for the board include a twelve phase VRM, high-speed M.2 and SATA-Express connectors, and Asus' 5-way optimisation. Needless to say, the Z97-Pro (WiFi ac) motherboard features 802.11ac wireless connectivity.
The Z97I-Plus is Asus' mini-ITX board for the 'Z97′ series.
In addition to many of the same series-wide optimisations as its ATX siblings, the Z97I-Plus also features a mini-PCIe wireless connector, and a rear-mounted M.2 slot.
Targeting professional workstation users, the Asus Z97-WS features optimisations for troubleshooting. SATA-Express and M.2 connectors are present and the storage interfaces' 10Gbps bandwidth may be welcomed by users with IO-heavy workloads.
Further differences include visibly different power delivery components, two 8-pin CPU power connectors, and an additional USB 3.0 header. Judging by the picture and past -WS motherboards, 4-way graphics card configurations seem to be supported by means of a PLX bridge chip.