Boards designed for extreme overclockers have been constants for all of Intel's most recent platforms. Gigabyte hit success with the Z87X-OC motherboard by driving the overclocking-geared part to an aggressive mid-range price point. Many of the key overclocking-orientated features were still present, but the bank-busting price tag was not. Gigabyte is attempting to repeat its success with its upcoming Z97X-SOC Force motherboard.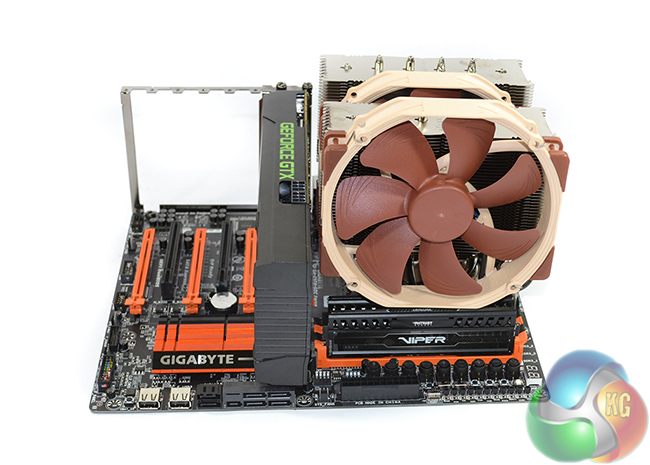 Sporting an eye-catching orange and black colour scheme and a host of overclocking-orientated features, let's take a look at Gigabyte's Z97X-SOC Force.
Introduced with the company's X58A-OC motherboard, the Gigabyte Z97X-SOC Force uses an 'in-your-face' orange and black colour scheme.
I would typically advise against such a pair of 'loud' colours, but Gigabyte manages to control the shades and create a truly stunning appearance. Colour-coordination will be difficult, but there are always jet-black components to rely upon.
Four DIMM slots provide support for up to 32GB of DDR3 memory. Gigabyte uses a single-latch approach to prevent interference with a graphics card installed in the uppermost PCIe slot.
Adjacent to the DIMM slots is a section that Gigabyte calls OC Touch. As the name would suggest, OC Touch is the zone where overclockers can operate the motherboard via onboard buttons. Voltage checking points are also situated on the board's edge, as are switches for toggling between BIOSes and controlling other parameters.
Switches for disabling PCIe and DIMM slots are located near to the 24-pin power connector.
An eight phase power delivery system feeds an LGA 1150 CPU, along with 8-pin and 4-pin power connectors. 10K black solid capacitors, rated for 10,000 hours of operation at 105°C, form part of the power delivery system that is controlled by an International Rectifier VRM controller.
Gigabyte cleverly opts for a single-sided VRM approach, compressing the power delivery components into the area near the rear IO panel. Why is this such a smart move? Because it leaves heaps of clearance above the CPU socket for overclockers who need to install large LN2 and DICE pots.
Six chipset-fed SATA 6Gbps ports are found on the Gigabyte Z97X-SOC Force motherboard. There aren't any additional controllers to bump up the number of SATA ports because most overclockers simply do not require more than six drive connections.
Two of the SATA 6Gbps ports and an additional data-supplying connection join together to form a single 10Gbps SATA-Express connector. With its theoretical throughput levels in the region of 800MBps, SATA-Express could prove popular to benchmarkers who require fast IO performance for the highest scores. No M.2 connector is present on the motherboard.
Termed OC Connect by Gigabyte, two right-angled USB 2.0 connectors are mounted adjacent to the SATA ports. These two connectors act as an easy-to-access point of contact for users who want to simply transfer screenshots of their overclock or update their BIOS. No reaching behind a bundle of cables or large CPU cooler is required.
Ports on the rear IO are a standard affair. Gigabyte includes a PS/2 connector to please overclockers who still stand by their legacy keyboard for software reasons. LAN is provided by a Killer E2200 series NIC, implying that Gigabyte sees gamers as potential users of the Z97X-SOC Force motherboard.
Four full-length PCIe slots provide users with flexibility as to their graphics card positioning. There is a caveat brought about by the LGA 1150 CPUs, though; the upper three PCIe x16-length slots operate from PCIe 3.0 lanes supplied by the CPU, while Gigabyte says that the bottom connection operates from four PCIe 2.0 lanes.
While we are not allowed to say where the lower slot's lanes originate, Z87 motherboards using this approach routed their four PCIe 2.0 lanes from the chipset.
Technically, Gigabyte's Z97X-SOC Force supports 4-way CrossFire configurations, as well as 2-way SLI. CrossFire can run in PCIe 3.0 x8/x4/x4 plus PCIe 2.0 x4 using a combination of the CPU's 16 Gen 3 lanes and 4 Gen 2 lanes from 'another source' (as outlined in the above paragraph). SLI necessitates x8 connections hence why only 2-card setups are supported.
An auxiliary 6-pin power connector is used to provide additional current to hefty multi-VGA configurations. Two PCI ports provide legacy support for older devices that overclockers may still be using.
Realtek's ALC 1150 audio codec provides the foundation for an enhanced audio system that also features an additional amplifier and a discrete PCB pathway.
One of the most useful accessories bundled with Gigabyte's Z97X-SOC Force is the OC Brace. Screwing into two motherboard stand-off points, OC Brace acts as a support for graphics cards when the motherboard is not installed inside a chassis.
As somebody who regularly uses a motherboard mounted atop a good old-fashioned box, I can see the value of OC Brace. Having a graphics card that is securely attached to the motherboard is invaluable when running a barrage of tests.
Regarding the orange and black colour scheme, Gigabyte's Z97X-SOC Force forms a surprisingly good-looking partnership with Noctua's burgundy and beige coolers, such as the NH-D15. Perhaps an orange Phanteks PH-TC14PE cooler would make another colour-coded partnership.
Arguably the best cooling companion for Gigabyte's Z97X-SOC Force motherboard is an LN2 cooling pot.
The eye-catching Z97X-SOC Force looks like an interesting motherboard that is optimised for overclockers but also provides gamers with some noteworthy features. We look forward to reviewing the board's performance and features when the NDA for Intel's 'future chipset' lifts in the coming weeks.
What would you like to see tested and analysed on Gigabyte's Z97X-SOC Force motherboard?
Discuss on our Facebook page, over HERE.
KitGuru Says: Check back soon for our full, in-depth review of Gigabyte's overclocking-orientated Z97X-SOC Force motherboard.