The latest revision of Intel's High-End Desktop (HEDT) platform is upon us and that means one thing is for sure – new processors and motherboards. Bringing the HEDT platform to the feature-rich realms of 2014, new motherboards based around the LGA 2011-v3 socket will use an X99 chipset that possesses many of the goodies found on the mainstream 9-series core logic, as well as more.
The hectic and somewhat problematic nature of these launches means that our processor review will be published over the coming weekend – we didn't want to rush and compromise on the quality of the content. In the mean time, we take a brief look at MSI's X99S Gaming 7 motherboard to show early adopters the features they can expect. Our full, in-depth review of this motherboard will be published in the coming week.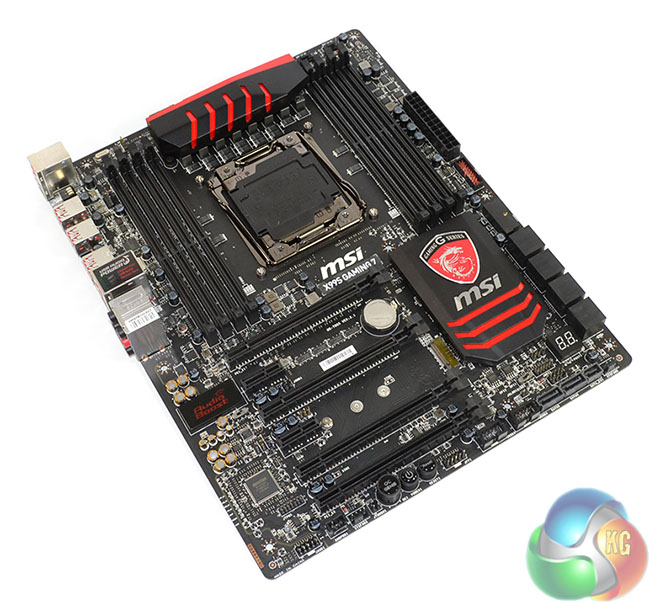 If it ain't broke, don't fix it. With its Z87 and Z97 motherboards MSI all but perfected the red and black colour scheme on its Gaming series parts. And that's exactly why we see the same eye-catching, stylish appearance returning for the company's newest X99 boards.

Red touches contrast the single-shade black PCB and slots. Matching components with the X99S Gaming 7 will be an enjoyable task, especially to those who opt for a similarly-styled graphics card.
MSI's somewhat bare LGA 2011-v3 CPU socket is sandwiched between eight DDR4 DIMM slots. The reason for the socket's bare appearance is because MSI incorporates the pre-mounted CPU cooler backplate behind the motherboard rather than surrounding the socket. This keeps clutter to a minimum around the socket area.
Eight power delivery phases feed the greedy – up to 140W – Haswell-E CPUs. All of the electronic components for CPU power delivery are positioned above the CPU socket. This minimises the length of path that current has to flow on and can therefore improve power delivery. It is also the optimum positioning for avoiding CPU cooler interference.
Four full-length PCIe 3.0 slots are fed with up to 40 lanes from a Haswell-E CPU (28 lanes for the relevant model). Three-way CrossFire/SLI using dual-slot graphics cards is a reality with MSI's optimum slot spacing.
Sat below the second full-length PCIe slot is the M.2 connector. MSI routes four PCIe 3.0 lanes to the connection allowing it to provide up to 32Gbps of bandwidth. With an SSD that is fast enough, that's up to a 4GBps data rate. SATA Express is also present, although its market presence is currently limited and the adoption has been greatly overshadowed by M.2.
MSI continues to plough ahead with its tried-and-tested Audio Boost 2 system on Gaming series motherboards. We have tested the Realtek ALC1150-based system many times in the past and regard it as one of the premier motherboards solutions, especially when taking the high-quality Texas Instruments OPA1652 amplifier into account.
A host of USB 2.0/3.0 ports engulfs most of the motherboard rear IO section. LAN is provided by a Killer E2205 NIC which is regularly chosen thanks to its excellent accompanying software package.
Discuss on our Facebook page, over HERE.
A brief visual overview reveals a number of positive features for the X99S Gaming 7. Check back in the coming days to see if MSI's board can deliver on a performance front.