Last year, Intel unveiled its new 5×5 platform in an effort to create even smaller, yet upgradeable systems with full support for LGA based CPUs and a feature rich I/O all while being 29 percent smaller than Mini-ITX. Now, it looks like ASRock is set to adopt the new platform with its new H110M-STX motherboard, measuring in at just 140mm by 147mm in dimensions.
The H110M-STX is larger than a typical NUC, but smaller than a Mini-ITX offering. While it doesn't offer discrete GPU support like a Mini-ITX motherboard would, it does offer a full LGA 1151 socket, allowing you to upgrade your CPU from a Celeron or Pentium all the way up to a Core i7, there is also support for up to 32GB of DDR4 RAM running at 2133MHz.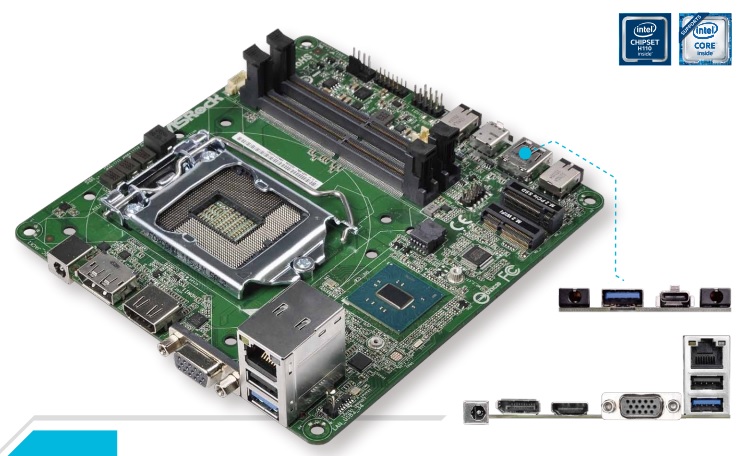 On the rear I/O you will find a VGA, DisplayPort and HDMI output, audio jacks, USB 2.0, 3.0 and Type-C and an Ethernet port. On-board motherboard connectors include M.2 for either WiFi or SSDs, a COM port header, USB headers, front panel and two fan headers.
There aren't many Mini-STX cases around just yet but ASRock has that covered too with the DeskMini110, which supports this new form factor with plenty of ventilation for cooling and a VESA mount so you can attach the computer to the back of a monitor. It also comes with an external power brick so that you can power the PC through a DC-in input on the rear I/O of the H110M motherboard.
KitGuru Says: This motherboard would be fairly well suited for those that perhaps need a stronger Intel CPU but would sacrifice on graphics in order to save a ton of space. Mini-ITX boards are already tiny as it is so shrinking things down to this size and still maintaining upgrade-ability is quite a feat.