Sony and Panasonic on Monday introduced their new jointly-developed optical disc format called Archival Disc that allows to store from 300GB to 1TB of data on a single 120mm disc. Both Sony and Panasonic aim to launch systems with a recording capacity of 300GB per disc in summer 2015. Initially, Archival Disc will be aimed at professional market.
Just like the Blu-ray disc, the new Archival Disc technology will rely on blue laser diodes operating at 405nm wavelength with numerical aperture of 0.85. The track pitch of Archival Disc was reduced to 225nm (from 320nm in case of the Blu-ray disc). In addition, the AD format features crosstalk cancellation technology and high-order partial response maximum likelihood (PRML) signal processing technology to achieve both larger capacity and higher playback signal quality.
The initial 300GB discs will be double sided with three layers per side, which means that each layer can hold 50GB of data, two times higher than the Blu-ray disc which supports 25GB per layer.
Both Sony and Panasonic plan to actively promote the Archival Disc standard in the professional field (among owners of cloud data centres, developers of digital content, network services and so on) in order to offer an effective solution for protecting valuable data into the future.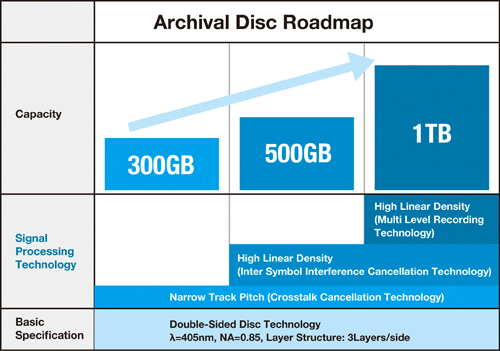 Sony and Panasonic intend to launch systems with a recording capacity of 300 GB per disc starting from summer 2015 and onwards. In addition, both companies plan to leverage their respective technologies to further expand the recording capacity per disc to 500GB and 1TB.
KitGuru Says: While 300GB capacity seems to be impressive, double-sided media is hardly popular on the consumer market. Therefore, in case Sony and Panasonic want to drive the Archival Disc to the consumers, they should design single-sided media with 150GB capacity. The big question is whether tripling capacity of a single-sided disc will justify significant changes to the format and necessity to develop all-new players for the consumers, keeping in mind the fact that it is possible to offer BD XL-based media with 128GB of storage capacity and leverage existing Blu-ray disc technology. Perhaps, the second iteration of the Archival Disc with 250GB capacity on one side makes more sense for the consumer market. But such media will be made available even later than in 2015…