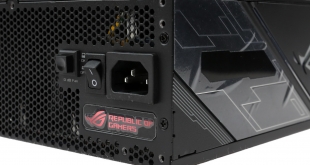 The moment has come – Asus have entered the PSU market for good, through its ROG sub-brand. Today we find out if the Thor unit has what it takes to go after marketing leading products such the Seasonic Prime 1200 Platinum and the much older, but still top-notch, Corsair AX1200i. With the decline of GPU mining, the market for power supplies is finally becoming more competitive, so we find out today if the new ASUS THOR 1200W has what it takes to attract an audience of buyers.
Everyone who reads KitGuru knows Asus. What probably most of you don't know is that this famous brand, responsible for some of the best mainboards ever made (I still remember my first Asus mainboard, a CUSL2 which made its debut almost 18 years ago) decided to enter the PSU market only very recently, through its highly prestigious ROG brand.
Since Asus didn't have the time, or simply didn't want to devote resources to build its own platform, it decided to cooperate with one of the best PSU manufacturers on the planet – SeaSonic by adopting its top-notch Prime platform. Asus is familiar with power supplies since its engineers have to deal with the design of VRMs (Voltage Regulation Modules) that equip its mainboards and graphics cards, however it was much safer to go with an already tested platform considered among the best that money can buy today.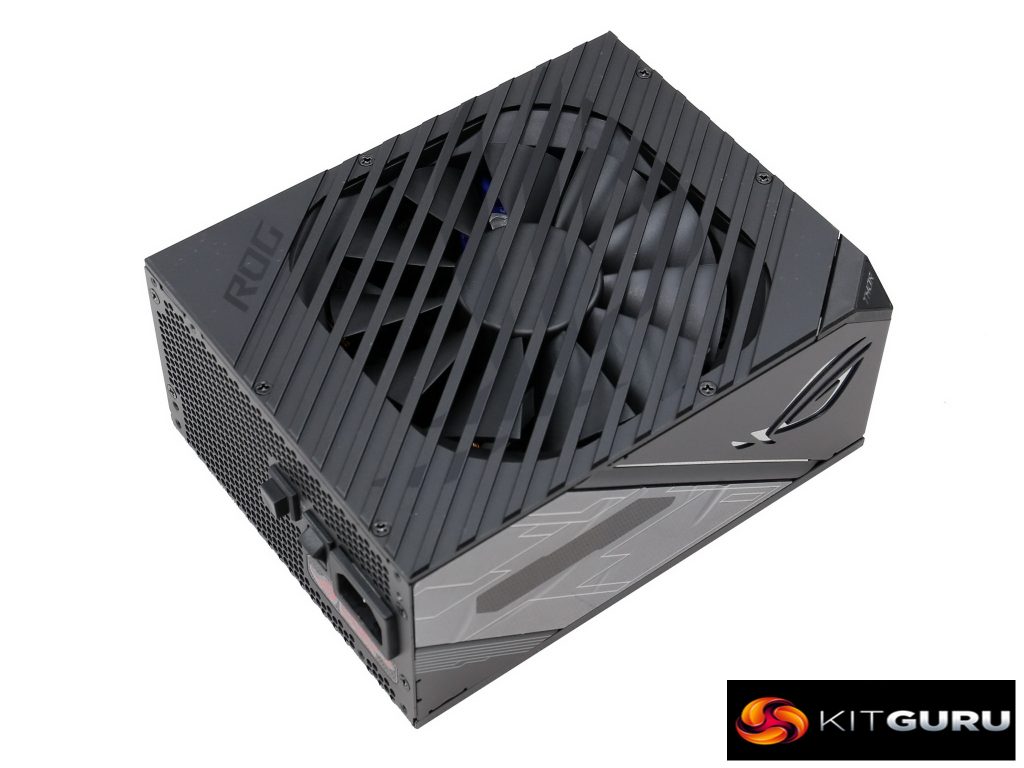 'THOR' is a pretty cool brand name for a power supply after all Thor was the Norse God of War – known for his lightning, storms, and strength. The ROG Thor series line currently consists of two units, with 1200W and 850W capacities available. In this review we will fully test the strongest member of the line, with model number RTSS01-1200P1.
The ROG Thor 1200P is based on a heavily modified version of the similar capacity Seasonic Prime Platinum model, featuring larger heatsinks internally and a micro-controller feeding real-time power draw data to an OLED screen installed on the unit's side. There is also addressable RGB lighting and Aura Sync compatibility, for those of you that want a fancy power supply this certainly looks to tick all the boxes!
Read our How We Test Power Supplies HERE
Specifications
Manufacturer (OEM)

Seasonic

Max.DC Output

1200W

Efficiency
80 PLUS Platinum, ETA-A (88-91%)
Noise
LAMBDA-A+ (15-20 dB[A])
Modular

✓

(Fully)
Intel
C6/C7 Power State Support

✓

Operating Temperature
0 – 50°C
Over Voltage Protection

✓

Under Voltage Protection

✓

Over Power Protection

✓

Over Current (+12V) Protection

✓

Over Temperature Protection

✓

Short Circuit Protection

✓

Surge Protection

✓

Inrush Current Protection

✓

Fan Failure Protection

✗

No Load Operation

✓

Cooling
135mm Double Ball Bearing Fan (PLA13525B12M)
Semi-Passive Operation

✓

(selectable)
Dimensions (

W x H x D

)
152 x 88 x 192mm
Weight
2.37 kg (5.22

lb

)
Form Factor
ATX12V v2.4, EPS 2.92
Warranty
10 Years
The Thor unit is 80 PLUS Platinum and ETA-A certified by Cybenetics. In the noise section it scores a LAMBDA-A+ rating, which is great for a 1200W power supply. The same capacity Seasonic Prime model has a much higher overall noise output (LAMBDA-S, 43.25 dB[A]). Apparently the new cooling system that Asus utilized has done a marvelous job!
The max operating temperature is 50°C, however it is not clear whether the Thor 1200P is able to deliver its full power continuously at such a high temperature. Seasonic derates its SSR-1200PD model to 80% of its max-rated-power at 50°C, for continuous load delivery, stating that only at 40°C the unit is able for continuous full load delivery.
The cooling duties are handled by a double ball-bearing fan, which will be able to cope better under tough conditions than a fluid dynamic bearing fan. It is impressive to see such low noise output with a DBB fan, which is more noisy compared to a similar spec FDB. Finally, the provided warranty is very long at ten years, while the PSU's dimensions are quite large with 192mm length. This is 20mm more than the SSR-1200PD.
Power Specifications
Rail
3.3V
5V
12V
5VSB
-12V
Max. Power
Amps
25
25
100
3
0.3
Watts
125
1200
15
3.6
Total Max. Power (W)
1200
The minor rails are strong and the single +12V rail can deliver up to 100 Amps if/when needed. The 5VSB rail has 15W capacity and in real life it can deliver much more, without sweating.
Brands tend to keep the official capacity of this rail low though, just to be safe since under high loads its components will get quite hot; remember that the 5VSB rail operates with the PSU in standby, hence the cooling fan is not in operation.
Cables & Connectors
Modular Cables
Description
Cable Count
Connector Count (Total)
Gauge
In Cable Capacitors
ATX connector 20+4 pin (610mm)
1
1
18-20AWG
No
4+4 pin EPS12V (650mm)
2
2
18AWG
No
6+2 pin PCIe (680mm)
4
4
18AWG
No
6+2 pin PCIe (680mm+70mm)
2
4
18AWG
No
SATA (350mm+150mm+150mm+150mm)
1
4
18AWG
No
SATA (400mm+115mm+115mm+115mm)
2
8
18AWG
No
4-pin Molex to 2x SATA (150mm)
1
2
18AWG
No
4-pin Molex (350mm+120mm)
1
2
18AWG
No
4-pin Molex (450mm+120mm+120mm)
1
3
18AWG
No
FDD Adapter (+105mm)
1
1
22AWG
No
RGB Cable (800mm)
1
1
22AWG
No
RGB Sync Cable (800mm)
1
1
24AWG
No
AC Power Cord Type (1380mm)
1
1
18AWG
–
A great amount of cables and connectors equips the Thor unit, including two EPS and eight PCIe connectors. It is nice to also see four dedicated PCIe connectors, meaning that each of them is installed on its own cable for lower voltage drops. If you plan to highly overclock your graphics cards and install "only" a pair, then those cables should be preferred.
The number of SATA connectors is adequate and one of the cables provide large enough distance between the connectors, while the other two are ideal for situations where the drives are installed next to each other.
The SATA adapter with the pair of SATA connectors supports SATA 3.3-based drives. This means that in this cable the 3.3V rail is absent from the SATA connectors, since it doesn't exist on the four-pin Molex connector which feeds them power.
The 4-pin Molex connectors are placed 120mm apart. It would be nice to see at least 150mm distance given that the components (e.g. case fans) that are fed from those connectors, are usually installed far away from each other.
The ATX along with both EPS and four PCIe connectors use individually sleeved wires, while all the rest use flat, ribbon style, cables. ROG also teamed up with CableMod to offer a 20% discount, for a limited time though, to the users that want something fancier. So if you want something even nicer than the provided cables, or if you require custom length cables, then you better hurry up.
Please be aware our power supply reviews use a gallery system, which can be sometimes stopped by ad blockers as a false positive – if you don't see images in this review, then disable your ad blocker to view all the images.
Be sure to check out our sponsors store EKWB here