General Data
Manufacturer (OEM)
Sirfa / High Power
Primary Side
Transient Filter
4x Y caps, 2x X caps, 2x CM chokes, 1x MOV
Inrush Protection
NTC Thermistor & Relay
Bridge Rectifier(s)
APFC MOSFETS

2x China Wind 

CWS20N60AF

(600V, 13A @ 100°C, 0.19Ohm)

APFC Boost Diode
Hold-up Cap(s)

1x Rubycon (400V, 680uF, 2000h @ 105 °C,

MXH

)

Main Switchers

2x China Wind 

CWS20N60AF

(600V, 13A @ 100°C, 0.19Ohm)

APFC Controller
Resonant Controller
Champion CM6901X
Topology

Primary side: Half-Bridge & LLC Resonant Controller
Secondary side: Synchronous Rectification & DC-DC converters

Secondary Side
+12V MOSFETS
6x Infineon BSC027N04LS G (40V, 88A @ 100°C, 2.7mOhm)
5V & 3.3V
DC-DC Converters: 6x Infineon BSC0906NS (30V, 40A @ 100°C, 4.5mOhm)
PWM Controller: APW7159C
Filtering Capacitors
Electrolytics: Nippon Chemi-Con (1-5,000 @ 105°C, KZE), Nippon Chemi-Con (4-10,000 @ 105°C, KY), 1x Rubycon (4-10,000 @ 105°C, ZLH)
Polymers: Nippon Chemi-Con, FPCAP
Supervisor IC
SITI PS224 (OVP, UVP, OCP,SCP, PG)
MCU
STC 15W408AS
EEPROM
ATMEL AT24C02N
Fan Model
Thermaltake TT-1425 (Hong Sheng OEM, A1425L12S, 140mm, 12V, 0.30A, 1560 RPM, Hydro Dynamic Bearing)
5VSB Circuit
Rectifier
Standby PWM Controller
Sanken STR-A6069H
-12V Circuit
Rectifier
This is a High Power platform, featuring an extra circuit for the RGB controller and an EEPROM, which helps the unit "remember" the last RGB setting. The capacitors are of high quality and the fan features a hydro dynamic bearing, so it will last a long time.
The FETs used in the secondary side belong to Infineon so there is no doubt about their quality, however we cannot say the same for the FETs of the primary side which come from a Chinese manufacturer, which we haven't encountered so far. Only time will tell if those Chinese FETs are good enough to outlive the ten-year warranty.

In the primary side we find the typical stuff such as a half-bridge topology along with an LLC resonant converter.
The secondary side uses a synchronous design where six FETs regulate the +12V rail. The minor rails are generated through a pair of DC-DC converters, which are fed by the +12V rail. It is always nice to see a dedicated regulation IC for the -12V rail, which provides enhanced security.
This rail can still harm the supply, so the sooner we get rid of it the better. The latest ATX specs don't list it as required, however all manufacturers still keep it in order to avoid any potential compatibility problems.
The EMI filter consists of two stages. The first is located at the AC receptacle and includes two Y and a single X caps. The second part, on the main PCB, has the same type and number of caps along with two CM chokes and an MOV, located after the bridge rectifiers.
The pair of bridge rectifiers (GBU1506) can handle up to 30 Amps.
The APFC converter uses two China Wind CWS20N60AF FETs and a single UnitedSiC UJD06506TS boost diode. We would like to see Infineon FETs in this stage, instead of those unknown parts. The quality of the FETs used in the APFC converter and as primary switching FETs is of immense importance, since they have to deal with the mains grid and possible brown outs or voltage surges.
The APFC converter's controller (Infineon ICE3PCS01G) is installed on a large daughter-board, which also hosts the supervisor IC, a SITI PS224, and an MCU (STC15W408AS) which most likely plays a role in the fan control circuit.
The primary switching FETs are two China Wind CWS20N60AF, the same with the ones used in the APFC converter. They are installed onto a small heatsink with tiny fins.
The LLC resonant converter is a Champion CM6901X which operates the primary FETs in PWM mode under light loads, while it switches to FM mode at higher loads. It is installed on the solder side of the main PCB.
The main transformer besides lowering the voltage of the primary side, also provides electrical isolation.
The couple of small heatsinks in the secondary side is used to dissipate the heat that the +12V FETs generate, with the latter installed on the PCB's rear side. In total six Infineon BSC027N04LS G handle the +12V rail.
The electrolytic filtering caps in the secondary side are provided by Chemi-Con and belong to its KY and KZE lines.
We also find a lonely Rubycon (ZLH series) of small capacity. Besides electrolytic caps a small number of Chemi-Con and FPCAP polymers caps is also used, with the majority of them installed on the modular board.
A pair of DC-DC converter uses six Infineon BSC0906NS FETs. The common PWM controller is a Anpec APW7159C.
The 5VSB circuit besides a small transformer also utilizes a PCF P10V45 SBR. We spotted two Infineon BSC0906NS FET on the main board, which look to belong to this circuit as well. Finally, the standby PWM controller is a Sanken STR-A6069H.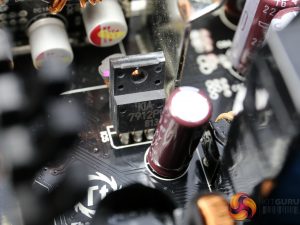 The -12V rail instead of a plain diode uses a proper regulation IC, a KEC KIA7912PI.
The modular board hosts four Chemi-Con and three FPCAP polymer caps. As you can see there was room for an additional 8-pin connector and it is a real shame that High Power didn't utilize it, since this unit should have a second EPS socket.
The RGB control IC and the serial EEPROM (ATMEL AT24C02N) are installed onto this small PCB. The marking on the control IC were totally erased, so we cannot identify its model number.
The soldering quality is not the best we have seen from High Power, that's for sure, but it is still pretty good. What gave us a really hard time though was the desoldering of some parts since the lead-free solder is very tough to work with – it demands very high temperatures in order to melt.
We are aware that the regulations ask for lead-free parts, but in the end this hard-to-work-with solder type brings more trouble than the one containing lead.
The cooling fan has Thermaltake's name on it and its model number is TT-1425. Its original manufacturer is Hong Sheng and the initial model number, before TT's relabeling, is A1425L12S. This is a low speed fan with a hydro dynamic bearing, which offers a long lifetime.