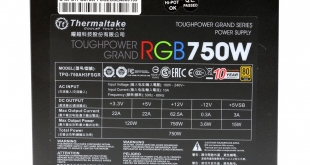 All that glitters is not gold! This is not the case though with the ToughPower Grand RGB since it features both Gold efficiency and RGB lighting. The unit is covered by a ten-year warranty which shows high confidence in its reliability. The big question is 'can it compete with the Corsair RM750x and the Seasonic SSR-850FX?' – both of which don't ship any bells and whistles, but focus instead on pure performance.
Thermaltake places a huge focus on RGB lighting. This is easily seen on its power supply offerings since many of them include this feature. Personally we are not so fond of any type of lighting when it comes to power supplies since we believe that any extra penny should be spent on better parts that actually make a difference to the unit's overall performance.
In our opinion only when you have the best possible platform, you should look at those fancy extras, however we all know that fancy RGB lighting is very popular with a huge audience right now. Whether you like it or not, it seems to be here to stay.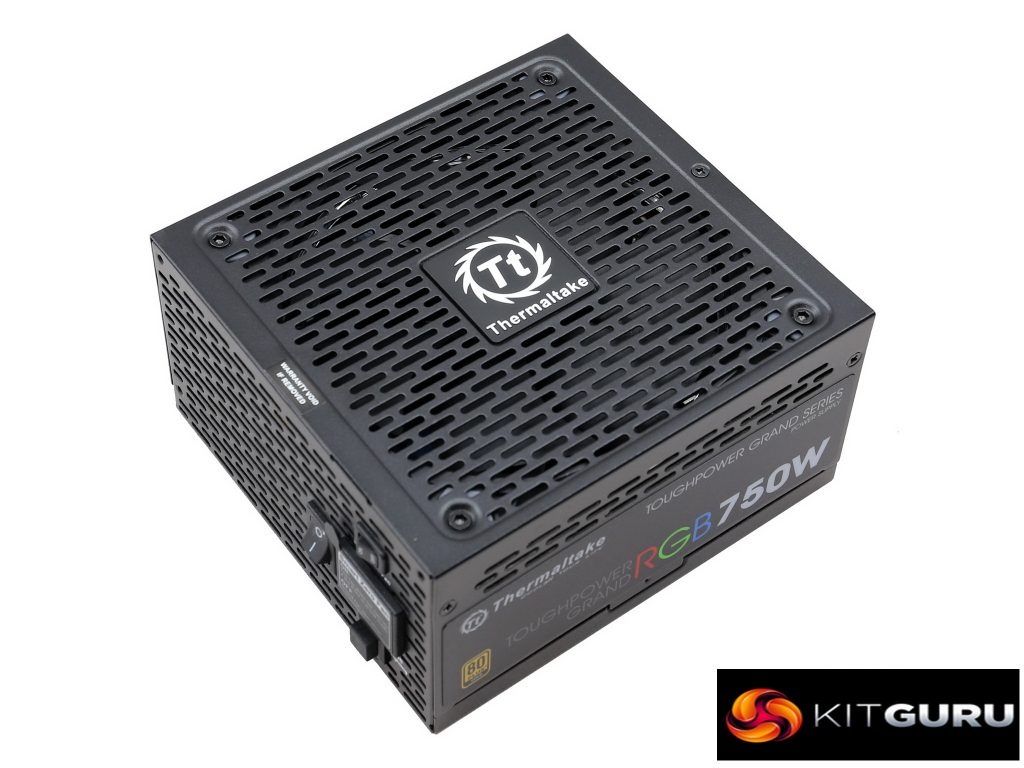 The Toughpower Grand RGB (RGB Sync Edition) line consists of three models with capacities ranging from 650W to 850W. Thermaltake was kind enough to send us the two lower capacity models, which we will evaluate in this review – focusing more on the 750W unit which will gather the most interest, since this wattage category is among the most popular.
The TPG-750AH3FSGR (this is a really long model number!), is equipped with a 256-color Riing fan measuring 140mm in diameter. There are five lighting models and thanks to a built-in memory the unit is able to "remember" the last setting. Besides manual control, there is the option for custom RGB lighting since Thermaltake provided compatibility with popular RGB-ready mainboards including models from Asus, Gigabyte, MSI, Biostar and ASRock.
Read our How We Test Power Supplies HERE
Specifications
Manufacturer (OEM)
Sirfa / High Power
Max. DC Output

750W

Efficiency
80 PLUS Gold, ETA-A (88-91%)
Noise
LAMBDA-A- (25-30 dB[A])
Modular

✓

(Fully)
Intel C6/C7 Power State Support

✓

Operating Temperature
0 – 50°C
Over Voltage Protection

✓

Under Voltage Protection

✓

Over Power Protection

✓

Over Current (+12V) Protection

✓

Over Temperature Protection

✓

Short Circuit Protection

✓

Surge Protection

✓

Inrush Current Protection

✓

Fan Failure Protection

✗

No Load Operation

✓

Cooling
140mm Hydro Dynamic Bearing Fan (TT-1425 [A1425L12S])
Semi-Passive Operation

✓ (Selectable)

Dimensions (

W x H x D

)
152 x 87 x 162mm
Weight
1.63 kg (3.59

lb

)
Form Factor
ATX12V v2.4, EPS 2.92
Warranty
10 Years
The original manufacturer of those new Thermaltake units is High Power. The platform is certified as 80 PLUS Gold while in the Cybenetics scale it achieves ETA-A and LAMBDA-A- certifications. The latter shows that the noise output is at low levels.
All cables are modular and the max operating temperature is 50°C, without any clue though whether the power supply is able to deliver its full power continuously at such a high ambient.
The necessary protection features are listed in this product's specifications and there is also a selectable semi-passive operation, supporting the 140mm HDB fan. Lastly, the dimensions are compact with 160mm length and the provided warranty is long at ten years.
As it seems, every major brand nowadays has entered the ten-year warranty club, and we are anxious to see what will happen in several years from now, when the platforms and their components will start to age.
Power Specifications
Rail
3.3V
5V
12V
5VSB
-12V
Max. Power
Amps
22
22
62.5
3
0.3
Watts
120
750
15
3.6
Total Max. Power (W)
750
The minor rails have 120W max combined capacity and the +12V rail can deliver up to 750W. The 5VSB rail has sufficient capacity and nobody cares anymore about the -12V rail, since it isn't used by the majority of mainboards and other PC parts.
Cables & Connectors
Modular Cables
Description
Cable Count
Connector Count (Total)
Gauge
In Cable Capacitors
ATX connector 20+4 pin (600mm)
1
1
18AWG
No
4+4 pin EPS12V (660mm)
1
1
16AWG
No
6+2 pin PCIe (500mm+155mm)
2
4
16-18AWG
No
SATA (510mm+155mm+155mm)
3
9
18AWG
No
4-pin Molex (500mm+150mm+150mm+150mm)
1
4
18AWG
No
RGB Cable (580mm+80mm)
1
1
26AWG
No
FDD Adapter (+160mm)
1
1
22AWG
No
AC Power Cord (1400mm) – C13 coupler
1
1
18AWG
–
There are no extra filtering caps on the cables, and the distance between the peripheral cables is ideal. What more to ask? Well a second set of EPS connectors would be great, since this is a 750W unit which most likely will be combined with a high-end mainboard, requiring increased power in the CPU socket area.
Dual EPS connectors are not completely necessary however some high end boards including all that support AMD Threadripper processors will need them. It is a huge mistake to cripple this units usability by providing only one EPS connector. On the other hand, the number of PCIe and peripheral connectors is satisfactory.