The Thermaltake Toughpower Grand RGB 750W Gold (RGB Sync Edition) retails for $110 in the US while in the UK market is sold for £127 (including VAT). That's a pretty dire conversion rate for UK enthusiast users.
This is a highly efficient and silent power supply with good ripple suppression, a HDB fan and Japanese caps. It also features RGB lighting, something that its major opponents (Corsair RM750x and Seasonic Focus Plus Gold 750W) lack.

The big question here is whether all above positive aspects of this product are enough to put it on top of your buying list. In my expert option I don't think so, and let me explain why.
The load regulation is loose,  the transient response is mediocre on all rails and the inrush currents go through the roof once you attempt to power up the unit with its bulk cap discharged. Moreover, I don't feel so confident about the quality of the Chinese FETs used in the primary side. On the other hand, Thermaltake looks to trust those parts else it wouldn't provide a hefty ten-year warranty to this product.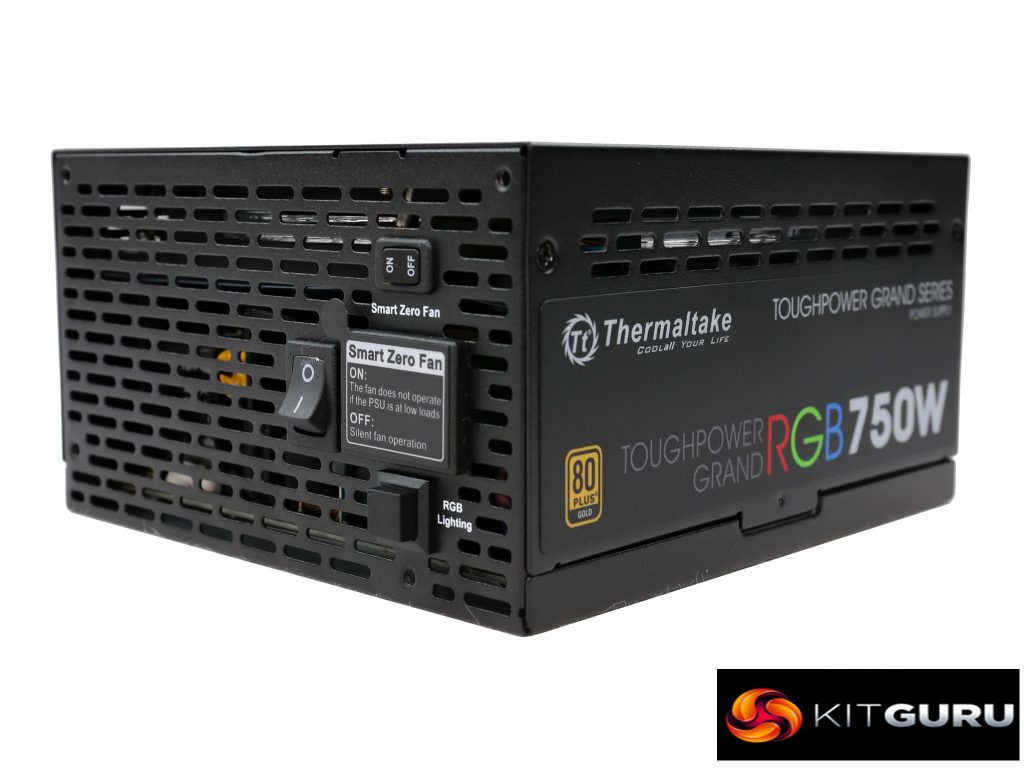 If you are desperately seeking for a PSU that has RGB lighting and you also want to be able to control this feature through software, then your choices are limited and you should include a Thermaltake product in your list, since this brand is the leader when it comes to RGB-lit power supplies.
The rest of the major brands don't seem to bother so much about RGB lighting, since they give priority to performance. In my book this is the right thing to do, since in a power supply performance should be the key selling point. That said, there are still users who want a cool looking power supply and since in the market the people's desires prevail, I cannot persuade them to focus first on performance over fancy RGB lights.
All in all, this unit achieves decent performance, however with the same amount of money someone can get a notably better model and on top of that Thermaltake only provided a single EPS connector, so if you want to power a Threadripper system or a high-end mainboard that needs more power in the CPU area, then this is not a suitable unit.
In my opinion no power supply with 750W and more max power should come with a single EPS and it would be nice if the high-end 650W models also provided the capability for two EPS connectors.
Which are the changes/improvements  that I would like to see in a future version of this platform?
Lower inrush currents.
Two EPS connectors.
The EPS and PCIe sockets to be electrically compatible or different.
Tighter load regulation (within 1% on all rails).
Improved transient response.
Longer hold-up time by 1-2 ms.
Lower EMI at below 1MHz frequencies.
Lower power consumption in standby.
Infineon or equal quality FETs in the APFC converter and as primary switching FETs.
Here is the lists of the Pros and Cons for the Thermaltake Toughpower Grand RGB 750W Gold (RGB Sync Edition).
Pros:
Delivered full power at 47°C.
Efficient.
Efficient 5VSB rail.
Low ripple.
Silent.
RGB memory function.
RGB lighting can be controlled either manually or through compatible software (with all popular brands being supported)
HDB fan.
Adequate clearance between the peripheral connectors.
10-year warranty.
Cons:
Single EPS connector.
The EPS and PCIe sockets are identical, with those cables being electrically incompatible
Loose load regulation on all rails.
Lousy transient response.
High inrush currents.
The hold-up time should be a bit longer (1-2 ms).
Increased conducted EMI at lower frequencies (<1 MHz)
Increased vampire power with 230V input.
Buy from SCAN computers in the United Kingdom HERE.
KitGuru says: The fresh ToughPower Grand RGB Gold has a distinctive appearance and RGB lighting features, but there are better performing supplies available such as the Corsair RM750x and the Seasonic SSR-750FX – at similar price points. Do you want a very high performance unit, or one that ships with RGB lights for a specific system build you are planning? We feel that this Thermaltake unit should only hit your final shortlist if you simply must have RGB lighting above all else.