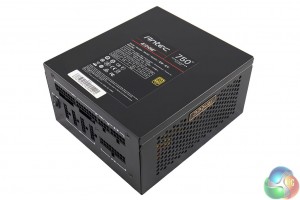 The Antec EDGE 750W is a very understated power supply, finished in a simple black paint.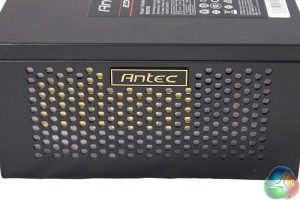 There is some company branding on the side panels, and plenty of vents to help with air flow – but hang on. On closer look we can see the vents are actually covered in a plastic sheet, so there will be no airflow from the sides.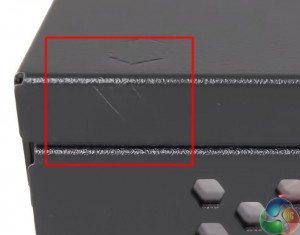 The unit didn't pass our 'screwdriver' test. This involves running the head of a Philips head driver down the side of the chassis with light to medium force. After all, how many times have you accidentally connected with a power supply during a system build?
Several small, but noticeable scratches were left on the surface (see image above).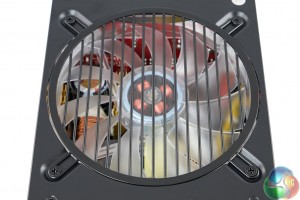 The top of the power supply is home to a large, clear fan – resting behind a metal grill. We will look at the fan more closely when we open the unit.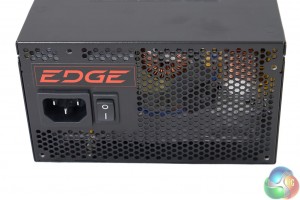 One side has the 'EDGE' brand name, alongside a power connector and switch. This honeycomb vent isn't covered with a plastic sheet, so air will flow fine here.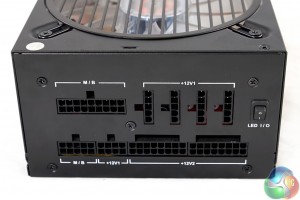 The other side is home to the modular panel – all labelled for clarity. If you look closely you will see a little LED 1/0 button – this turns a little blue light, on and off.



You can connect one or two modular 8 pin cables into any of the 16 pin sockets.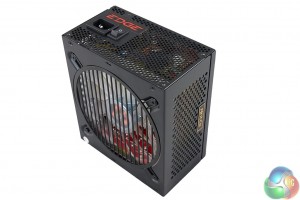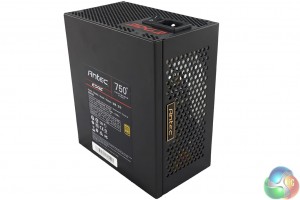 The EDGE is quite an attractive looking power supply, from all angles.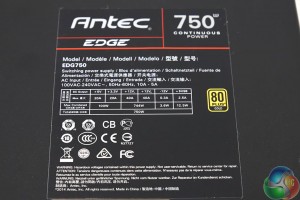 Antec EDGE 750 Watt Power Supply

DC Output

+3.3V

+5V

+12V1
+12V2

-12V

+5Vsb

Max Output

20A

20A

40A
40A

0.3A

2.5A

Total Power
100W
744W
3.6W
12.5W
750W
The Antec EDGE is a dual +12V rail power supply. Each of the unit's +12V rails can deliver 40Amps of power. The minor rails can each deliver 20A.