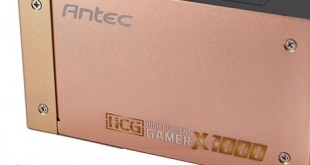 Today we take a look at one of the latest power supplies from Antec's new 'High Current Gamer Extreme Series'. There are two models in this specific range, and Antec sent us their flagship 1000W model to analyse (there is also an 850W in this range). This power supply is certified 80 PLUS GOLD and is a pure modular design with a 10 year warranty. Price is set around the £190 mark in the United Kingdom.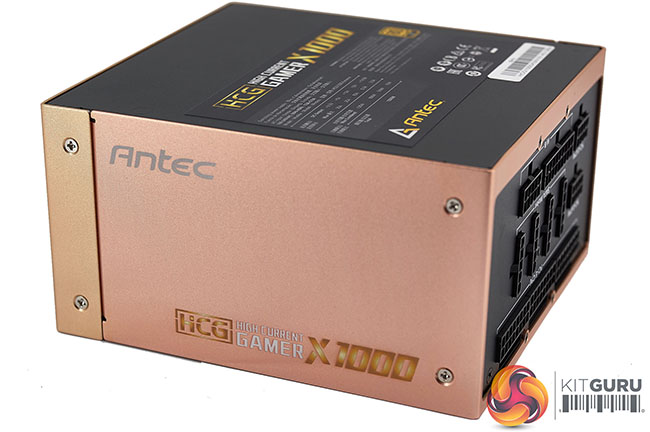 Antec power supplies have proven to be a bit hit and miss for me over the years. As they don't actually make any of their designs, the OEM's they team up with can vary in regards to quality (some of their units are made by Andyson, a truly dreadful OEM partner for instance).
Thankfully we already know this HCG Extreme Series unit is created in partnership with market leader Seasonic, so we are fairly confident it will deliver high quality power in our tests later in the review. At least we know for sure that the capacitors will be 100% Japanese throughout.
HCG Extreme Series Features:
Guaranteed 1000W of Continuous Power from Antec
100% Modular-Improves airflow and reduces clutter
80 PLUS® GOLD certified-Up to 92% efficient, to reduce your electricity bill
PhaseWave™ Design-A server-class full-bridge LLC design with a synchronous rectification based on a DC-DC topology
16 pin Socket-Industry-leading 16-pin sockets double the modular connectivity by supporting 2 different 8-pin cables per socket and allow for future connector changes
Antec Quality 10-year warranty and lifetime global 24/7 support
135mm FDB Silence-Whisper-quiet high-quality fluid-dynamic bearing fan with long lifetime
Zero RPM Manager-An advanced low voltage fan control with fan-off mode at low loads for absolute silence
99%+12V – Output for maximum CPU & GPU support
CircuitShield™-Full suite of industrial grade protections: OCP, OVP, UVP, SCP, OPP, OTP, SIP, NLO
100% Japanese capacitors achieve unprecedented tight voltage regulation & low ripple & noise to maximize your system's performance
28(18+10) pin MBU socket – For possible future MBU connectors
ATX12V 2.4-Engineered according to the newest PSU guideline and compatible with the latest CPU generation
HCG Extreme delivers non-stop industrial class performance for high-end computer systems at up to 50°C ambient.
Review photography handled in house at KitGuru with a Leica S series medium format camera and S series prime lens. Please do not use any of the images within this review without express permission.