The Antec box artwork for the High Current Gamer EXTREME series units is rather lovely. Its difficult to photograph properly as its very reflective, but its certainly eye catching. On the front of the box is a list of key features, and the rear of the box goes into a little more detail.

As we expected, due to the Seasonic connections, there is an icon on the front of the box showing that this unit will indeed have 100% Japanese capacitors. A 'Teapo' free unit is very welcomed!
Inside the reflective gold sleeve is a black box with Antec branding. Inside, we see the power supply protected between big foam blocks and all the accessories around the unit. The packaging is very good.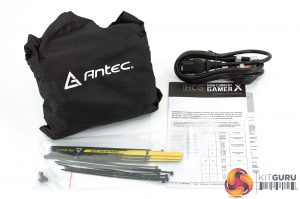 Inside we have a felt bag containing all the modular cabling, a regional specific power cable, some cable ties and screws and some literature on the product itself.
The cables in the box are a mixture of sleeved and ribbon style. The main ATX and PCIe cables are all sleeved, and all the peripheral cables are ribbon style – meaning routing them around the back of the chassis is a little easier. If you are using a system with multiple graphics cards, there are a total of 8 PCIe connectors (6+2).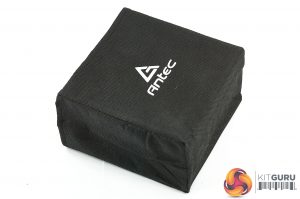 The power supply is protected inside a little bag, sandwiched between the foam pads.