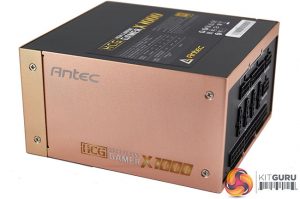 The Antec HCG Extreme Series power supply is certainly not understated. The gold finish is glossy and will certainly catch the eye inside a case. The only real concern I would have is that Gold is not a very popular colour amongst the European audience and it will likely clash with themed system builds. If you have a power supply shroud this will of course not be an issue.

its worth pointing out that the Antec on the sides of the power supply are silk screened, but the product name at the lower part of the side panels is just a sticker with transparency. Its not really a bad job overall.
The modular panel is cleanly laid out and easy to follow. No problems even for newbie system builders. The other side of the unit is home to the power panel which includes a power button, connector, and 'Hybrid mode' button which when enabled allows the fan to switch off completely, under low load situations.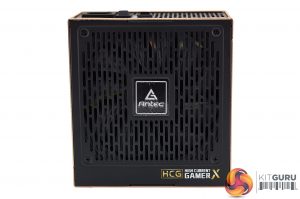 The large fan is hidden behind a black grill with the ANTEC logo highlighted in the center of the panel, shown above.

These specifications (and for a good reason) are identical to the Seasonic FOCUS PLUS 1000W GOLD unit – 25A on both +3.3V and +5V rails, and 83A available from the +12V rail for 996 Watts of the 1000W total.