The Antec HCG Extreme Series 1000W is without doubt, a very fine power supply designed to deliver the highest quality power. Antec may partner up with some awful OEM partners such as Andyson in the low end but at least someone in the company is aware that they can't get away with that for their more expensive products.
The HCG Extreme 1000W is based on the Seasonic Focus Plus+, a solid series of units which i looked at last year. I rated their 850W Focus Plus very highly, based on the performance combined with the competitive pricing.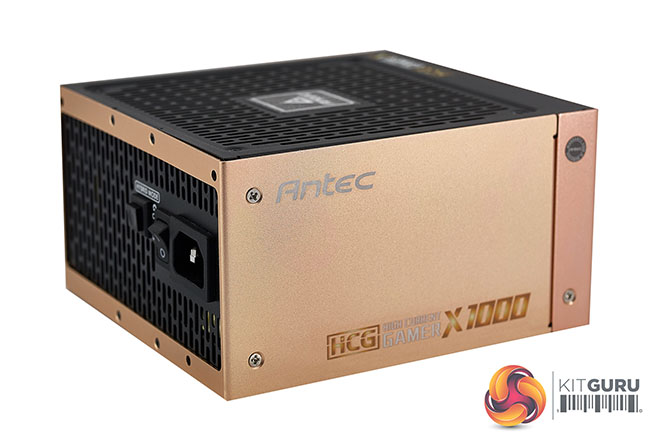 Antec have created an outer chassis which is sure to be a talking point, after all its a fancy gold silk screened (on the Antec logo) shell which is very eye catching. I am split over the gold finish to be perfectly honest. It will stand out in a system build, but that is perhaps the biggest concern for me.
Gold is not a colour that many European enthusiast users gravitate towards – it seems from reading our social media posts that Asian people are more inclined to opt for Gold colours in system builds. I am not sure many users will want a gold coloured power supply clashing with their tight themed builds. Adopting a PSU shroud would negate this problem, but Antec did put a lot of work into producing this fancy finish, so it seems silly to hide it. If you are planning a gold system build, this should be top of your shortlist however!
Technically, the Antec HCG Extreme Series 1000W is solid. Ripple suppression is first class, with +3.3V and +5V rails peaking at 10mV and 5mV respectively. The major +12V rail hits 25mV at the full 1000W load. Load regulation is also stellar.
Internally we can see a very clean design, with high grade soldering throughout, and noise levels emitted from the large 135mm Fluid dynamic fan are very low. It is only really in the last 200 watts of load than the fan makes its presence known. It never becomes too obtrusive however as the fan pitch is quite low – clearly aided by the large blades.
The unit also achieved its 80 PLUS GOLD certification in our tests without a problem and overall efficiency across the board is commendable.
The cabling is excellent, but like the Seasonic units we have tested in recent months, we can imagine a specific audience would prefer the cables to be all 'ribbon' style rather than the fatter sleeved cables for PCIe and CPU connections.

My big concern right now is based around pricing in the UK. You can buy the Antec HCG Extreme Series 1000W for £184.99 inc Vat from Overclockers UK HERE. You can buy the Seasonic Focus PLUS 1000W Gold Modular supply for £152.99 inc vat HERE. Thats a £32 saving if you opt for the Seasonic. If Antec are able to drop the price in the coming months then the HCG Extreme will be more appealing – technically it is a great unit.
Its worth pointing out again that Antec have upgraded some of the components including the Bridge Diodes, PFC MOS and PFC Diodes and can operate at 50C without derating, whereas the Seasonic Focus Plus can operate at  0 ~ 40C (but can run at 50C @ 80%). In the real world this is likely to make little difference.
Pros:
large 135mm fan is quiet under load.
Gold finish set to appeal to a specific builder audience (likely Asian).
technically solid unit.
10 year warranty.
fully modular.
80 Plus Gold achieved.
105c Japanese capacitors throughout
Cons:
More expensive that competition.
Gold colour may alienate system builders
KitGuru says: The Antec HCG Extreme Series 1000W is a fantastic power supply encased in a shiny gold enclosure – which is very eye catching. Pricing seems a little high in the UK, but perhaps in the coming months that will change. 10 year warranty offers peace of mind.