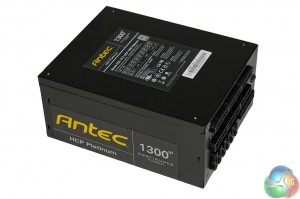 The Antec High Current Pro Platinum 1300W is an attractively finished unit. Antec are using a thick 'anti scratch' paint on the surface and it works extremely well. It passed our 'screwdriver' test with flying colours. This involves running the head of a Philips head driver down the side of the chassis with light to medium force. After all, how many times have you accidentally connected with a power supply during a system build?
Negatively, it does attract fingerprints easily, but a quick wipe with a cloth removes these.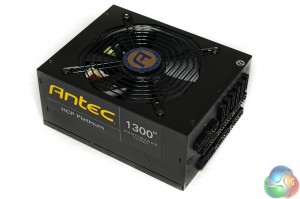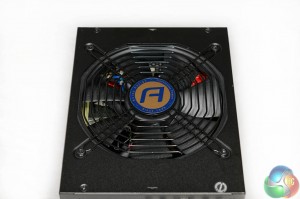 Antec labels adorn both sides of the chassis, and the letter 'A' is clearly visible in the center point of the fan grill. We will take a closer look at the fan once we crack the unit open.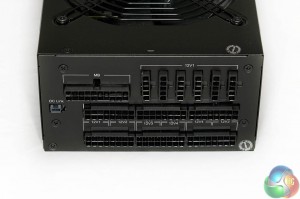 The modular panel of the power supply is densely populated, but easy enough to work with. We like how Antec have detailed the specific rail that a socket is related to. You can therefore tune the system build to suit heavy system demands.
On the left side is the simple 2 pin OC link connector which lets the user connect two HCP-1300's together for parallel power. We can't imagine many people will need 2,600 watts, but the option is certainly welcomed.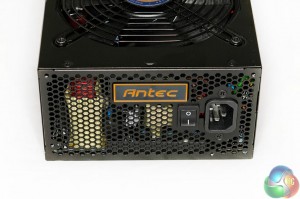 The other side of the chassis is completely vented with an 'Antec' badge positioned in the middle. Alongside is a power connector and switch.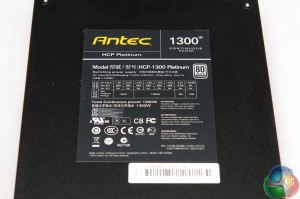 Antec High Current Pro Platinum 1300W

DC Output

+5V

+3.3V

+12V1
+12V2
+12V3
+12V4

-12V

+5Vsb

Max Output

25A

25A

50A
50A
50A
50A

0.5A

3A

Max Combined Wattage
130W
1300W
6W
15W
It is difficult not to be impressed with the +12V rails. When these are combined they can deliver the full 1,300W. Even two AMD R9 295X2's in Quad Crossfire won't cause this unit to struggle under load.