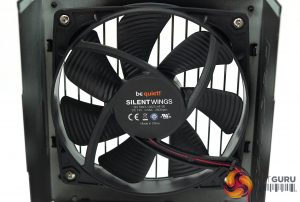 be quiet! are using one of their own proprietary SilentWings 3 fans – Model Number BQ SIW3-13525-HF-26. It is rated 12V, 0.56A with a maximum speed of 2,600 rpm. SilentWings 3 fans use a 6 pole motor design to reduce vibration and power consumption. They are fluid dynamic bearing fans to help ensure a life span of 300,000 hours.

If you pay close attention you will see the fan frame has funnel shaped air inlets to produce high air pressure. They normally ship with a three year manufacturers warranty but his fan will fall under the 5 year warranty term of the power supply itself.
If you can't see the image gallery below then whitelist us in your ad blocker as they can interfere with our display code.
This FSP design has no internal wiring ensures high airflow capabilities which will reduce temperatures. It uses a fully modular cable design and the LLC resonant converter on the primary side reduces energy losses significantly. All of the capacitors are high grade 105c Japanese grade which is good to see. On the primary side we can see two Nichicon 105C caps, rated 420V 470uF each for a total of 940uF.
On the secondary side a synchronous design is implemented with a couple of DC-DC converters for the minor rails. The electrolytic caps are also Japanese branded. Caps on the secondary stage are supplied by Chemi Con.
We are pleased to report that all protection features are in place. There are four +12V rails which slightly ruins the overall design for me, as I prefer a strong single +12V rail.
Soldering quality seems high enough throughout, and the modular PCB is a Rev: 12 design 3BD0273212GP.