The be quiet! Straight Power 11 1000W is a fine power supply, with the new Enhance design showing its worth in many key areas. Obviously the primary focus from be quiet! is on the SilentWings 3 fan – and I am pleased to report that it delivers a very pleasant low noise experience even when heavily loaded.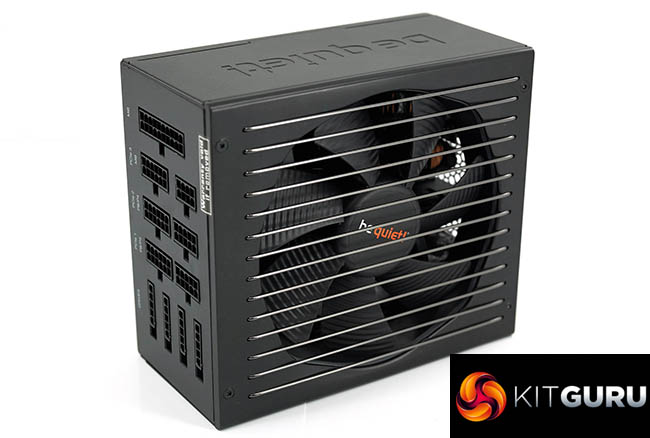 The exterior is finished to the high standards we would expect from be quiet! The paint work is deep and resistant to minor scratches and we love their grill design – its very industrial and futuristic. The start of the show lies under the grill – the SIlentWings 3 fan is fantastic.
The Enhance design delivers clean, stable power with load regulation and cross loading tests verifying it will cope with transient changes and high power delivery for extended periods of time. The supply delivered just over 1080 watts before safely shutting down. Ripple suppression is perfectly fine, and it was good to note that the design is utilising 105c Japanese Capacitors from Nichicon and Nippon Chemi-Con. Long term reliability seems a safe bet.
I am however surprised be quiet! are only offering a 5 year warranty. In recent years manufacturers have been pushing this forward – Corsair and Seasonic are offering 10 and 12 year warranties respectively with their ranges.

A real concern is the price point currently in the United Kingdom. AT £204.95 inc vat HERE its £20 more expensive that the Corsair RM1000X 80+Gold unit HERE and Silverstone make a Platinum grade 1000W power supply for only £185 HERE. If bequiet! could drop the price by £20-£25, it would really help drive sales because as it stands I can't help but feel this is an 80 Plus Gold unit priced more like a 80 Plus Platinum supply.
Discuss on our Facebook page, over HERE.
Pros:
Built to the highest standards.
Fully modular
quiet as a mouse.
class leading fan.
solid load regulation.
good ripple suppression.
105c Nichicon and Nippon Chemi-Con caps.
Cons:
Its priced more like a Platinum power supply.
5 year warranty seems very tight in today's market, id like to see this increased to 7 years+
Kitguru says: The be quiet! Straight Power 11 1000W is a stellar power supply built to the highest standards. It is currently overpriced in the United Kingdom however.