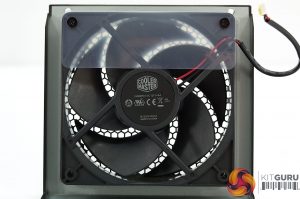 Cooler Master are using a fan made in China which shows a rating of up to 2,500 rpm 12v 0.16A. Looking closer into the fan design we can see its an LDB (Loop Dynamic Bearing) bearing design with model number DF1202512RFLN. Life expectancy for this particular fan is said to be around the 160,000 hour mark. It is self lubricating and dust sealed.

Below is a gallery of the internal power supply design. If they do not display then whitelist our site in your adblocker as they can interfere with our display code.
We can see that HEC is Cooler Master OEM of choice for this design and the overall design is clean and soldering quality is decent for the price point. It is a APFC+ Double Forward design with Synchronous Rectification and DC-DC converters on the secondary side.
The primary capacitor is by Chinese brand TEAPO and is rated at 85c (400V 470uF) – not 105c. I am not a big fan of TEAPO capacitors as I have had several fail (one quite horribly) in previous years. I have been told they have improved their manufacturing process in recent years but I still have doubts about long term reliability – so I was immediately disappointed to see them used throughout this design.
Obviously Cooler Master are aiming for a low price point but I do feel at times skimping in key areas like this can greatly impact overall reliability. TEAPO caps are even visible on the vertically mounted modular bay PCB. Its doubly disappointing as Cooler Master have stated that the two key factors in mind when designing this power supply were low noise and reliability.
Transient Filtering comprises 5x Y Caps, 2 x X Caps, 2x EMI Choke and 1 MOV. APFC MOSFETS are 2x Great Power GP18S50XN220FP (500V, 18A). The Combo APFC, PWM Controller is a Champion CM6800TX. The Bridge Rectifier are 2x MCC, GBU10K (800V, [email protected]).