It is clear the Cooler Master MasterWatt 650 Power Supply is designed to target the budget enthusiast audience. WIth a price point at only £64.99 inc vat it will definitely be a healthy option for a specific audience with limited funds.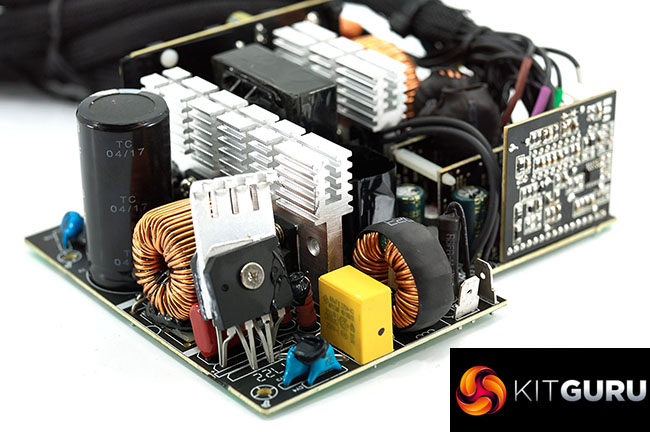 The packaging and bundle is rather spartan with only the power supply protected – wrapped inside clear plastic bubble wrap. It should be adequate protection but I have concerns if the box took a hard hit during shipping.
The power supply itself is nicely finished and the paint work is fairly resistant to scratches. The plain black finish will appeal to the enthusiast audience building a colour coordinated system on a budget. The cabling quality is also rather nice, with Cooler Master adopting 16 AWG cables to reduce resistance.
Internally, the HEC design has proved solid overall. My only point of contention is the adoption of cheap Chinese 85c rated capacitors throughout. While the quality of these has been said to have improved in recent years, I have experienced some pretty nasty failures in other units which gives me concerns about long term reliability. Ironic considering Cooler Master say they are focusing on two key selling points for these units – reliability and low noise.
While it is impossible for me to test 2-3 year long reliability for a launch within only a few weeks I can say that Cooler Master have succeeded with their claims of low noise. The large LDB fan they have adopted is whisper quiet, only making its presence known within the last 200 watts of power delivery.
So is this power supply a success story for Cooler Master? Technically it passed our tests with pretty good results overall, however there are always concerns when we see 85c rated TEAPO capacitors in any enthusiast grade power supply. I also think an 80 Plus Bronze rating seems horribly outdated in 2017. For me, Gold is the new Bronze and it has been for some time.
If you are on a strict budget and have only £65 to spare, then the Cooler Master MasterWatt 650 makes for a decent enough purchase. I just have concerns about long term reliability due to the adoption of budget oriented Chinese TEAPO capacitors throughout the design. For an extra £20 you could get an 80 Plus Gold unit with Japanese capacitors inside. And that's the true foundation for a reliable power supply.
For more information check out this page on SCAN.
Pros:
quality cabling.
technically quite solid.
quiet.
Cons:
Cheap 85c Chinese capacitors used throughout.
80 Plus gold units with Japanese capacitors actually don't cost a lot more.
Kitguru says: The Cooler Master MasterWatt 650 is a decent performing unit at a competitive price point.