The Cooler Master MasterWatt Maker 1200 is undoubtedly an impressive power supply and OEM partner Enhance have raised their game to a level necessary to justify the 400 euro asking price.
We love the appearance of the power supply, it is actually one of my favourite units from a purely aesthetic point of view. The large fan is completely hidden behind the outer grill, which is a bonus in my book.
First impressions are very positive. The bundle included with the power supply is both extensive and of a quality befitting a flagship product.

The unique modular panel incorporates larger pins that can handle 1.5 times more amperage when compared against other high end models on the market. This is a fantastic safety feature as it can help prevent melted connectors and even potential shorts in extreme situations.
The BlueTooth 3.0 functionality works well, and will attract the attention of a select audience. Personally I wouldn't bother using it myself, but it does seem rather unfair to fault Cooler Master for trying to bring something new to market. As far as I know this is the first desktop power supply that adopts a BlueTooth interface.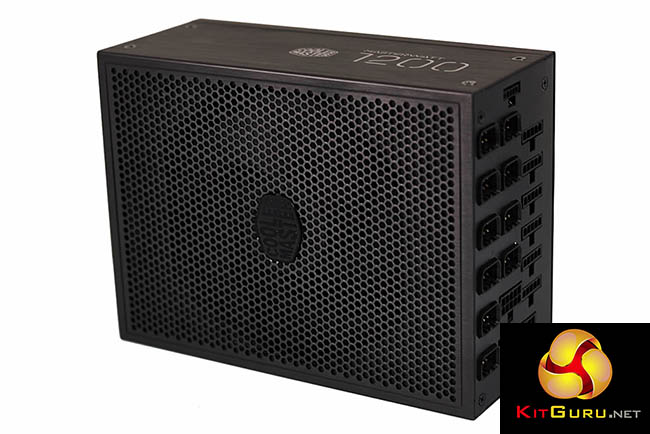 Comparisons will be drawn against Corsair, for their pure digital AX1500i power supply (review HERE), developed with Flextronics. The Cooler Master software interface is not quite as sophisticated as that available via Corsair Link, however Corsair have quite a few years advantage in regards to development and implementation.
Many people will find the option to monitor and control their power supply via a mobile phone an interesting concept, but I would be interested to get feedback from our readers as to whether this feature would be a priority. Nonetheless this will likely be appropriated on some level by competitors in the coming months.
Technically, the MasterWatt Maker 1200 PSU delivers a stellar set of results. Efficiency rates very high throughout the range, holding above 93 percent throughout a huge range of power delivery, peaking at 94.5%. The unit also passed the demanding cross load test without breaking a sweat.
Ripple suppression is fantastic with all rails holding between 15mV and 20mV under full load conditions. Fan noise is also very low under most situations, aided by the very high efficiency of the unit. This is not a hot running power supply, even when load hits 800-1000 watts.
The only downside we can see is the high asking price. 400 euros is a lot to pay for any power supply, even one with BlueTooth 3.0 functionality and everything but the kitchen sink thrown in. This works out at £340 for our UK audience, putting this unit directly in competition with flagship products such as the Corsair AX1500i (HERE) and even the Super Flower Leadex Titanium 1600W 80 Plus Titanium (HERE).
We feel technically that the MasterWatt Maker 1200 is batting right at the highest level against flagship products from the likes of Corsair, SuperFlower and Seasonic. When we factor in the superb build quality, exceptional feature-set which includes BlueTooth 3.0 support for mobile devices and the reassuring 7 year warranty we feel the Cooler Master flagship wholeheartedly deserves our highest award.
Discuss on our Facebook page, over HERE.
Buy direct from the Cooler Master store for €399,95 HERE

Pros:
class leading build quality.
BlueTooth 3.0 support for mobile devices.
superb cabling.
modular bay is the market leader.
delivered over 1,300 watts before shutting down.
quiet fan.
94.5% efficiency.
Cons:
Kitguru says: The Cooler Master MasterWatt Maker 1200 is one of the finest power supplies we have tested. It may be expensive, but it delivers class leading performance.