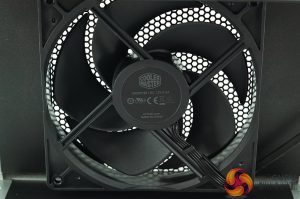 The fan is branded Cooler Master, and is in fact one of their high grade Silencio units. It comprises a 'loop dynamic bearing' inside and is rated up to 2,800 rpm 12V, 0.5A. Hey, its made in China too which I found a little ironic, considering the 'MIJ' tag in the name of the supply.

Technically this fan is very capable, its a sleeve bearing fan with a rated MTBF (Mean Time Before Failure) of 160,000 hours. With a ten year warranty its not such a worry anyway.
Below - a High Resolution Gallery of the internal layout of the Cooler Master Masterwatt Maker 1200W MIJ 
The PCB soldering work is exceptionally high and the main PCB design is above anything we have seen in the last decade. There are two coils, four X caps, four Y caps and a TVS diode in the line filter. There is an interleaved bridgeless design. The shielded PFC coils are literally works of art, and clearly hand made. Build quality is staggeringly high throughout.
We found capacitors from Nippon Chemi Con and Rubycon throughout the power supply – all high grade Japanese models. We noticed that the standby and PFC control board has two fuses – one for the board and the other for the line input. Primary stage capacitors are made by Nippon Chemi Con and rated 420V 830uF and 420V 620uF (Total 1450uF). As a comparison , the Kolink Continuum 1200 watt supply we reviewed last week has a total of 940uF combined (HERE)).
Power supply transformers generally use copper wire coiled around a ferrite core. For this MasterWatt Maker 1200 MIJ Murata came up with the idea of using thin sheets of copper stacked on top of each other with a very thin layer of insulation between them. Cooler Master say this is uniquely used in this power supply. In the case of PFC MOSFET's – Infineon's CoolMOS C7 series is used throughout – these are expensive, as much as four times more compared against a traditional MOSFET.
The boost diode is supplied by Japanese ROHM and it is made from silicon carbide, a relatively new material for these kind of components. This will allow the boost diode to run at higher voltages and higher temperatures when compared against silicon based counterparts. This particular design is using a matched pair to produce less heat.
The modular board is yet another work of art and flawless in the execution of design – Rubycon capacitors are fitted to the other side of the PCB. Murata also developed custom choke coils at a higher grade than anything we have seen in a consumer level power supply in recent years. Cooler Master claim they are more at a level of those inside a high end AV amplifier.
Cooler Master claim that this unit can handle brownouts as low as 73V which is better than the industry average between 90-95V.
I don't think I have ever seen a more impressive power supply design in the last 10 years, It really is that impressive on an engineering level.