There is no doubt in my mind that the Cooler Master Masterwatt Maker 1200W MIJ will go down in the annals of tech history as one of the finest consumer power supplies ever created. We may balk at paying £900 for a power supply, but on an engineering level the Masterwatt Maker 1200W MIJ really is a work of art.
First impressions are important. Cooler Master know this, and the presentation, box, and accessories are all remarkably well executed. The dual, individually coded hard cases for the cables slot into foam inserts on either side of the power supply itself – which is initially hidden under a printed, company statement of intent. The only disappointing aspect is the rather half hearted user manual. Cooler Master could really have taken this a step further to really reinforce to the customer just how special this unit really is. After all many people will never open the supply to look inside, especially if they want to keep their 10 year warranty.

Load regulation is top drawer, and efficiency levels are off the chart. It is an extremely high performing unit right in the top echelon of high end units available to the enthusiast user with very deep pockets. Technically to be honest, I couldn't find a fault, it really is that good a power supply which actually goes some way to justify the price point.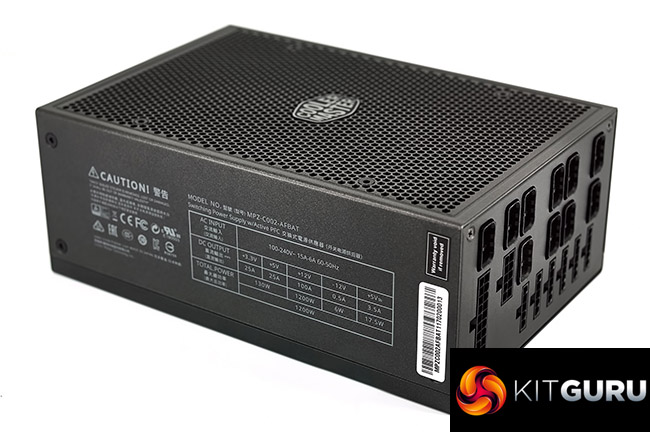 While this is the power supply many of us want in our new rig, the sticking point will be the price. Its like desiring that Rolex watch, many of us will never be in a position to buy one, but we admire the company ethos and the outstanding long term build quality.
There is a lot to like. The Masterwatt maker 1200W is almost silent under most load conditions, and very quiet when tasked with 1000 watts of power demand. Ripple suppression is the best I have seen in the last 5 years. Minor rails peaked at 5mV under full load. The +12V rail peaked at 10mV at full load. This is remarkable.
Scoring this product is difficult. If we were being really cynical we could just downscore the unit because of the price, but this is not a power supply to target any sizeable percentage of enthusiast user. This is a HALO product Cooler Master created with Murata as the driving force. Murata supplies are well known to be insanely expensive, so for those in the know, its obvious that a custom, bespoke design for Cooler Master would ramp costs even higher.
To be fair Murata did create components just for this power supply, and it took 40 engineers 2 years to create – so the Research and Development costs alone, for such a HALO product will be difficult to recoup. I would go as far to say that Cooler Master may in fact lose money on the creation of this product, especially considering the low levels of production they have planned. As an enthusiast user with a love for engineering, I have to applaud Cooler Master for even attempting this rather unusual project. We need more companies to take risks like this to create a ripple in the industry.
I hope that at least it raises an awareness of how important a good power supply is, when creating a new system build. Many people invest all their money into a new processor and graphics card, only to spend £30 on a power supply. I have said it many times in the past, but skimping on the quality of a power supply is actually dangerous, because when it fails (and it will), it will likely take out other components in the build. Instability, BSOD's and failure to overclock are often tied into poor, weak, power delivery. Take note!
I am going to score this power supply purely on the astounding engineering standards in all areas. It may be difficult for some people to understand, but the £900 asking price is justified. It targets a very specific, niche user who just wants the finest components available in his or her system.
You can buy the Cooler Master Masterwatt Maker 1200W MIJ from Novatech, Box, or Scan for around the £900 mark.
Discuss on our Facebook page, over HERE.
Pros:
Technically incredible.
Delivered 1400 watts before shutting down.
Pure modular.
It is a work of art with custom designed components inside.
High grade cables.
Load regulation.
no coil whine.
low noise, even at high load.
Ripple suppression is class leading.
10 year warranty.
Cons:
Kitguru says: The Cooler Master Masterwatt Maker 1200W MIJ is in a class of its own. On an engineering level it is a work of art and will go down in history as one of the finest power supplies ever made.