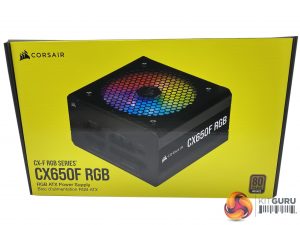 The Corsair CX650F RGB ships in a bright yellow box, which is rather gaudy to my eye. The focus is on the RGB fan and lighting. Yes, we now have RGB in a power supply.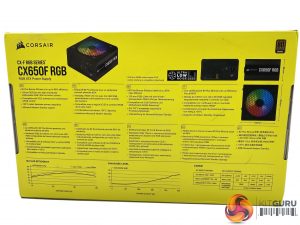 The rear of the box showcases some key selling points, if you were browsing in a retail store. We still have retail stores, right?
The power supply is sandwiched between thick pieces of foam. The accessories are on the right side of the box. A user manual is also supplied.
The only cable that is sleeved is the main ATX cable. All the others are thin ribbon style for ease of routing. The cable quality is perfectly fine for a budget supply.
There are two EPS and four PCIe connectors as well as four Molex and seven SATA cables included. Corsair supply an iCUE RGB cable to hook into a compatible RGB controller as well as a shorter ARGB cable to connect to your supported motherboard.