It has been a long time since I reviewed an 80 Plus Bronze rated power supply, so when Corsair offered me the CX650F I wasn't really expecting to be bowled over.
Corsair have worked with HEC to create a very capable unit, based around a modern design featuring a half bridge topology with an LLC resonant converter. Technically it doesn't exhibit any major weaknesses and overall performance is certainly pretty good.
Ripple suppression is worth noting, as the +3.3V and +5V rails peak at 20mV and 25mV respectively, with the +12V rail hitting 45mV at full load. Not class leading, but well within rated industry tolerance levels and better than we might expect at this price point.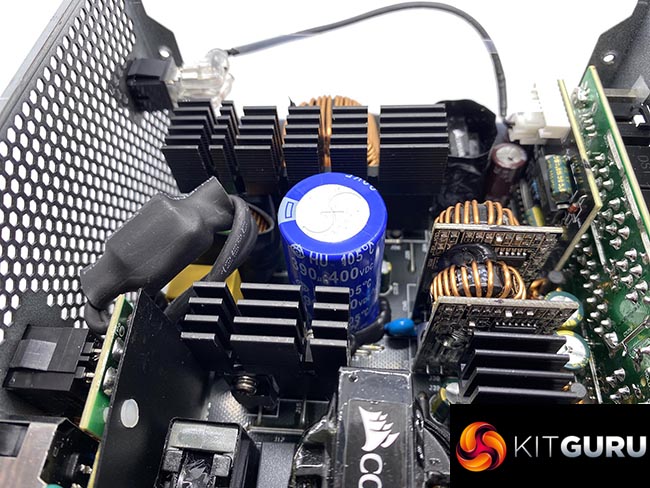 The hot topic of conversation with our audience will be the RGB capability – but let's be honest, Corsair have always been at the forefront of RGB releases, so it makes sense for them to cater to the enthusiast audience demanding even more RGB in a new build. At this point it is clear to me that RGB is not the fad that many hoped it would be. RGB products seem to sell very well for companies such as Corsair and Razer.
The five year warranty is certainly not close to the class leading 12 years offered by some competitors, but I think for the majority of people considering this unit, 5 years is enough to last a couple of system builds and upgrades. The fact it is fully modular will suit a wide audience wanting the cleanest possible build.
Corsair are using a quality Japanese primary capacitor, but have cut some costs by using lower grade TEAPO capacitors on the secondary side. They are clearly trying to achieve a certain price point while incorporating RGB features to appeal to a select audience, and for the most part we feel they have succeeded.

Corsair offer this power supply in both white and black versions – identically priced. You can get them both from Overclockers UK for £82.99 over HERE.
Discuss on our Facebook page HERE.
Pros:
Corsair have nailed the RGB implementation.
Good efficiency.
White or black colour schemes at same price.
Japanese primary capacitor.
High build quality.
Technically very capable.
5 year warranty.
Fully modular.
Cons:
Chinese secondary capacitors.
Pricing could be a little better as it is still 80 Plus Bronze.
KitGuru says: This is a very capable power supply with customisable RGB features. For around £80 it's a solid purchase for a new mid-range system.