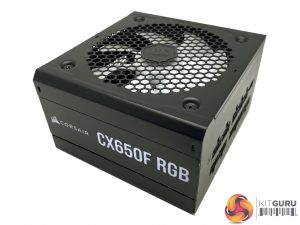 The Corsair CX650F is finished to decent standards – thankfully there are no ultra bright yellow stickers in line with the box artwork. The name of the supply is subtly listed along the sides of the chassis.

A large RGB fan is showcased behind a metal grill on the top of the unit. We will take a closer look at this when we open it up later.
One side of the supply is home to the modular bay which is clearly labelled. There is also a header for the RGB cable. This is ARGB supported and controllable in iCUE with Windows 10 operating system. According to Corsair you can manually control RGB with the RGB button which is on the other side, along with a power connector and power button.
You can cycle through lighting modes with this button if you do not have an ARGB cable motherboard (or don't want to install the software). You hold the RGB button down for three seconds to switch between lighting modes and a short press will let you cycle through colours if the mode is not rainbow.
Modes:
Rainbow Wave
Rainbow
Rainbow breathe
Rainbow Blink
Sequential
Solid
Single Blink
Pulse
A final push will turn RGB off completely, if you so wish.
I am not going to get into the RGB fan colour adjustments within this technical written review today, we plan on getting another unit from Corsair to one of our YouTube team in the coming weeks for feature in a build video.
The CX650F model we review today is capable of delivering 54A to the +12V rail for 648W of the total output.