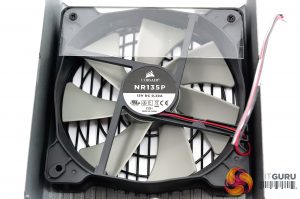 Inside the power supply, we can see Corsair are using the NR135P fan rated at 12V, 0.22A. This 135mm fluid dynamic bearing fan is made in China. There is a little piece of flexible plastic covering part of the fan – this is in place to specifically direct the airflow to specific components underneath.

This fluid dynamic bearing fan is higher grade than the rifle bearing fan we saw last week in the new TX 750M power supply.
Below - a High Resolution Gallery of the internal layout of the Corsair HX850 Platinum Power Supply
The internal build is quite clean throughout and soldering is good across the board. This design uses a lot of white fast setting adhesive, likely to help keep the components from vibrating.
Corsair are using Japanese capacitors on both the secondary and primary stages, which is good to see. The two primary capacitors are Nippon Chemi Con, 105c rated, from their high grade KMW series. Both are rated 400v 470uF, to give a total capacity of 940 uF.
As we said earlier the HX incorporates new 'Type 4' cables. The 8 pin cables for EPS 12V, ATX12V and PCIe have added capacitors to help reduce ripple noise via the cables. The Type 4 24 pin has an additional four pins. These are sense wires which allow the HX supply to sense the voltage at the load and adjust accordingly to improve voltage regulation.
We can see the Diode bridge for AC/DC rectification of the incoming AC voltage. There is also a +3.3V/+5V daughtercard board feed from the +12V rail. The LLC main transformers is branded black with the Corsair logo in white. We can see that the plastic sheet on the fan above means the air is directed towards the SR MOSFET's, temperature thermistor and the secondary capacitors.
The power supply has the following protections:
Over Current Protection (OCP): Shuts off power if any rail is overloaded beyond a safe level.
Over Voltage Protection (OVP): Shuts off power if voltages exceed specification.
Under Voltage Protection (UVP): Shuts off power if voltages drop below specification.
Short Circuit Protection (SCP): Shuts off power if a short circuit is detected.
Over Temperature Protection (OTP): Shuts off power if temperatures exceed a specified value.
Over Power Protection (OPP): Shuts off power if the total output power exceeds a safe level.